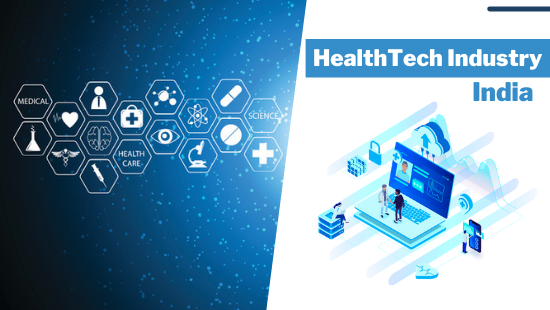 [Healthtech India 2021] Technological And Growth Trends In The Healthtech Industry In India
With the outbreak of the COVID-19 pandemic, the gaps in the existing healthcare structure got revealed. Though these gaps are still significant, the pandemic also brought in more opportunities for solving the healthcare infrastructure gaps.
On the bright side, the pandemic also led to an accelerated acceptance of digital healthcare. People are now more open to digital healthcare services, and there is an increased adoption of online consultation, home care services, e-pharmacy, and e-diagnostics.
And with more people acceptance of digital healthcare, hospitals have started redesigning their strategy and increased their focus to acquiring patients through online channels.
In this article, we will, in detail, talk about the Heathtech Industry in India and the technological trends in the sector. We will also talk about healthtech startups in India and future trends to look for in the Indian healthtech sector.
Growth Of Healthtech Industry In India
The growth of the healthtech industry in India is mainly being driven by increased customer adoption of online healthcare services, government's initiatives like the National Digital Health Mission for promoting telemedicine and creating a digital healthcare backbone and increasing familiarity of healthcare workers with technology.
According to the IAMAI-Praxis report titled 'HealthTech Predictions 2021, the Indian healthtech market is growing at a CAGR of 39% to reach $5 billion by 2023.
The report also revealed the growth of the healthtech industry in India amid the pandemic. It stated that E-pharmacy saw a 200% increase in the number of orders in 2020 and more than 2x growth in adoption post-COVID. The number of consultations on teleconsultation platforms increased by 300% in 2020, with around 80% of the customers using teleconsultation platforms were first-time users.
Technological Trends In Healthtech Industry
Accelerated by the pandemic, online health services saw an explosion in terms of adoption by people in 2020.
Because of the lockdowns and people preferring to stay at home, E-pharmacy, e-diagnostics, teleconsultation platforms are witnessing an exponential rise. As per a report, the Indian online doctor consultation market is expected to reach $836 million by FY24.
The growth is consistent, and amid the second COVID-19 wave, the sales of online pharmacies have increased by 25-65%. 1Mg, a leading e-pharmacy startup in India, witnessed a 5x demand for COVID-19-related products on its platform in April 2021 compared to the previous month.
Here are a few trends to look out for in the healthtech sector.
1.Telemedicine
Backed by increased digitisation, Telemedicine in India is becoming a new normal. Now, doctors can follow up with the patients virtually, which reduces the strain of last-minute appointments and is very helpful in times of emergencies.
Because of these benefits, the Telemedicine market in India is expected to grow at a compound annual growth rate (CAGR) of 31% for the period 2020–25 to reach USD 5.5 billion by 2025.
2. Use Of Data Science And Predictive Analysis For Better Healthcare
Data science is one of the most rapidly growing sectors in the world, and in healthcare also it has led to some important developments.
That is why there is an increase in the number of physicians, diagnosticians, pharmacies, and hospitals in India adopting data science and AI-driven methods for providing their services and improving access for those in need.
This technology is used to improve the detection of illnesses and diseases. And with rapid improvement in data science and predictive analysis, doctors now get access to deeper insights like gathering information about ancestry and family history, detecting patients with high risks to diagnose problems effectively.
Startups like Qure.ai and Predible Health are using AI solutions to add efficiency and speed to the COVID-19 screening and monitoring.
3. Digital Health
Technology has been driving a revolution in health care. With the presence of new advanced devices, users are getting several health benefits. Using wearables and smart devices, people now can keep track of their every movement, such as the sleep pattern, heart rate, calorie intake, or period of exercise.
Providing easier monitoring of health, wearable devices can detect and notify doctors about a patient's unusual electrocardiography pattern which eventually lessen down the risks of more complicated ailments.
These trends are likely to continue in future, and with advancements will technology, they will only get more accessible and better.
HealthTech Startups In India
Fitterfly
Started by Arbinder Singal, Shailesh Gupta and Jayesh Sawant, Fitterfly is a health tech startup specialising in Digital Therapeutics (DTx).
Run by a team of Doctors, Engineers and Senior Nutritionists, Fitterfly provides a solution to diabetes, obesity, women's health, child health through its innovative Digital Therapeutics solutions.
Fitterfly's DTx programs combine human and technological interventions to cater to every patient's specific needs to improve outcomes.
The health tech startup recently raised $3.1 million in a pre-series A round led by Fireside Ventures.
HealthPlix
Co-founded in 2016 by Prasad Basavaraj, Raghuraj Sunder Raju and Sandeep Gudibanda, HealthPlix is a Bengaluru-based healthtech startup that provides clinical software for doctors.
HealthPlix has developed an Electronic Medical Record (EMR) software with AI-Powered features. The Bengaluru-based startup provides Clinical Decision Support (CDS) to doctors and helps them generate e-prescriptions under 30 seconds.
As per the startup, it is trusted by physicians across 12 states in India, spanning specialities such as – Endocrinology, Diabetology, Cardiology, Nephrology, Oncology & Internal Medicine, making HealthPlix the largest Digital Health Platform used by physicians in India at point-of-care during a patient consultation.
In March 2021, HealthPlix raised $13.5 million in funding, which it plans to use to grow 5x by expanding the doctor base in existing geographies, adding new towns and medical specialities, and bolstering its team and product.
HealthKart
Founded in March 2011 by Prashant Tandon and Sameer Maheshwari (IIT graduates), HealthKart offers fitness products, services and community to help consumers achieve their fitness goals.
Fitness products offered by HealthKart include protein supplements, weight loss products etc.; services include gym memberships, personal trainers etc.; and the community allows consumers to connect and review transformation stories of other fitness enthusiasts. The startup also offers free assistance and nutrition counselling.
PharmEasy
Started by Dhaval Shah and Dharmil Sheth in 2015, PharmEasy helps patients connect with local pharmacy stores and diagnostic centres to fulfil their extensive medical needs. Recently, PharmEasy acquired peer Medlife, positioning itself to number one as India's largest medicine delivery platform.
PharmEasy delivers medicines in 1000+ cities in India, covering 22000+ pin codes. The online pharmacy startup offers diagnostic test services across Mumbai, including Thane, Navi Mumbai, Kalyan & Dombivali, Delhi with Noida, Gurgaon, Faridabad & Ghaziabad, Chennai, Pune, Ahmedabad, Gandhi Nagar, Surat, Vadodara, Lucknow, Kolkata, Hyderabad, Bengaluru, and Jaipur.
Jeevam Health
Leveraging functional medicine tools and processes, Jeevam Health provides virtual primary care for chronic health issues.
Started by Piyush Vishwakarma, Kamran Alam, and Anish Musa MD amid the pandemic in 2020, Jeevam Health aims to combine the latest technology with the ancient wisdom of using food-as-medicine to provide holistic care to people with chronic health issues. The healthtech startup is targeting the 200 million Indians suffering from chronic health conditions like autoimmune and metabolic issues.
In March 2021, Jeevam Health raised $150,000 from Y Combinator in a pre-seed round.
Future Growth Trends In The Healthtech Industry In India
The gaps in healthcare revealed by the COVID -19 pandemic will play a key role in making healthcare infrastructure better. Also, the growth of healthcare amid the pandemic will serve as a benchmark to make health services better and accessible using technology.
Evolving Technology
Improvement in technology is leading to better and more evolved healthcare options.
Many startups are using technology to come up with better solutions to fight healthcare issues than the existing ones. Now, companies are using tech to mine medical records, design treatment plans or create drugs way faster than any current solution available.
Increase In Govt Expenditure
The Government of India aims to increase its spending on healthcare to 3% of the GDP by 2022 and develop India as a Global Healthcare hub.
Through its initiatives, the Government is doing its best to improve public health surveillance in India. The Government, with its Pradhan Mantri Jan Arogya Yojana, aims to provide free access to healthcare for 50 crore people in the country.
In Union Budget 2020–21, the Government announced Rs. 69,000 crore (US$ 9.87 billion) outlay for the health sector that is inclusive of Rs. 6,400 crore (US$ 915.72 million) for PMJAY.
Through National Digital Health Mission (NDHM), the Government of India aims to develop the backbone necessary to support the integrated digital health infrastructure of the country.
In addition to this, the government is planning to take various steps to strengthen the healthcare system, including the creation of new drug testing laboratories and strengthening the existing ones.
More Patients
Due to advancements in healthcare systems, the life expectancy of people is increasing. And with changing lifestyles, the number of people suffering from lifestyle diseases is rapidly rising. This all will lead to an increase in the number of patients, which in turn will lead to more use of healthcare services.
Rise In Medical Tourism
Medical tourism is a key growth sector for India, and as per a report, around 690k+ foreign tourists came for medical treatment in India in the year 2019.
And because of the availability of quality healthcare services, low cost of treatment and highly skilled doctors, the medical tourism industry is further expected to grow at a CAGR of 18-20%.
Also, with further advancements in the healthcare system and favourable government policies, medical tourism in India is bound to rise.
Future of Healthtech Industry In India:
With the evolution and adoption of technology in making healthcare services better and accessible, the healthcare industry will witness a paradigm shift. And as people's acceptance of digital health infrastructure is increasing, the healthtech industry in India is expected to give rise to multiple opportunities for the stakeholders in the coming times.
Read: [Agritech India] Factors Driving The Growth Of Agritech Industry In India.