[Electric Vehicle Startups] Top 10 EV Startups In India Building A Greener Future
The Indian Electric Vehicle market has grown leaps and bounds over the years. This growth is quite evident from the increasing number of electric vehicle startups and the fact that in 2021, 3,29,190 electric vehicles were sold in India, showing a 168% increase over last year's sales of 1,22,607 units.
In December 2021 alone, electric vehicle registrations crossed the 50,000 units mark in a month, representing a 240% YoY jump from the number recorded in December 2020.
Growth Of Electric Vehicle Industry Over The Years
Ever since the mid-20th century, the automobile sector of India has largely been dominated by gas-powered vehicles due to the easy availability of gas, relatively inexpensive costs, and the larger number of options available to us as customers.
However, the global scenario is rapidly changing now, and people have started to deliberate and give due importance to the environmental degradation that these gas-powered vehicles cause.
With 21 out of 30 most polluted cities situated in India, and the demand and prices of oil shooting up to extremely high levels, EVs will most likely become a requirement rather than a choice in the coming years.
Presently, the EV industry is still in its nascent stage in India. As per data from Tracxn, there are 486 Electric Vehicle startups in India.
EV sales accounted for barely 1.3% of total vehicle sales in India during 20-2021, according to a report by consulting firm RBSA Advisors. However, the growth trends seem promising, and RBSA expects it to grow at a CAGR of 90% in this decade to touch $150 billion by 2030.
"The time is not only right for electric cars, rather it's critical!"
[Read:
Growth Story And Future Of Electric Vehicle Industry In India
]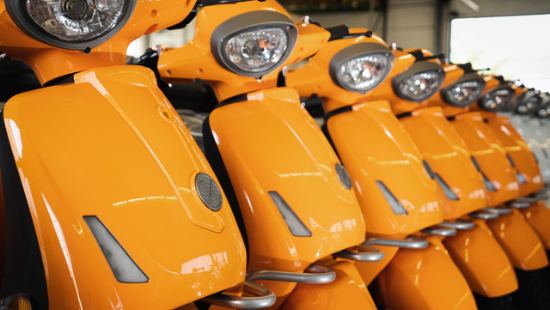 Electric Vehicle Startups-Electric Era Begins!
The Government of India has also realized its importance and implemented various initiatives like The National Electricity Mobility Mission Plan and Faster Adoption and Manufacturing of Hybrid and Electric Vehicles (FAME) to give a push to EV sales in India.
Several state Governments are also contributing to electric vehicle startups through their own policies and initiatives. And with India's automobile industry, being the fourth largest in the world, the EV Industry definitely has a huge scope to grow in the country.
[Read:
Which Company Registration Is Best For Startups
]
The StartupLab has created a list of a few Indian Electric Vehicle Startups that are doing big in the EV Industry.
1. Ather Energy
Founded in 2013 by IIT Alumni Tarun Mehta and Swapnil Jain, Ather Energy is a Bengaluru-based EV Startup that is already making it big in the EV 2-wheeler space and is pretty popular amongst the Youth.
Backed by Hero MotoCorp, Flipkart Co-founder Sachin Bansal, Singapore-based InnoVen Capital, and Tiger Global, the Bengaluru-based EV Startup is on a mission to revolutionize the commute experience and aims to sell more than 1 lakh scooters by the end of 2022.
Recently, Gujarat Titans, the Ahmedabad franchise of the Indian Premier League (IPL), has roped in electric scooter manufacturer Ather Energy as principal partner for two years, ahead of its debut season in the league.
2. Yulu
Yulu is the leading shared micro-mobility service provider using electric two-wheelers to reduce traffic congestion and air pollution in urban India.
Founded in 2017 by Hemant Gupta, Naveen Dachuri, R. K. Misra, Amit Gupta, Yulu's technology-driven mobility platform uses IoT, ML, and AI for demand-supply management and efficient operations. Currently, Yulu is present in Bengaluru, New Delhi, Gurgaon, Pune, Greater Mumbai, Ahmedabad, and Bhubaneswar.
3. Tork
It is a Pune-based EV Startup founded by Kapil Shelke that unveiled India's First Electrical motorcycle, Tork T6X, in September 2016. The startup even went on to win at the Isle of Man TT, which was a race specifically for E-Motorcycles.
Tork Motors is ready to launch other variants of its electric motorcycle lineup very soon. The startup has already begun setting up charging infrastructure in Pune.
4. Euler- Transportation Electrified
Founded by Saurav Kumar, Euler Motors manufactures light commercial electric vehicles for intra-city transportation. The company was set up in 2018 after Saurav had sold his share in a previous venture.
Showing the true entrepreneurial spirit, Saurav left a 1 crore paying job to focus on sustainable last-mile transport by accelerating the transition from internal combustion engines to new-age electric vehicles. Their prominent products are Commercial EVs and battery Packs for their vehicles.
5. Emote Electric
Established in 2011 by Pranav Singanapalli, Emote Electric is a Coimbatore-based EV Startup that designs, engineers, and develops smart electric vehicles to compete with and displace petrol counterparts.
The startup aims to produce High Power Motorcycles, which are touted to be India's fastest e-bike and that too with gears.
6. Revolt Motors- Revolting against Oil
Revolt Motors, the startup founded by Micromax co-founder Rahul Sharma, claims to have produced India's first AI-enabled E-Bike.
Democratising clean commute using next-gen mobility solutions, Revolt is currently the only one out of this set of startups that have commercialized their product, and they have already sold out in pre-orders themselves.
7. Ultraviolette Automotive- Ultra Electric
Founded by Narayana Subramaniyam in 2014, Ultraviolette Automotive is working with a vision to create and inspire the future of sustainable urban transportation through accelerated innovation.
The Bengaluru-based electric two-wheeler startup has been developing an electric motorcycle, Ultraviolett F77 (Sports bike), which is expected to launch in India by the middle of this year.
8. Strom Motors
This Mumbai-based startup was founded by Pratik Gupta and Jean-Luc Abaziou and specializes in the 3-wheel and 2-wheel sectors in India. It unveiled its new flagship product Storm R3, an all-electric personal mobility vehicle recently. The R3 is claimed to have a range of around 200km on a single charge and offers a mileage of Rs 0.40 paise per kilometre, going by the unit charge.
They also claim that fully charging the vehicle will take about just three hours, the same as charging a standard mobile phone. The car might cost a ballpark figure of 4.5 lakh, but the company might give incentives for expanding its customer base, going for a budget-friendly option.
9. Orxa Energies- Electrically Amped
Orxa Energies is a high-performance electric vehicle and energy systems startup founded by Ranjita Ravi and Prajwal Sabnis. The EV startup has designed its electric bike, the Mantis, which as per the startup, guarantees a power-packed experience.
As per the startup, the Mantis motorcycle will be one of the earliest to enter the Performance Electric Bikes. This performance-amped bike goes from zero to 100 km/h in 8 seconds. The startup also claims that it has a 200 km range. It is expected to be priced between Rs 3 lakh to Rs 4 lakh.
10. Emflux Motors
Founded in 2016 by Ex-Jugnoo executives Varun Mittal, Ankit Khatry, and a former Designer at TVS Motors Vinay Raj Somashekar, Emflux Motors is on a mission to empower 10 Million electric two wheeler's in India by 2027 with its two-pronged market focus
Build brand and loyalty by producing a high-performance electric motorcycle
Create an ecosystem of partner OEMs for whom the startup will act as the technology and component supplier.
The startup has developed its e-bike Emflux One which has a 200km range and accelerates from 0 to 100kmph in 3s, the fastest yet. The bike is claimed to have a top speed of 200 Kmph.
11. Okinawa
Okinawa is a Gurugram-based startup established in 2015 by Rupali Sharma and Jitendra Sharma.
Delivering high-performance and future-ready energy-efficient vehicles, Okinawa Autotech is the only EV company to date to reach Khardung La Pass, Leh Ladakh (from Gurugram), which is the highest motorable road in the world at 18,000+ feet.
Okinawa offers two vehicles – IPraise+ (2 Wheeler Scooter), OKI-100 (2 Wheeler Bike), each costing 1 Lakhs rupees. The top speed they offer is 58Km/hr, with swappable batteries and a smartphone app that enables you to mobilize your scooter remotely, track its location, see how much usage the battery has, and also find it out when to go for service.
12. OLA Electric
Based in Bangalore, OLA Electric was founded by Bhavish Aggarwal in 2017. Backed by marquee investors, including Pawan Munjal Family Trust, SoftBank Group, Hyundai Motors, Kia Motors, and Matrix Partners India, Ola Electric has taken a direct-to-customer approach, wherein it is delivering the vehicles directly to the customers' homes, instead of the traditional dealership model.
Their vehicles have IoT sensors, a GPS, and a SIM card, with a certified range of 240 KM per charge.
In January 2022, Ola Electric has raised $200 million in a funding round from Tekne Private Ventures, Alpine Opportunity Fund, Edelweiss and others at a valuation of $5 billion.
Read: 5 Government Schemes for Startups.
Note: If you are a budding entrepreneur and require assistance to register a Pvt Ltd Company, register a company, create financial projections, business development, LLP Registration, compliance filing, funding formalities, CFO Services, or other startup related legal services, contact us.
Follow us and connect with us on Instagram, Facebook, Twitter, and LinkedIn.