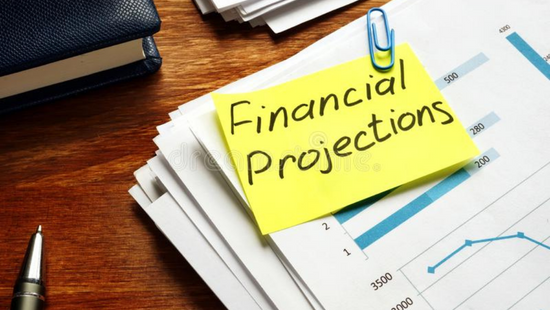 Financial Projections For Startups: What Are They And Why You Need Them
If you are a startup founder, you'll likely be using a lean model to bootstrap your business, meaning that your expenses will typically be under control, with your business growing slowly and steadily. However, once you are ready to take your company to the next level, it's important to approach startup financial projections in a certain way.
Financial projections are often overlooked by startups as a necessity, but they're an incredibly important part of any startup. Due to the all-important need for cash control, and effective budgeting and planning, financial projections help startups stay ahead of what the future might bring.
For a startup, one of the most important things they need to do is create financial projections. This can take a lot of time and effort to plan, but it is worth it in the end. And to make sure your startup is successful, you need a backup plan. That's where financial projections come in!
Why Are Financial Projections Important?
Financial projections are essential for every startup as they can help manage finances, stay on budget and make smarter business decisions. In this article, we provide a comprehensive guide on how to build them – from determining your assumptions to estimating your break-even point and measuring your growth rate.
You will get to know:
Importance And Need For Financial projections For Startups
How to Create Financial Projections
When to Create Financial Projections
How The StartupLab can help you
Financial Projections: Understanding the Basics
Financial projections provide a forecast of future financial aspects of your business, like revenues and expenses. They help predict future revenues and expenses that can be used to make informed decisions about where to allocate resources, and more. They are also a key component of any business plan and can help attract investors.
Financial projections are based on what your business expects to happen, considering the available facts and data. These projections are often prepared to present a course of action for evaluation and act as a type of pro forma statements like projected balance sheets, cash flow and income statements.
Based on financial modelling techniques, these projections help in providing answers to questions that may come from investors, lenders, or other business stakeholders in your business journey. They are generally part of the new business plan and help identify financing needs, optimize pricing, monitor your cash flow, time major expenditures, etc.
Importance And Need For Financial Projections For Startups
If prepared rightly, these projections can assist you in understanding your startup's potential. There are a few different types of financial projections that startups should be aware of:
1. Revenue projections:
These show expected sales or revenue for your business. This is important information to have when making decisions about things like marketing spending or hiring new staff.
2. Expense projections:
These show what you expect your costs to be both in the short and long term. This includes things like rent, salaries, and materials costs. Having accurate expense projections is critical for ensuring your business is profitable.
3. Cash flow projections:
These show how much cash you expect to have to come in and go out each month. This is important information to have when making decisions about things like funding or investments.
4. Balance sheet projections:
These show your expected assets and liabilities at a specific point in time. This information can be useful for making decisions about things like growth or expansion plans.
Building accurate financial projections is not an easy task, but it is essential for all startups. As it is an intricate process, it is advisable that you should hire a professional accountant or consultant to assist you.
How To Create Financial Projections
Financial projections can help you raise capital, track your progress, and make informed decisions about your business.
There are a few different ways to create financial projections. The most important thing is to be realistic and use data from your past financial history to inform your future projections.
Here are a few tips on how to create financial projections:
1. Know your historical financials inside and out. This includes your revenue, expenses, cash flow, etc. Knowing this information will help you make more accurate predictions about your startup's future.
2. Use market trends and data to inform your projections. Look at industry trends and compare them to your own company's performance. This will help you anticipate changes in the market and adjust your projections accordingly.
3. Make assumptions and educated guesses based on what you know about your business and the market. For example, if you are launching a new product, estimate how much revenue it will generate based on similar products in the market.
4. Build flexibility in your projections by creating multiple scenarios. For example, create a best-case scenario, a worst-case scenario, and a most likely scenario. This will help you be prepared for any eventuality.
5. Update your projections regularly as new information arises. Things change quickly in business, so it's important to stay on top of your numbers and adjust as needed.
When To Create Financial Projections
There are a few important times when creating financial projections for your startup is essential:
-When seeking investment: Potential investors will want to see your financial projections to gauge the viability and potential profitability of your business.
-Applying for a loan: Lenders will also want to see your financial projections to assess the risk involved in loaning you money. 
-When launching a new product or service: You will need to create financial projections to estimate how much revenue this new offering could generate.
-Making major business decisions: Financial projections can help you evaluate the potential impact of different decisions on your bottom line. 
Building realistic financial projections for your startup isn't always easy, but it's definitely worth the effort. By taking the time to create detailed and accurate financial projections, you can make sound business decisions, attract investment, and keep your startup on track for success.
Conclusion:
Financial projections are an essential part of any startup's business plan. They give investors and other stakeholders an idea of your company's potential for growth and profitability. While there is no one-size-fits-all approach to building financial projections, there are some best practices you can follow to ensure that your projections are realistic and helpful in decision-making. With careful planning and execution, financial projections can be a valuable tool in achieving your startup's long-term goals.
Contact us to create financial projections for your business with multiple data sets projected.
The StartupLab, with its team of experienced dedicated professionals, offers services to register a Pvt Ltd Company, register a company, create financial projections, business development, compliance filing, funding formalities, CFO Services etc.
Follow us and connect with us on Instagram, Facebook, Twitter, and LinkedIn.