[Pvt Ltd Company] Is It Possible To Register A Private Limited Company Online
As everything is now going digital, most new-age digital entrepreneurs want to know whether it is possible to register a private limited company online or fill out the entire documents of Company Registration Online.
These young entrepreneurs are concerned about whether they can register their companies online and be compliant with all the business legalities from the comfort of their homes. If you are one such entrepreneur, worry not.
The Answer to all these queries is Yes!
Yes, you can register your private limited company from home and can register your company online without leaving your home. A private limited company can be registered online in less than 2 weeks.
New Company Registration Online | Private Limited Company Registration
The new company registration process is fully online, and all documents are filed electronically. Whether you want to register your company as a Private Limited Firm or an LLP, you can do it online.
The firm registration procedure wouldn't require your actual presence. All you have to do is email us scanned copies of all the below-listed documents and forms.
Mandatory Points for Registering A Private Limited Company Online in India
Minimum Two Directors
Unique Business Name
Minimum Capital Contribution
Registered Office
At least two directors
A private limited company can have up to fifteen directors, with a minimum of two. The company's directors must include at least one Indian national.
Company Name Must Be Unique
The name of your business must be original. The proposed name must not be comparable to any Indian businesses or trademarks that are already in use.
Minimum Capital Contribution
A firm is not required to have a minimum capital contribution. However, the minimum amount of authorised capital for a firm is one lakh rupees.
Registered Office
A company's registered office does not have to be a commercial space. And even a rented house can serve as the registered office as long as a NOC is obtained from the owner.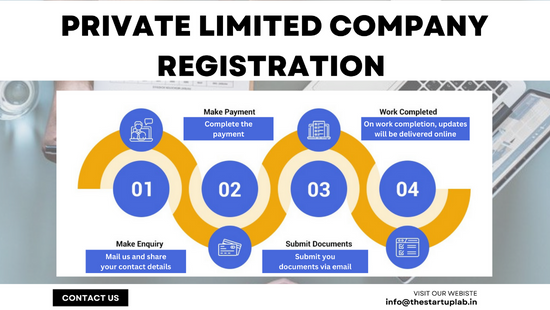 Documents Required To Register A Company Online
As mentioned by the MCA, the following are the documents required for the online company registration process
ID proof of Director and Address proof
Residence proof
NOC from the property owner
Rental agreement (Notarized)
Sale deed or property deed Photocopy (for an owned property)
Online Company Name Registration Process: How To Register A Company Online
The company registration process is not easy as various documents are required to be filled and submitted. So, to register a company, a professional should be consulted.
Contact us with your requirements, and our expert will guide you through the entire company registration process.
The step-by-step procedure is shown below:
Step 1: Obtain Digital Signature Certificate (DSC)
Step 2: Apply for the Director Identification Number (DIN)
Step 3: Application for the name availability
Step 4: Submission of MoA and AoA to register a private limited company
Step 5: Apply for the PAN and TAN of the company
Step 6: RoC issues a certificate of incorporation with a PAN and TAN
Types Of Company Registration Available For Startups/businesses In India:
Private Limited Company
Public Limited Company
Partnerships Company
Limited Liability Partnership
One Person Company
Sole Proprietorship
Section 8 Company
These seven types of company registration are available for you to choose from depending on your business operations and objectives. If you are confused about which registration type is ideal for your company, the following are the factors you should consider before registering your company.
Company Operations
For businesses that are run, managed and controlled by a single person, a sole proprietorship is most suitable.
The preferred option for a small business operated by two or more individuals is to incorporate it as a partnership firm.
LLPs and Private limited company registrations are suitable for medium and large-sized businesses as they have far more complicated setup and reporting requirements.
Future Fund Raising
If your business may require outside funding to scale and expand, Pvt Ltd company registration is the best option.
Additionally, Pvt Ltd companies are preferred by banks and financial institutions to render financial assistance rather than businesses run as a partnership firm or sole proprietor.
Business Control
A sole proprietorship or an LLP is best suited for small businesses, as the business owner|owwers can maintain sole or primary control over the company and its activities.
However, as the business grows, complexities in business operations increase. So, for businesses with complex business structures and operations, a private limited company is suitable.
To know in detail, read Most Suitable Company Registration For Startups.
Private Limited Company Registration With The StartupLab
The StartupLab is a technology-driven platform that offers services covering the legal needs of startups and MSMEs.
In the case of new company registration, our team of experts will assist you throughout the registration process.
Firstly, we will help you register your directors with the Ministry of Corporate Affairs (MCA) and assist you in picking the right company name. Lastly, we will draft and file the documents required for your company registration (MoA and AoA).
Follow us and connect with us on Instagram, Facebook, Twitter, and LinkedIn.
Note: If you are a budding entrepreneur and require assistance in new company registration or other startup related legal services, contact us.