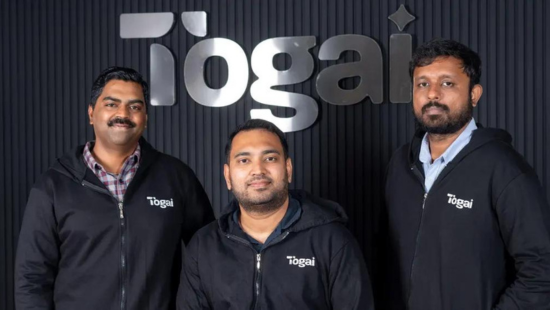 B2B SaaS Startup Togai Raises $3.1 Mn Seed Funding
Togai, a Business-to-business (B2B) SaaS platform, has raised $3.1 million (Rs 25.6 crore) in a seed funding round led by Together Fund. VC firm BoldCap, Core91, and angel investor Prasanna Shankar (Rippling) also participated in the funding round.
As per the startup, the freshly raised funds will be used for product development and expanding into new geographies.
Togai | Metering And Pricing Platform
Founded by Abhishek Rajagopal, Aravind Sriraman, and Tholkappiyan Velavan, Togai is a metering and pricing platform for B2B companies that tracks product usage as they happen, aggregates them to suit the pricing strategy of businesses and provides real-time revenue visibility for them and their customers.
The startup takes an innovative approach to craft monetization tools for today's dynamic billing and pricing landscape. It claims to be empowering businesses to make instantaneous and customized changes to pricing, thereby enabling them to remain competitive.
Speaking about the development, Abhishek Rajagopal, Co-founder and CEO of Togai, said,
"With Togai, SaaS companies can rapidly test and implement their pricing strategies and can go live within days instead of months. We are poised to continue our journey in building end-to-end monetization solutions for this burgeoning segment and any B2B entity seeking to implement pricing changes to drive growth and profitability. Furthermore, we are excited to expand our reach to additional territories."
The B2B SaaS platform enables businesses to implement any pricing change without engineering effort. Its plug-and-play model supports pricing and finance teams deploying their pricing strategy while integrating with their existing quote-to-cash systems.
Commenting on the development, Manav Garg, Founding Partner at Together Fund, said,
"As we navigate an AI-first world, 'subscribers' or 'users' are getting replaced by 'software' and 'workflows'. Simple pay-as-you-go models, while straightforward, are centered around a cost-plus pricing strategy, often overlooking the full value your product offers to customers. This evolution challenges the conventional subscription and seat-based pricing models and necessitates a comprehensive reimagining of them. Togai is addressing this need by helping SaaS companies reconstruct their pricing models from the ground up."
Recently, Sentra.world, an ESG SaaS platform, raised $2 million in a seed funding round led by Avaana Capital, an early-stage climate-tech venture capital firm, with participation from RPG Ventures and Golden Sparrow Ventures. Also, BharatNxt, a (B2B)-focused fintech startup, has raised $1.2 million (Rs 9.8 crore) in a seed funding round led by Inflection Point Ventures.
Follow us and connect with us on Instagram, Facebook, Twitter, and LinkedIn.
Note: If you are a budding entrepreneur and require assistance to register a Pvt Ltd Company, register a company, create financial projections, business development, LLP Registration, compliance filing, funding formalities, debt funding, CFO Services, or other startup related legal services, contact us.