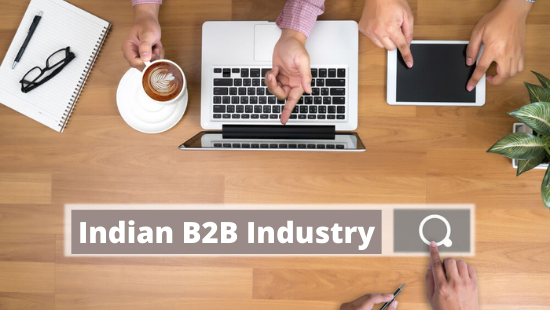 [B2B Marketplace India] Factors Driving The Growth Of B2B Industry In India
Advancements in technology have revolutionized the way the B2B industry in India used to work. Indian businesses are now spending a large chunk of money on new technologies like AI, Big Data, and VR to provide better services and tools to their clients.
Making products that are on par with global standards, Indian B2B startups are offering world-class services and business tools to companies across the globe. In fact, the B2B industry in India is growing so fast that Indian B2B startups account for 43% of Indian unicorns.
The present success of the B2B industry in India has been attributed to the digital transformation of businesses, including enterprises, financial institutions, hospitals, small businesses, government, etc. Every startup, through its products, is bringing efficiencies into the B2B supply chain, leveraging richer data and automated processes.
In this article, we will talk about
Growth Trends In The Indian B2B sector
B2B startups In India
Venture Capital Firms Helping B2B startups In India
Accelerators And Incubators
Future Outlook
Growth Trends In The B2B Industry In India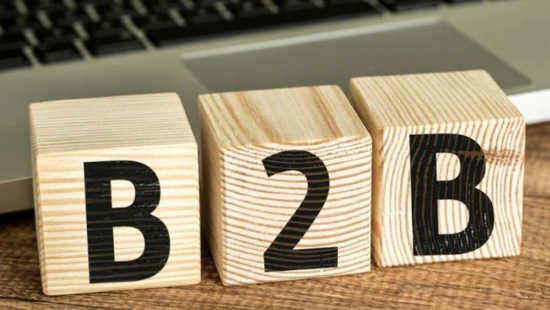 1. Cybersecurity
Change is inevitable. That is why the B2B segment can't shy away from the tech revolution that is happening right now. And as everything is done digitally nowadays, businesses need to protect themselves from cybercrimes. Safeguarding businesses against online crimes, the Indian cybersecurity startups like Threatsys, HaltDos and WiJungle provide proactive risk assessment, identification, and remediation of any upcoming threats.
The Indian cybersecurity services industry is expected to grow at a CAGR of about 21% to touch $13.6 billion by 2025, says a report by NASSCOM -DSCI.
2. B2B eCommerce
In recent years, India has witnessed the emergence of many B2B e-commerce players. Now, Indian entrepreneurs are leveraging new-age tech offered by these players and doing business from their smartphones in the comfort of their homes.
Leveraging tech, these B2B e-commerce players have removed the inefficiencies in the traditional B2B commerce with effective digital supply chains and by offering higher capital efficiencies.
Many Indian startups like Udaan, ShopX, Ninjacart, Indiamart, and Moglix, are trying their best to digitize the wholesale supply chain in India. And with more small business owners joining the tools offered by eB2B players like digital cataloguing, online payments and logistics, the segment will continue to grow.
3. Logistics Tech Solutions
With the growing retail and e-commerce segment, B2B logistics startups are offering technologies and solutions to meet the needs of large supply chain and logistics organisations.
From warehousing operations to demand forecasting, these logistics startups offer every possible tool to provide end-to-end optimization, like supply chain solutions, ensure timely delivery of products and monitor issues regarding tracking, shipping, warehousing, and inventory worldwide.
Because of these tech-enabled logistics companies, India's supply chain sector, which was severely impacted by COVID led disruptions, has started to gain momentum.
The scenario is changing fast, and leading e-commerce companies are adopting third-party logistics services. Startups are improving the efficiency in the current unorganized intra-city market by offering online on-demand logistics services.
Adoption of logistics tech solutions will continue to rise with startups leveraging tech to provide same-day delivery, reduction in the cost and delivery time, time-window/slotted delivery, multiple payment options, streamlined return logistics and 24×7 visibility.
VC Firms Backing B2B Startups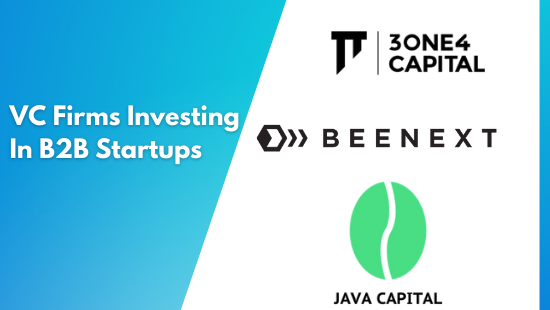 Java Capital
Java Capital is a sector-agnostic investment syndicate that looks for startups with breakthrough innovation built for India with global relevance. The investment firm is run by Venture Capitalists and startup ecosystem enablers, with over 15 years of experience between them across pre-seed, seed, and early-stage investments.
Java Capital focuses on startups working in areas like SaaS, Fintech, Health Tech, Mobile Internet, Consumer and Deep Tech. B2B portfolio of Java Capital includes startups like CustomFit.ai, Vernacular.ai and Slintel.
3one4 Capital
3one4 Capital is a Bangalore-based venture capital firm that invests in early-stage technology startups. The firm is biased towards companies exploiting technology to create, grow, or dominate large markets in India.
The VC firm works in selected market categories with focus areas that include machine-driven actionable intelligence services for the enterprise, enterprise automation, ambient intelligence technologies, consumer products, fintech, media and multi-lingual content generation, and health.
3one4 Capital has invested in 50+ startups, including B2B startups like DarwinBox, ZestIOT and Wigzo.
BEENEXT
BEENEXT is a venture capital firm investing in early-stage technology startups from India, Southeast Asia, Japan, and the USA.
The firm has invested in over 180 companies globally since its inception in 2015. Some of the Indian B2B startups in which BeeNext has invested include GramFactory, Fyle, Falconbrick, HackerEarth and Work India.
To know about more VC firms, read Top 9 Active Venture Capital Firms In India.
B2B Startups In India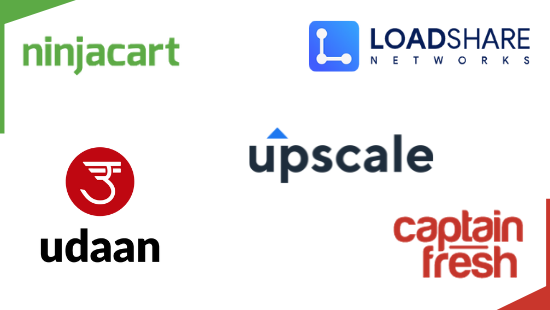 Ninjacart
With a network of more than 1,200 warehouses and 200 collection centres in India, Ninjacart is a fresh produce supply chain startup that connects farmers directly with retailers, restaurants, and service providers. Using in-house applications to drive end-to-end operations, Ninjacart's supply chain is equipped to move vegetables and fruits from farmers to retailers and businesses across seven cities every day in less than 12 hours.
With a valuation of over $500 million, Ninjacart supplies 1,400 tons of fresh produce daily to stores across Gurugram, Delhi, Mumbai, Pune, Hyderabad, Bengaluru, and Chennai.
Upscale
Backed by leading investors including GSF Accelerator, Java Capital and Powerhouse Ventures, Upscale is a new-age sales engagement platform started by Yeshu Singh, Sandeep Singh, and Amit Mastud.
Upscale automates sales outreach by using multiple channels like email, phone calls, LinkedIn, text messages and more. Their Platform simplifies the sales outreach process, streamlines routine work and provides an intuitive tool for sales teams to achieve targets with any problems.
Upscale recently raised $250,000 in its pre-seed round, which it plans to use for expanding its market reach and bring unparalleled automation to the B2B inside-sales industry.
LoadShare
Started by Pramod Nair, Raghuram Talluri, Rakib Ahmed, and Tanmoy Karmakar, LoadShare offers extensive and large scale logistics services ranging from order fulfilment solutions, first-mile, line-haul, last-mile deliveries, third party fulfilment, and modular logistics software solutions.
LoadShare is on a mission to offer best-in-class and prime industry solutions by enabling and empowering the small and medium players with technology, domain expertise, and Pan- India operations.
In May 2020, LoadShare raised Rs 100 crore in a funding round led by Beenext.
Udaan
Udaan is a B2B eCommerce platform that is empowering small businesses through the power and scale offered by eCommerce.
Started by Amod Malviya, Vaibhav Gupta and Sujeet Kumar, the Bangalore headquartered startup has over 3 million users, 1.7 million retailers, chemists, Kirana shops, HoReCa, farmers and 30,000 sellers on the platform across the country.
With operations across categories including lifestyle, electronics, FMCG, pharma, toys, home & kitchen, staples, fruits & vegetables, and general merchandise, Udaan leverages technology to enable supply chain & logistics operations for daily delivery across 900 cities and 12,000 pin codes.
Captain Fresh
Started in 2019 by Utham Gowda, Captain Fresh is a B2B startup that leverages technology to deliver the fastest harvest-to-retail in the industry.
Captain Fresh is making the fresh fish and seafood supply chain in India more efficient by aggregating the fragmented retail demand across the country and linking them to the small fishermen and farmers throughout the Indian coast.
The startup uses its data and deep-tech driven platform to power its supply chain and is helping farmers generate more revenue and businesses supply the freshest fish and seafood to their customers.
In March 2021, Captain Fresh raised $3 million in seed capital led by Matrix Partners India and Ankur Capital.
Accelerators And Incubators Helping B2B Industry In India
Amity Innovation Incubator (AII)
Supported by the Department of Science and Technology (Ministry of Science & Technology, GOI) and recognized on platforms like 'The Power of ideas', Tata NEN and NASSCOM Innovation Awards, to name a few, Amity Innovation Incubator has incubated 100+ startups.
The core team of AII has decades of experience in assisting entrepreneurs through incubation and VC funding. Providing mentoring, infrastructure, and business advisory services, AII has 263+ patents filed by Incubator for entrepreneurs, faculty and researchers.
Amplifi
Helping 'SAASY STARTUPS SCALE', Amplifi is a startup accelerator for companies in the enterprise tech/enterprise tech-enabled services and tech-centric or enabled consumer luxury goods & services space.
It focuses on mentoring startups on product engineering, product-market fit, sales, marketing & branding and scale-up. Amplifi works with angel-funded or bootstrapped startups that have a proven product, monthly revenue traction of at least $10k and are looking to raise VC funding in a year.
Centre for Innovation Incubation & Entrepreneurship (CIIE)
CIIE (Centre for Innovation Incubation & Entrepreneurship) is a startup incubator established by IIM Ahmedabad providing funding, mentoring, training, workshops, networking options, infrastructural component and best practice research.
The centre has provided funding to 100+ startups and mentored 5000+ ideas. CIIE invested and nurtured notable startups like Salesken, Agnikul, Biosense, Razorpay, Lal10, and Thrillophilia, to name a few.
Green House Ventures Accelerator (GHV Accelerator)
GHV Accelerator provides startups with a controlled growth environment, scalability, optimized & appropriate resources, along with sustainability funding, helping the startups grow multifold in a shorter period.
It offers a six-month accelerator programme with all the resources a startup requires to grow. Some B2B startups in GHV Accelerator's portfolio are Applop (an on-demand mobile app partner for businesses), AdUrCup (a dedicated managed marketplace for the F&B services industry), and Dave.AI (an AI-powered sales augmentation platform).
Future Of B2B Industry In India:
The B2B segment offers numerous growth opportunities as we have only scratched the surface of our capabilities. As the area of impact is huge for the B2B players, the B2B space will continue to grow, helping businesses reach and understand their end consumers well.
There are huge growth opportunities for startups in segments like logistics, supply chain efficiencies, analytics, automation segments as they have a wide range of applications across segments. With advancements in technology, startups that will innovate and create faster, better, and more effective solutions will be rewarded.
[Read:
Growth Trends And Future Of B2C E-commerce Industry In India
.]