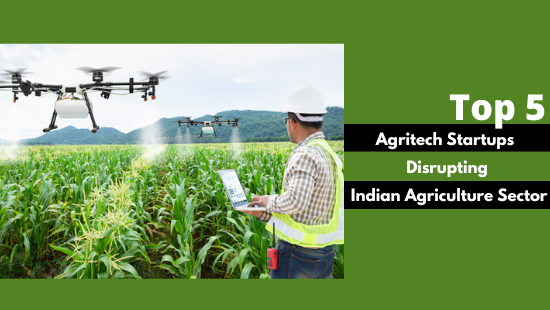 Top 5 Agritech Startups In India Disrupting The Indian Agriculture Sector
The growing tech ecosystem in India has revolutionized the Indian agriculture sector, and now India is home to more than 1,000 agritech startups.
Leveraging tech to disrupt the agriculture sector, the agritech industry in India is growing exponentially. Indian agritech startups are implementing emerging technologies like AI, data analytics, and IoT and helping Indian farmers increase productivity and reap better yields.
This disruption has struck the attention of investors, who want to uplift the sector and bring about the best of its potential. Between January 2020-June 2022, around 100 agritech startups raised close to $1.33 billion across 139 deals, as per Entrackr's data tracking platform Fintrackr.
To boost tech innovation in the sector and support emerging & new-age agritech startups, agritech startup Ninjacart launched an agri seed fund worth $25 million in March 2022.
In April 2022, VC firm Omnivore announced the launch of its third fund, with a target corpus of $130 million (Rs 1000 crore) to invest in early-stage startups developing breakthrough technologies for agriculture, food, climate, and the rural economy.
[Read:
Which Company Registration Is Best For Startups
]
To provide our readers with a better look at the Indian agritech ecosystem, The StartupLab has prepared a list of top 5 agritech startups in India that are disrupting the agritech ecosystem. Offering unique services, these startups are helping farmers earn more and making agriculture profitable and sustainable.
Top 5 Agritech Startups In India Disrupting The Indian Agriculture Sector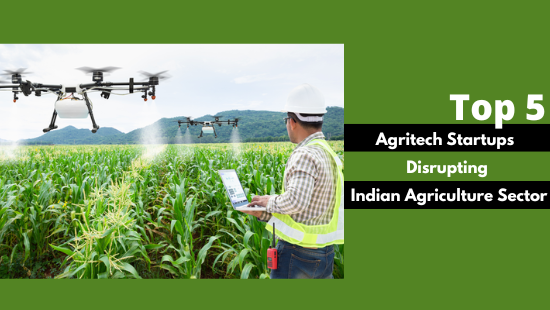 5. Fyllo
Founded by Sudhanshu Rai and Sumit Sheoran in 2019, Fyllo is a Bengaluru-based startup that offers precision agriculture solutions to farmers. The startup is harnessing the potential of technology to make agriculture profitable and sustainable.
Operated by Agrihawk Technologies, Fyllo leverages the internet of things (IoT), artificial intelligence and agronomy to provide farmers with insights aimed at improving the quality and quantity of their produce while reducing the overall cost of production.
As per the startup, it has expanded its services across 4 Indian states to over 2,000 farmers and 10 corporates.
In May 2022, Fyllo raised $2 million in funding co-led by India Angel Network, Triveni Trust and Ninjacart to expand its market footprint and focus on research and development to aid crop cultivation.
4. Poshn
Founded by Shashank Singh and Bhuvnesh Gupta in 2020, Poshn is organising processed agri-commodity trade by providing a digital network that enables buyers, sellers & agents of agricultural commodities to trade online.
The startup gives producers, mandis, and wholesalers the ability to take their storefronts online, increasing their reach and visibility.
Organising the highly fragmented agri-supply chain market, Poshn provides a procurement platform, especially for bulk processed commodities, enabling smooth wholesale agri-market discovery and transactions. It also helps buyers and sellers with logistics and provides a variety of payment options.
In April, Poshn raised $3.8 million (Rs 28.8 crore) in funding led by Prime Venture Partners, with participation from Zephyr Peacock to grow aggressively and hire across tech and business functions.
3. Otipy
Backed by renowned VC firms like Westbridge Capital, SIG and Omidyar Network India, Otipy is a community-based agritech platform helping farmers deliver fresh produce to consumers.
Founded by Varun Khurana and Prashant Jain in 2020, Otipy connects consumers, resellers, and farmers to bring fresh produce to their doorstep. It directly buys from farmers and saves money due to less wastage, at 3%.
As per the startup, its logistics operation costs merely Rs 4 per kg from the process of warehouse to consumer.
The Gurugram-based startup claims to move over 100 tonnes of fresh produce from farms to consumers every day. Otipy is eyeing a turnover jump of 5X to reach over Rs 100 crore in revenue by the end of the current fiscal year.
In March 2022, Otipy raised $32 million (Rs 235 crore) in a Series B round led by Westbridge Capital.
2. AgroStar
Founded by Shardul Sheth and Sitanshu Sheth, Agrostar is a digital farmer network and agri-inputs e-commerce platform that provides end-to-end solutions for Indian farmers.
Powered by the extensive amount of data and agronomy knowledge, the agritech startup leverages data and technology to solve farmers' problems of access to good quality agri-inputs and bridges the knowledge gap owing to traditional farming practices.
Currently, the agritech startup serves over five million farmers across Uttar Pradesh, Rajasthan, Madhya Pradesh, Maharashtra, and Gujarat.
Last year, Agrostar raised $70 million in a Series D funding round led by Evolvence, Schroders Capital, Hero Enterprise, and CDC (UK's development finance institution).
1. Arya.ag
Founded by Prasanna Rao, Anand Chandra, and Chattanathan Devarajan, Arya.ag is working with a vision to strengthen agriculture value chains through its integrated range of services.
The Noida-headquartered startup is simplifying agribusiness with its services, including warehousing and warehouse-receipt financing solutions targeting smallholder farmers, farmer producer organisations, small aggregators, and agribusiness corporations.
Arya.Ag connects farmers to buyers and offers year-round supply to SME and corporate buyers through visibility into 10,000 commodity storage points across the country.
In January 2022, Arya.ag raised $60 million in a Series C funding round in a mix of equity and debt.
Visit Indian Startup News to read the latest updates from the startup ecosystem.
[Read:
Know Why USA Company Registration Is Beneficial For Indian Businesses
]
Note: If you are a budding entrepreneur and require assistance to register a Pvt Ltd Company, register a company, create financial projections, business development, compliance filing, funding formalities, CFO Services, or other startup related legal services, contact us.