5 Foodtech Startups In India Revolutionizing The Foodtech Sector
From 2015 onwards, the foodtech industry in India has grown leaps and bounds. Limited to a few startups and mainly dominated by the food delivery segment years ago, the Indian foodtech industry is now leveraging technologies like Big Data and the Internet of Things (IoT) to enhance productivity and sustainability in producing, assembling, delivering, and enjoying food.
Be it because of the advent of cloud kitchens or the growth of quick service restaurants and chains, the foodtech market in India, valued at INR 289.36 Bn in 2019, is expected to reach INR 1,868.19 Bn by 2025, according to a report by Research and Markets.
Foodtech startups in India are now looking for different ways to gain control in the sector. To keep their dominance intact in the segment, foodtech giants Swiggy and Zomato are acquiring startups and investing heavily in automation and kitchen technologies.
In March 2022, Mukunda Foods, a food robotics startup, raised $5 million in a funding round led by Zomato, while Swiggy entered into a definitive agreement with Times Internet to acquire Dineout, which is India's leading dining out and restaurant tech platform. Last month, Zomato acquired Blinkit for $568 Mn (INR 4,447 Cr) in an all-stock deal.
For readers interested in the Indian foodtech industry, The StartupLab has prepared a list of 5 foodtech startups in India that are nascent in the foodtech segment and revolutionizing the sector with their unique offerings.
5 Foodtech Startups In India Revolutionizing The Foodtech Sector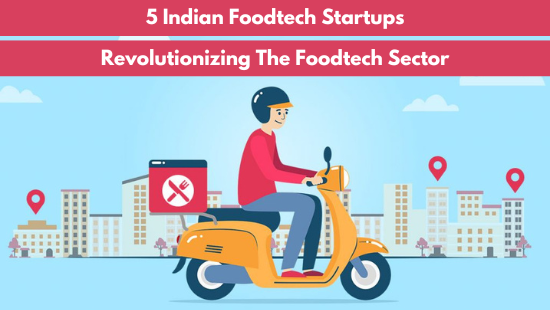 1. Rebel Foods
Founded by Jaydeep Barman and Kallol Banerjee, Rebel Foods, formerly known as Faasos, is the world's largest chain of online restaurants that operates over 450 kitchens across 70 cities in 10 countries.
Being an early adopter of the Thrasio model in the Indian food industry, the startup has disrupted 500 years old industry of the traditional restaurant business by building a full-stack technology-enabled platform – Rebel Operating System.
The Mumbai-based cloud kitchen company operates brands such as Ovenstory Pizza, Slay Coffee, Behrouz Biryani, Sweet Truth, Mandarin Oak, and Wendy's, among others.
In April 2022, Rebel Foods acquired a majority stake in the luxury chocolate brand SMOOR. Last year, Rebel Foods invested an undisclosed amount in a Hyderabad-based quick-service restaurant (QSR) chain Zomoz.
2. Nino Foods
Founded in 2020 by Nishant Jhaveri and Pranav Mehra, Nino Foods is a Mumbai-based foodtech startup building digital-first food brands for the premium segment.
The startup is creating new brands in the digital-first food space and started by taking over Frencesco's, a well-known Mumbai-based pizza brand. It claims to serve over 13,000 orders per month and has a repeat purchase rate of 40-50%. 
In December 2021, Nino Foods raised $1.6 million in a seed round from existing investors Y Combinator and Soma Capital to add new food brands and increase the team size.
3. Daalchini Technologies
Founded by Prerna Kalra and Vidya Bhushan in 2017, Daalchini Technologies offers automated kiosks, mobility-retail, and smart vending machines in India.
It is a physical marketplace for home chefs, cloud kitchens, and D2C brands, enabling them to sell their products through IoT-based Smart Vending Machines. The startup provides snacks, beverages, home-cooked food, healthy bars, fruits, etc., through its network of automatic vending machines across 15 Indian cities, including Delhi-NCR, Mumbai, Pune, and Bangalore.
Over the years, the startup has built a strong client base of 100+ startups, co-working spaces, large MNCs, hospitals, educational institutes, and residential complexes, counting OYO, Go Mechanic, EY, Delhivery, and more, as its clients.
4. TagZ Foods
Founded by Anish Basu Roy and Sagar Bhalotia, TagZ Foods manufactures popped potato chips with 50 per cent less fat, international gourmet dips and a range of premium bar snacks.
The Bangalore-based foodtech startup makes potato chips that claim to have no cholesterol, no transfat, no artificial colours, or preservatives. With more than 30 online partners and over 2,000 offline stores, TagZ Foods has sold 50 lakh units of products. During the FY22, TagZ Foods expanded nine times and turned cash profitable.
In January 2022, TagZ Foods raised an undisclosed amount from Ashneer Grover of BharatPe and Namita Thapar, executive director of Emcure Pharmaceuticals.
5. Biryani By Kilo
Founded by Vishal Jindal and Kaushik Roy in 2015, Biryani By Kilo is a D2C foodtech startup that delivers both authentic tastes of Hyderabadi(Kutchi) and Lucknowi (Pukki) biryani prepared in individual earthen Handis with the freshest ingredients. 
With over 60 outlets in more than 25 cities, the startup also delivers kebabs, kormas and phirni through its omnichannel retail D2C model.
Keeping in sync with the spirit of meaningful innovation, Biryani By Kilo goes a step further in the foodtech and delivery space by holistically inculcating a proactive social cause in its business model. All its earthenware Handis are crafted by hand at Kumhaara Gram on the outskirts of Delhi.
In November 2021, Biryani By Kilo raised $35 million in a Series B round led by Falcon Edge Capital.
Visit Indian Startup News to read the latest updates from the startup ecosystem.
Follow us and connect with us on Instagram, Facebook, Twitter and LinkedIn.