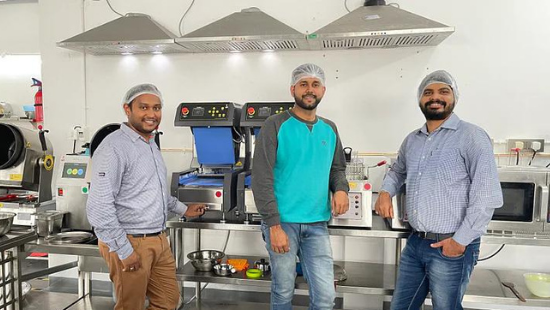 Food Robotics Startup Mukunda Foods Raises $5 Million Funding From Zomato
Mukunda Foods, a food robotics startup, has raised $5 million in a funding round led by Zomato, taking the company's post-money valuation to $30 million.
The food robotics startup has previously raised funds from Ncubate Capital, Singapore Angel Network, and Indian Angel Network. And with this round, Mukunda Foods has raised around $8 million in total funding.
As per the startup, the raised funds will be used to expand its reach across quick-service restaurants, cloud kitchens, and fine-dining restaurants. Additionally, part of the raised capital will be used to introduce multiple ROI based models to help the F&B businesses scale.
Mukunda Foods | Kitchen Automation And Robotics Solution
Founded in 2012 by Eshwar K Vikas and Sudeep Sabat, Mukunda Foods is a food automation company that designs and manufactures products automating the cooking processes for quick-service restaurants and cloud kitchens.
With its machines, the startup helps restaurants scale while reducing manpower costs and wastage. Additionally, it helps restaurants maintain consistency in food quality and customer experience across outlets. 
Speaking about the development, Eshwar K Vikas said,
"Zomato and Mukunda Foods share the vision of reaching every restaurant and helping them grow. While Zomato does it by helping restaurants reach more customers and increasing their revenues, we help food and beverage brands increase their profitability and grow fast with our kitchen technologies. This common interest will help the F&B industry greatly."
Mukunda Foods helps the global food industry fulfill its kitchen automation goals, gain a competitive advantage, reduce operational costs and maximize customer satisfaction. It has an end-to-end integration with in-house R&D, manufacturing facility and global service network.
So far, the food robotics startup has developed six products that have been installed in over 2000 locations.
Need legal assistance for your startup? Just contact us.
Follow us and connect with us on Instagram, Facebook, Twitter and LinkedIn.