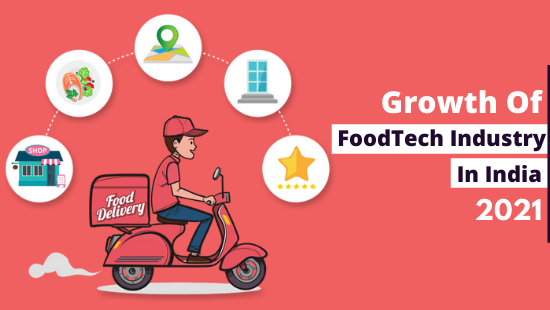 FoodTech India: Growth Trends And Future Of FoodTech Industry In India
The FoodTech industry in India is emerging as one of the fastest-growing industries in the country. Leveraging technology to the core, the Indian foodtech companies are putting in their constant efforts to enhance the efficiency and sustainability of the foodtech sector in all its aspects.
With its presence in more than 500 cities in the country and growing consumer confidence in this sector, there are new opportunities for players to 'win with the customers' in an evolving market.
Players in the foodtech space are using technologies like Big Data and the Internet of Things(IoT) to enhance productivity and sustainability in producing, assembling, delivering, and enjoying food.
As per a report by ResearchAndMarkets, the Indian foodtech sector is expanding at a compound annual growth rate (CAGR) of ~39% during the 2021 – 2025 period and expected to reach INR 1,868.19 Bn by 2025.
In this article, we will talk about the factors driving the growth of the foodtech industry in India.
You will get to know in detail about:
FoodTech Industry in India
Different FoodTech startups in India
Venture capital firms helping FoodTtech startups to grow
Industry statistics
Growth trends
Future of the sector
[Read:
How Corporate Venturing Is Accelerating The Growth of Indian Startups
]
FoodTech Industry In India
The Indian foodtech sector has revolutionised the way Indians eat. Almost a non-existing sector in the past, the Indian foodtech sector has seen exponential growth in recent times.
The foodtech industry in India currently handles annual Gross merchandise value (GMV) worth $2.5-3Bn in 2021, with an opportunity to cross $16Bn in annualized GMV by 2025, says a February 2021 HSBC report on India's consumer internet market.
In terms of investments, the sector is witnessing huge participation from VC firms, increasing from $288 M in 2016 to $4.8 B in 2017.
With a huge investment of around $2.3 Billion made into the food-tech industry in 2018, India holds the position of the second-largest country across the globe after China, having a big share of investment of 16%. Bengaluru came out as the hotspot for foodtech startups.
As reported by Your Story, the Indian foodtech sector received $898 Million in funding in 2020.
FoodTech Startups In India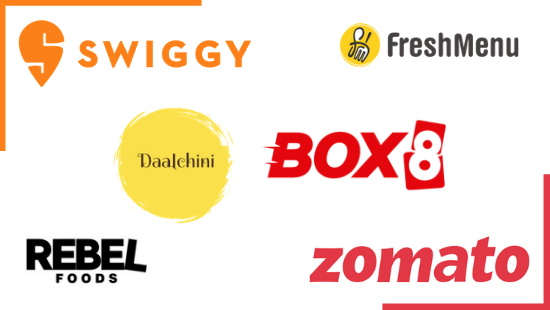 SWIGGY
Started by Nandan Reddy, Rahul Jamini, and Sriharsha Majety in 2014, Swiggy is India's leading on-demand food delivery platform that follows a tech-first approach to logistics and a solution-first approach to the demands of the customer.
Through tie-ups with thousands of restaurants present in 500+ cities across the whole country and its mobile application, Swiggy fills the void between the customer's demand and the restaurants.
Key features like live order tracking and knowing the live location of the delivery executive in real-time make it very convenient for the customers using its mobile app.
ZOMATO
Starting as a restaurant review platform, Zomato has grown leaps and bounds and expanded to delivery, promotional programmes, and other associated segments of the food-tech ecosystem.
Now, Zomato connects over 55 million users to different restaurants in 24 countries across the globe.
Zomato got the tag of "Unicorn Start-up" in the year 2105, and now with its latest funding, the online food ordering platform is valued at $5.4 billion.
The foodtech unicorn has made nine acquisitions and six investments; 7 in Food Tech, 2 in Logistics Tech, and 1 in Facility Management Tech. In January 2021, Zomato acquired a 100% stake in Fitso, a full-stack sports platform, via a cash-and-equity deal worth about 800 million rupees (US$11 million) to 1 billion rupees.
REBEL FOODS
Rebel Foods (formerly known as Faasos) is currently the world's largest cloud kitchen chain with more than 320 restaurants across India and 15+ own brands like Behrouz Biryani, Ovenstory Pizza, Fasoos, Mandarin Oak, and more on their list.
Started by Jaydeep Barman and Kallol Banerjee, Rebel Foods, with the combination of its brands and the rest of the restaurants, aces in providing on-demand food delivery to their customers.
Currently, Rebel Foods operates in more than 16 major cities across the nation and in 4 countries (India, UAE, UK, and Indonesia), serving more than 2M customers.
Fresh Menu
FreshMenu is a Bengaluru-based online restaurant and delivery service started by Rashmi Daga. The startup is unique in its offerings in a way that it offers a new selection of menu every day curated by their in-house star Chefs.
As per their founder, the only way to get the customers to order more often is to create a new menu for them every day. It's like going to a new restaurant every day.
In three years, the company has expanded itself to 27 kitchens; 18 in Bengaluru, 5 in Mumbai, and 4 in Delhi-NCR. With almost 700 delivery personals, the company fulfils nearly 12000 orders every day. Now, FreshMenu is focusing on expanding its market to more cities like Pune and Maharashtra shortly.
DAALCHINI
Started by former Paytm employees Prerna Kalra and Vidya Bhushan in 2017, Daalchini Technologies is a digital vending machine company aiming for healthy, cheap, home-cooked food through a chain of smart vending machines.
The platform operates through the Internet of Things (IoT-led) vending machines. Daalchini Technologies is working to provide opportunities to micro women entrepreneurs through Daalchini franchisees while offering enjoyable meals to corporate professionals.
Since the launch of the startup, it has been focusing on making hygienic home food easily available for the working-class section of the community, also enabling the women of our society to become micro-enterprises, thus empowering them.
With $1.2M funding raised to date, the Delhi-based foodtech startup currently owns around 400 vending machines installed in various cities across the country.
In the coming time, Daalchini plans to grow from 400 to 600 vending machines across 20 cities, including Chandigarh, Mohali, Delhi-NCR, Mumbai, Pune, and Goa.
BOX8
Established by two young minds, Anshul Gupta and Amit Raj, BOX8 started with the idea of serving typical Indian Style food but in a more convenient way and easy-to-carry boxes.
Started in 2012 as a small outlet in a cafeteria, with consistent growth of the workers, BOX8 now is capable of fulfilling more than 20,000 orders in one day through its 100+ outlets across Mumbai, Pune, Bengaluru, and Gurugram.
Satisfying the needs of its customers, BOX8 offers Fusion Boxes, All-in-1 meals, Desi Openers, Steak Meals, Salads, Paratha Wraps, Sandwiches, Curries, Biryanis, & Desserts.
Till now, BOX8 has raised total funding of $32 M.
Venture Capital Firms Helping FoodTech Startups Grow
Playing the most vital role in the growth of startups, Venture Capital firms are always found putting their best foot forward when it comes to encouraging entrepreneurship in a country.
India is a fast-growing economy in the world market, and, with a sea full of opportunities in the food-tech sector, many Venture Capital firms are playing their role by providing:
Proper funding to the startups.
Coming up with connections in the market.
Expertise these startups require to grow.
Technical assistance.
Here is a list of few Venture Capital firms in India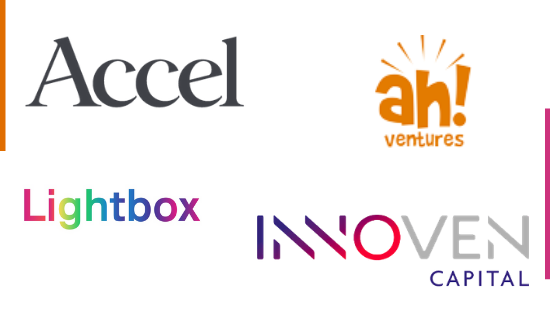 ah! Ventures
ah! Ventures is one of the world's largest curated sector agnostic fundraising platforms for early-stage startups.
Started by Harshad Lahoti, ah! Ventures is bridging the gap between ideas and funding. With over 62000+ Entrepreneurs, 3000+ Investors and a robust monthly pipeline of 600+ business plans, ah! Ventures claims to be India's first full-spectrum startup investment platform.
Recently, the Mumbai-based fundraising platform invested an undisclosed amount in beverages startup Barbrew.
Lightbox Ventures
Lightbox Ventures is a Mumbai based venture capital firm focused on early-stage consumer technology businesses.
With a mix of entrepreneurs, technologists and investors, the Lightbox team has global operational and investing experience in consumer technology. Rebel Foods and FreshMenu are among the top investments of Accel in the foodtech space.
Accel Partners India
Accel Partners India has always been an inseparable part of the Indian startup ecosystem. The VC firm holds a clean record of investing in startups with creative and effective ideas in their early stage.
Many Indian unicorns like Flipkart, Swiggy, and Ola are part of Accel India's portfolio. Fingerlix, Curefit and Swiggy are among the top investments of Accel in the foodtech space.
InnoVen Capital
Started in 2008, InnoVen Capital today holds the top spot in the Asian market as the leading venture lending firm. The VC firm provides debt capital to high growth innovative ventures primarily backed by venture capital firms.
With offices in India, Southeast Asia and China, InnoVen Capital has 225 companies in its portfolio. InnoVen Capital's foodtech portfolio includes startups like Swiggy, Faasos and FreshMenu.
Industry Statistics FoodTech
With an increase in the customers' appetite for online food delivery, the Indian online food ordering sector is expected to grow at the rate of 25-30%(CAGR), letting it touch the market valuation of $7.5-$8Bn by the end of the year 2022.
Though COVID-19 caused a dip in the sector, the sector is now on its recovery trajectory, with sales approaching the pre COViD levels.
At these tough times, technology is playing a crucial role and led to many innovations like QR-based menu, online payments, online food customization, live order tracking, etc.
Growth Trends In The FoodTech Industry In India
Cloud Kitchen
Changing consumer behaviour has led to a massive rise of Cloud Kitchens. For the entrepreneurs, cloud kitchens provide more growth opportunities as they generate much revenue compared to conventional dine-in restaurants. As per Inc42 research, 87% of the Cloud Kitchen market is still untapped, clearly implying growth possibilities in the cloud kitchen segment.
Startups like Faasos, CureFit, Twigly and BOX8, are dominating the cloud kitchen space, and the sector is forecasted to reach $1.05 Billion by 2023.
Increasing Number Of Subscriptions:
Backed by increasing internet penetration, expanding reach in small tiers and availability of multiple food options, the food tech industry is witnessing an increase in the number of subscriptions.
Offering discounts and rewards to the customers, startups are coming up with creative plans that provide value for money to the customers. Now, companies just need to provide more value and a better experience to the customers as it will lead to an increase in the number of subscriptions of a particular brand.
Advancement In Tech Led Innovations:
With the current pandemic situation across the country, the for-most important aspect is customer safety. Leveraging technology, several restaurants have started providing QR-based menu display, contactless payments, and online meals customisation. Online tracking and tracing of ingredients and AI-enabled smart camera-aided services in the food industry have become norms today.
Advancements in tech will only make things better. By proper implementation and automation of the kitchens, like introducing robotic devices for food production, the threat of customer safety can be minimized to almost zero.
Not only for safety, but tech innovations can help businesses streamline their operations, forecast demand, reduce production costs and minimise food wastage. Also, a better customer experience and service can be provided using AI bots.
Rise Of D2C Brands:
COVID-19 led restrictions forced the business ecosystem to innovate and adapt to the situation fast. It resulted in growth for some startups, and they saw an increase in customers.
Foodtech startups offering packed food items and ready-to-eat meals are witnessing great demand among the public, and there can be no good chance for them than this to grow their brands.
This current situation can be very beneficial for DIY projects and Direct to Customers(D2C) brands to expand their area of expertise to direct delivery to the doorstep of the customer.
Govt Initiatives (PM SVANidhi Scheme):
The government of India is constantly putting in its best efforts to help this sector grow. With Prime Minister Narendra Modi leading from the front, the focus is on the growth of the street vendors and bringing them to the limelight.
The Prime Minister Street Vendors Self-Trust Fund and the Ministery of Urban Development have shaken hands with the food-tech giants like Swiggy and Zomato and agreed upon registering a large number of street vendors with the two companies. This will enable the local street vendors to increase their sales, thus empowering the backbone of the food-tech industry.
Future Outlook:
With increasing internet penetration, expanding reach in small tiers and a growing network of restaurants on food-tech platforms pan India, the foodtech industry seems to be in a very favourable position.
For the small players, the competition will be more than ever from foodtech giants like Swiggy and Zomato. So, entrepreneurs, who are new or planning to enter the space, need to be on top of the innovation and creation curve to sustain the competition.
Technology-led innovations will continue to influence people to spend and invest in new food experiences. With favourable consumer disposition and increasing ordering frequency, the Indian foodtech sector will continue to attract more consumers in years to come.
[Read:
Factors Driving The Growth Of Edtech Industry In India
]