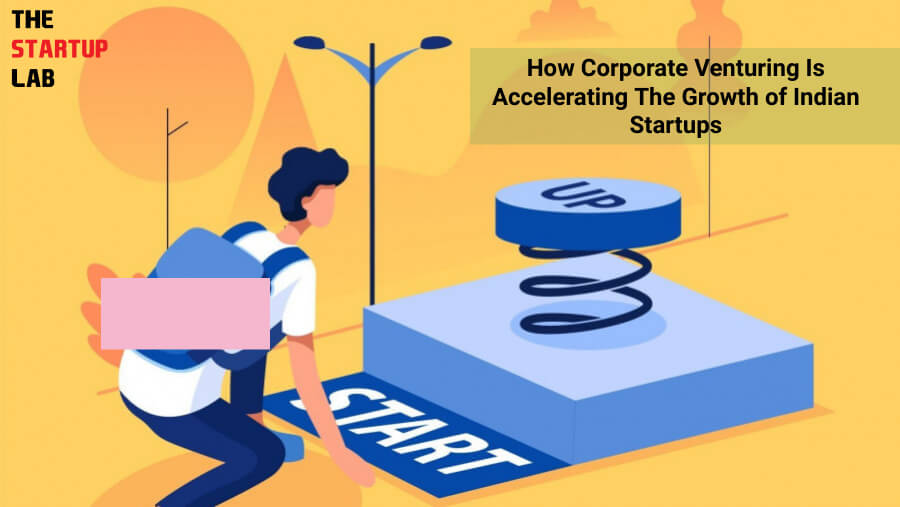 How Corporate Venturing Is Accelerating The Growth of Indian Startups
Backed by favourable demographics, improving business culture and increased participation by VC firms, the Indian startup ecosystem is growing leaps and bounds.
Due to this growth, Indians startups have captured the eyes of major corporate venture capital companies.
In recent years, corporate venturing has become a major funding source for Indian startups. These corporate venture capital (CVC) provide smart capital rather than just capital, enticing Indian startups to partner with them.
That is why several Indian startups are opting for corporate venture capital nowadays and leveraging their expertise, a network of connections and funds to grow.
Corporate Venturing
Corporate venturing is the practice where a corporate venture capital company (CVC) invests its funds directly into a private enterprise or a startup.
Usually done by large organisations, corporate venturing enables organisations to invest in innovative startups to gain a competitive advantage as these startups can become potential competitors in the future. It also enables corporates to strategically expand and explore new markets.
By leveraging money and their expertise, organisations make deals with innovative startups and use their resources like Proprietary technology, in-demand product, etc., to stimulate growth, gaining competitive advantage, enter new markets, increase market share and more.
But what's in it for startups?
A corporate venture capital company usually provide the startup with funding, strategic direction, management and marketing expertise.
Benefits Of Corporate Venturing For Startups
As the majority of these CVCs are run by large conglomerates, startups get to reap the benefits of their brand name, market expertise, a network of connections, stable financial position, and a plethora of developed products.
Moreover, if things go well, this business partnership can lead to a connection between the CVC and its parent firm, instantly boosting a startup's value.
Corporate venturing is a win-win deal for both the startup and the Corporate innovation. For the startup, corporate venturing provides a significant boost during their early stages, while corporations get innovative products and solutions as part of the deal. Corporate Venture Capital also provides startups with a live business environment. Leveraging corporates' resources, startups can test, improve and iterate their products or services, which can be extremely important for startups targetting the B2B market.
Growth of Corporate Venturing In India
As per the data from Inc42, CVC funding participation in startups is growing at an annual average growth rate of 7%. Also, 39 active CVCs in India have invested in 144 Indian startups for the period between 2015 to Q3 2020. Around 31 startups got funded annually via CVCs in India between 2015 and 2019 on average.
In April 2021, Amazon India announced a $250 million 'Smbhav venture fund' to invest in Indian startups and entrepreneurs focused on tech-led innovations. Amazon and other global tech firms like Microsoft, Google, and Qualcomm support the Indian startup ecosystem through corporate venturing.
Few Notable Corporate Venture Capital firms are
Microsoft's M12 (Microsoft)
Brand Capital (Times Group)
Intel Capital
Mahindra Partners
Qualcomm Ventures (Qualcomm Ventures)
Google
Reliance Capital
Samsung Ventures (Samsung)
Amazon Smbhav Venture Fund and Alexa Fund (Amazon)
Microsoft's M12
M12, Microsoft's venture fund, invests in early-stage enterprise software companies with a focus on applied AI, business applications, infrastructure, security, and vanguard technologies.
Since 2016, M12 has invested in over 100 companies, helping startups accelerate growth with unparalleled access to Microsoft.
Though M12 has been remotely investing in India since 2019, it announced its local presence in India by opening an office in Bengaluru in July 2020.
M12's local presence is a step forward in its long-term commitment to the Indian startup ecosystem. It will support fundraising and partnership opportunities for Indian growth-stage startups (Series A to Series C). Innovaccer and FarEye are some of M12's notable investments in Indian startups.
Brand Capital:
Brand Capital is the strategic investment arm of The Times Group, and it leverages brand-led growth and value creation via unique and pioneering investment models and programmes.
It engages with growth-oriented Indian entrepreneurs, established as well as new-gen, to provide funding for long-term advertisement solutions. Brand Capital is working to catalyse two-way access for scale and growth for young Indian businesses.
Innerchef, NestAway, MobiKwik and BigBasket are some of the Indian startups in which Brand Capital has invested.
Mahindra Partners:
Mahindra Partners is the investment and incubation arm of the Mahindra Group that combines its unique strengths of innovation, prudence and creative business models with a mandate of incubating new ventures. Its portfolio companies get the benefit of experience, structured processes, and talent from within the group.
Some of the notable Indian startups in which Mahindra Partners has invested include Mera Kisan, FirstCry, Porter (exited) and Medwell Ventures.
Qualcomm Ventures
Qualcomm Ventures is the venture capital arm of Qualcomm Incorporated that is fostering the development of next-generation technology.
It helps bold entrepreneurs build revolutionary businesses and focuses on focuses on early to late-stage investments in the mobile/wireless sector with strong interests in IoT, Connected Automotive, AI, Mobile and Digital Health.
Qualcomm Ventures invests in companies leveraging Qualcomm's foundational technology to expand the mobile ecosystem and beyond. boat, Bounce, Ninjacart, and Ola are some of the Indian startups in which Qualcomm Ventures has invested.
Future of Corporate Venturing: Corporate Innovation
Corporate innovation is playing a major role in the growth of corporate venturing In India. And as India presents a tremendous growth opportunity for strategic expansion and exploration for corporates, CVC investments in India are bound to increase.
Through Corporate innovations, organisations aim to achieve both strategic and financial objectives. Depending on the goal (strategic, financial or both), corporate venturing also aims to directly or indirectly benefit the venturing company. More often, both strategic and financial goals are often combined to bring higher financial returns.
In short, with more corporate innovation models like the CVC, the country expects to witness an inflow of more established corporate funds and acceleration partners in the coming years.
For more Contact Us