Suniel Shetty Invests In Re-engineered Tyre Startup Regrip
Bollywood actor Suniel Shetty has announced his investment in Gurugram-based re-engineered tyre startup brand Regrip.
The tyre startup claims to have created a process with many checks and balances. It uses quality grade rubber, a process of shearing and retreading, and the entire train is an assembly line-like experience.
Regrip | Re-engineered Tyre Startup
Founded by Tushar Suhalka and Prateek Rao, Regrip is a re-engineered tyre startup brand that focuses on converting used tyres into reusable products, contributing to a more sustainable future.
Regrip tyres are made from refurbishing the old & used tyres using cold process retreading and converting them into reusable tyres which are equally serviceable as new tyres and come with an unconditional warranty at half the cost of new tyres.
Speaking about the development, Tushar Suhalka, Founder of Regrip, said,
"At Regrip, we believe in the power of circular economy principles and environmental responsibility. Our journey has just begun, but we are determined to make a lasting impact. Through our tyre refurbishment process, we strive to provide affordable solutions, reduce waste, and contribute to a greener and cleaner planet."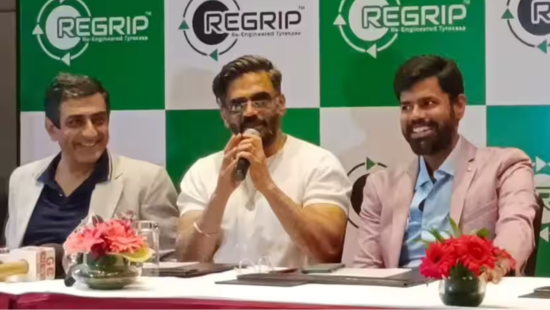 The re-engineered tyre startup uses quality-grade rubber to make refurbished tyres through the process of shearing and retreading.
As per the startup, their tyres provide the same quality, strength, and sturdiness as new tyres. Their service is used by small and medium trucking companies, and these tyres cost half the price of new products.
Commenting on the development, Suniel Shetty said,
"We are not just redefining the concept of recycled, safe, economical, high-quality tyres but also contributing to a greener future by reducing waste and maximising the lifecycle of each tyre. By embracing innovation and sustainable practices, we can create a better world for generations to come."
Mahavir Pratap Sharma, the first investor in Regrip, stated that he loved the idea and the challenge of creating a brand in refurbished tyres. He added that the entire mechanised process, quality end-product, price, safety and impact were a win-win solution for the startup and his investment.
Bollywood And Startups
Over the years, Suniel Shetty has been actively engaged in the Indian startup ecosystem. Recently, the actor has bet on Klassroom Edutech, a Mumbai-based hybrid tutoring education startup, and a healthcare venture- The Biohacker.
Suniel also joined hands with food tech startup Waayu as a brand ambassador. A few of his investments include NFT platform Colexion, Kochi-based healthTech startup Vieroots, FTC (India's first online talent and casting platform), fitness app FITTR, Sai Estate Management and Skills Institute (SEMSI) and Beardo (men's grooming products).
Last week, Bollywood actress Parineeti Chopra invested an undisclosed amount in Clensta International Pvt. Ltd, which operates the D2C brand Clensta.
[Read: 
Bollywood Celebrities Who Have Invested In Indian Startups
]
Follow us and connect with us on Instagram, Facebook, Twitter, and LinkedIn.
Note: If you are a budding entrepreneur and require assistance to register a Pvt Ltd Company, register a company, create financial projections, business development, LLP Registration, compliance filing, funding formalities, debt funding, CFO Services, or other startup related legal services, contact us.