7 Bollywood Celebrities Who Have Invested In Indian Startups
The popularity of The Indian startup ecosystem is quite evident from the fact that there has been a significant increase in first-time founders, new startups, the inflow of global funds, and mergers and acquisitions. To gain from this growing ecosystem, Bollywood celebrities are leveraging their popularity and money and have stepped into investors' shoes.
Several Bollywood celebrities have invested in startups that resonate with their personalities and lifestyle. To provide you with details about celebrities and their investments, The StartupLab has prepared a list of 7 Bollywood actors who have invested in Indian startups.
7 Bollywood Celebrities Who Have Invested In Indian Startups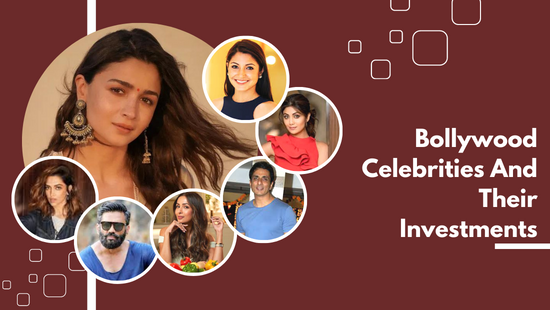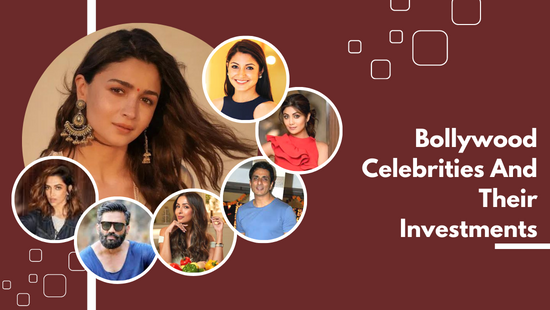 1. Alia Bhatt
Actress and entrepreneur Alia Bhatt is an investor in Phool.co, a startup that collects floral waste from temples and mosques and then handcrafts the waste into patented organic fertilizer, charcoal-free luxury incense and other wellness products via flower cycling.
"Phool incense really stands out for its fine natural fragrances and amazing packaging. I admire the founder's vision of making incense and bio-leather from recycled flowers that contribute to keeping our rivers clean, creating a humane alternative to leather, and providing employment to women in India's heartland."

Alia Bhatt
Alia is also an investor in StyleCraker and omnichannel lifestyle retailer Nykaa. She has also launched her own startup called Ed-a-Mamma, a kidswear fashion brand.
2. Anushka Sharma
Bollywood actress and producer Anushka Sharma is the founder of D2C fashion line Nush and has backed several homegrown startups also.
In February 2022, she, along with her cricketer husband Virat Kohli, made an undisclosed investment in plant-based meat startup Blue Tribe.
Founded in 2017 by Sandeep Singh and Nikki Arora Singh, Blue Tribe is a meat-alternative startup that provides meat from sustainable plant-based sources and offers products such as frozen minced chicken, chicken nuggets, keema, sausages, and momo. These products taste, look, feel and cook like meat but are plant-based.
Earlier in 2020, the husband-wife duo participated in fintech unicorn Digit Insurance's funding round.
3. Sonu Sood
In June 2022, Sonu Sood co-founded and launched an AI-based social media app Explurger along with industry veteran Jitin Bhatia.
Explurger, which is a freemium app, creates automatic travelogues using AI and rewards users for being interactive, helping users discover itineraries curated by travellers along with maps, photos and guides.
Presently, the app is running in beta version and used by more than 50K users across 40 nations.
"We have been working on this app for the last two-and-a-half years. When Jitin told me the idea of this app, I wanted to create something that gives back to the online community. People spend a lot of time on social media, and they don't get anything, with this Made-In India app, I want to give back something to people."

Sonu Sood
In 2020, Sonu Sood invested in rural fintech startup Spice Money via his company Sood Informatics LLP. He endorsed the startup as a brand ambassador and joined the board as a non-executive member too.
4. Deepika Padukone
After amassing millions of fans, Deepika Padukone started her entrepreneurial stint by founding her fashion line All About You in 2015.
Deepika, through her family office, participated in the $7.1 Mn Pre-Series B funding round of women's wellness D2C brand Nua. She will also work closely with Nua to ideate and create new wellness solutions.
In August 2021, she invested in the learning and community platform FrontRow, which offers classes taught by celebrities from different fields, including music, cricket and comedy.
Later in September 2021, the investment arm of Padukone's family office, KA Enterprises, invested an undisclosed amount in Mumbai-based cleantech startup Atomberg Technologies.
5. Suniel Shetty
Boasting a successful acting career, Suniel Shetty is also actively engaged in the Indian startup ecosystem.
This year in February, Suniel invested an undisclosed amount in fitness startup Aquatein and joined the startup as a brand ambassador.
Other startups in which Suniel Shetty has invested include- Kochi-based healthTech startup Vieroots, NFT platform Colexion, FTC (India's first online talent and casting platform), fitness app FITTR, Sai Estate Management and Skills Institute (SEMSI) and Beardo (men's grooming products).
6. Shilpa Shetty Kundra
Shilpa Shetty made an undisclosed investment in D2C nutraceutical brands- Fast&Up and Chicnutrix in July 2022.
Besides this, she has joined these brands as a brand ambassador and will work towards strengthening and promoting health and self-care in India. Shilpa Shetty has also invested in Mamaearth and Simple Soulful.
"Fast&Up and Chicnutrix have created some of the greatest products out there. I am extremely excited to witness their growth journey. Our lifestyle today is fast-paced, and it is difficult to keep up with all required nutrients or vitamins that are essential on a daily basis for the body, hair, skin, energy and general well-being. Their products totally suit today's demands."

Shilpa Shetty
Started in 2015 by Vijayaraghavan Venugopal and Varun Khanna, Fullife Healthcare, the parent company of Fast&Up and Chicnutrix, has a presence in India and across 21 international markets, including the USA, UK and Europe.
7. Malaika Arora
Malaika Arora showed her entrepreneurial side in 2021 when she launched Malaika Arora Ventures to invest in lifestyle, health, fashion and wellness brands.
In October 2021, the fund marked its first investment in the D2C ayurvedic nutrition brand Kapiva. She also joined the startup as a brand ambassador and will be a wellness mentor at the Kapiva Academy of Ayurveda.
"I am happy to be a part of this empowering journey where I can simplify Ayurveda for majority Indians and enable them to understand preventative healthcare solutions."

Malaika Arora
Founded by Ameve Sharma and Shrey Badhan, Kapiva is an Ayurvedic result-driven brand consisting of everyday products infused with pure Ayurvedic herbs. Each product that the startup offers is manufactured with research-based formulations crafted by qualified Ayurvedic experts at The Kapiva Academy of Ayurveda.
Follow us and connect with us on Instagram, Facebook, Twitter, and LinkedIn.
Note: If you are a budding entrepreneur and require assistance in startup compliance services, new company registration or other startup related legal services, contact us.