[Startup Funding India] 10 Funding Options For Startups
Over the decade, the Indian startup ecosystem has grown exponentially, and now India has the 3rd largest startup ecosystem in the world. With increased investors for startups and funding options, Indian startups are reaching new milestones in their performance and growth.
The year 2021 turned out to be a record-breaking year for Indian startups as 44 Indian startups entered the coveted unicorn club, and eight startups came up with their IPOs.
Though progressing, the Indian startup ecosystem is still in its nascent stage. It is filled with a lot of budding entrepreneurs that don't know how to register a company or raise funds. They dont understand the importance of business valuation services or financial model for startups.
10 Funding Options For Startups
This article aims to educate entrepreneurs about several startup funding options. In this article, we will discuss 10 funding options for startups.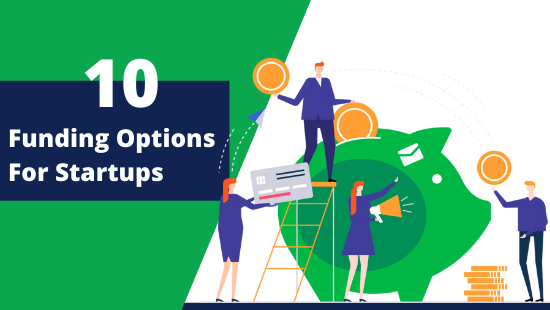 1. Angel investors
Angel investors are individual investors that invest in startups at an early stage, i.e. seed stage. Having a deep understanding of the pain points of entrepreneurs and finding opportunities in startups, these investors invest a lesser amount than venture capitalists and expect higher returns.
Angel investors, in some cases, are experienced entrepreneurs who have been through the process of starting and growing a business. They also act as mentors to young and budding entrepreneurs.
Before choosing a startup to invest in, angel investors screen the startup, research, and see how much the founder is passionate and invested in the startup. Once convinced, angel investors give funding in exchange for convertible debt or equity ownership in the startup.
Sanjay Mehta, Anupam Mittal, Kunal Bahl, Kunal Shah, and Sachin Bansal are some popular Indian angel investors.
2. Angel Networks & Platforms
Through these networks and platforms, angel investors pool their capital to invest in businesses, providing larger investments to startups. The platform receives equity ownership in the startup and benefits if it succeeds.
As startup investing is risky, angel networks & platforms enable angel investors to hedge risks and provide larger funds.
AngelList, Venture Catalysts, and LetsVenture are some popular angel networks & platforms.
3. Venture Capital Funds
Venture Capital Funds are provided by venture capital firms. These are financing firms that provide capital to startups and emerging companies.
Unlike angel investors, VC funds provide large amounts of capital to startups, helping them grow and expand. In return, they get equity or equity-linked instruments. Fueling the vision of thousands of entrepreneurs, these VcCfirms exit when the startup releases an IPO or is acquired.
Some prominent Indian VC Firms are 100X.VC, Mumbai Angels Network, Kalaari Capital and Blume Ventures.
4. Corporate Venture Capital
Corporate Venture Capital refers to the investment made by large organisations directly into a private enterprise or a startup. Through corporate venturing, startups get resources like funding, marketing expertise, or strategic direction. Depending on the deal, organisations can get equity in return, or they can use the resources of the startup like proprietary technology, in-demand product, etc.
Reliance Ventures, Mahindra Partners, and Brand Capital are some popular CVC firms.
[Read:
How Corporate Venturing Is Accelerating The Growth of Indian Startups
]
5. Venture Debt Funds
Though most common, equity is an expensive source of finance for entrepreneurs. That is why non-banking financial companies (NBFCs) provide an alternate form of debt funding to VC-backed startups under a hybrid scheme known as venture debt funds. 
Venture debt funds lend money in exchange for non-convertible debentures (NCDs) and equity warrants. These funds are gaining prominence, and last year Indian startups raised about Rs 4,500 crore ($600 million) of venture debt.
Some firms that provide venture debt financing to Indian businesses are Trifecta Capital, InnoVen Capital India, Alteria Capital and Stride Ventures.
6. Accelerators & Incubators
Accelerators and incubators help startups grow by providing necessary resources like management training, networking with highly specialised professionals, office space, equipment, etc.
Generally found in major cities, accelerators and incubators run programs for four to eight months, providing entrepreneurs with funding assistance, mentors, and a platform to connect with investors and other startups. In return, they take an equity stake.
GSF Accelerator, Microsoft Accelerator, Google Launchpad Accelerator, and Y Combinator are some of the popular accelerator programmes for Indian startups.
7. Revenue Based Financing
This kind of financing allows investors to provide capital to a startup in exchange for a certain percentage of the company's ongoing total gross revenues.
Revenue-Based Financing is becoming quite popular among the stakeholders, and India has seen the emergence of various revenue-based lending organisations. In January 2021, VC firm LetsVenture launched its revenue-based growth capital firm N+1 Capital.
Klub, GetVantage and Velocit are some revenue-based financing firms for Indian startups.
8. Government Grants & Funds
The Government of India, through its several initiatives and schemes, is backing the Indian startup ecosystem and providing them with the support they need. Aiming to build a robust startup ecosystem, the Government's Startup India program offers an 80% rebate on patent costs and income tax exemption to startups registered under the scheme for the first three years.
In 2021, the government also launched the Startup India Seed Fund scheme, which provides funding support to early-stage startups.
The government has allocated Rs 1,000 crore for the Fund of Funds for Startups this year, as well as Rs 283.5 crore for the Startup India Seed Fund Scheme (SISFS).
9. Crowdfunding
It is a less popular startup funding alternative in which funding is raised from a large number of people. This method of raising funds is easy compared to bank loans, venture capital, and angel investors, which involve complicated procedures. Equity crowdfunding is another option, but its legality in India is debatable.
SeedInvest Technology, GripInvest, StartEngine, GoFundMe, and Indiegogo are some of the notable crowdfunding platforms for startups.
10. Banks and NBFCs
As the startup ecosystem is flourishing, banks provide loans for all stages of business, but the terms differ. Startups can opt for bank loans for their different business needs like equipment loans, working capital loans and startup business loans.
Banks require higher collateral for an idea-stage startup, but for equipment loans, there may be no need for collateral.
Bajaj Finserv, J&K Bank, HDFC Bank and Lendingkart are popular NBFCs and Banks that offer loans to Indian startups.
Visit Indian Startup News to read the latest startup news.
Follow us and connect with us on Instagram, Facebook, Twitter and LinkedIn.