How E-Cells Contribute To The Growth Of Entrepreneurs
E-Cells also called Entrepreneurship Cells are entrepreneurship promoting bodies that aim to provide aspiring entrepreneurs with insights and real-life business experience.
An E-Cell provides
Awareness among aspiring entrepreneurs regarding entrepreneurship
Programs on Entrepreneurship Enabling Skills
Procedures, and legalities of setting up a business
Various Schemes By Government for Businesses
How to approach Investors
Workshops related to- how to prepare business plans, marketing strategies, etc
How E-Cells Contribute To The Growth Of Entrepreneurs
E-Cell aims at providing aspiring entrepreneurs with real-life business experiences and insights into the entrepreneurship world.
E-Cells In India
In a country like India, where entrepreneurs are launching new ideas regularly, E-Cells holds significant importance. Many colleges now have E-Cells to help young entrepreneurs grow their startups.
Here is the list of top E-Cells in India
E-Cell IIT Bombay, E-Cell IIT Kharagpur, E-Cell, IIT Delhi,  E-Cell IIT Kanpur, E-Cell IIT Madras, etc.
Some Major Achievements and events by these E-Cells are
E-Cell IIT Bombay has successfully established 150+ e-cells across 80 cities in India.
E-Cell IIT Kharagpur conducts a lot of activities for the benefit of students, such as Global entrepreneurship summits, Global entrepreneurship conferences, startup fairs, etc.
E-Cell IIT Kanpur organizes events like E-summits, Tedx, NNSC, E-factors, etc. to convert the burning entrepreneurial ideas into actions. It has also been a part of success stories of ventures such as Myntra, Infosys, Inmobi, autowale.in, etc.
[Read:
Top 9 Active Venture Capital Firms in India
]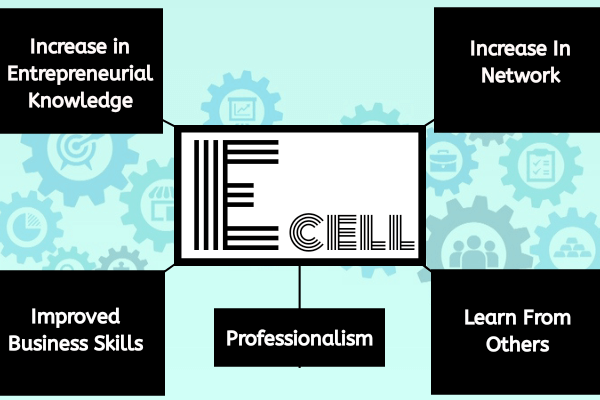 Benefits Of Joining E-Cells For Aspiring Entrepreneurs
E-Cells contribute to the growth of aspiring entrepreneurs by providing them with an entrepreneurial atmosphere. And when you have the right kind of influence around you, you can learn and improve a lot.
Following are the benefits you can have by joining an E-Cell.
Increase in Entrepreneurial Knowledge
Improved Business Skills
Increase In Network
Learn From Others
Professionalism
1. Increase in Entrepreneurial Knowledge
Your entrepreneurial knowledge can grow exponentially by joining an E- Cell. You can learn things like how to start a venture, the importance of Intellectual Property Rights (IPR), What to look for in a co-founder, etc.
2. Improved Business Skills
E-Cell provides the right atmosphere for entrepreneurs to work on and grow their idea. You can learn important business skills like leadership, time management, financial planning, negotiation, research, etc. So by joining an E-Cell, you can improve your business skills.
3. Increase In Network
Businesses grow with meaningful connections. In an E-Cell, you can learn how to network with people around you. Also, networking provides you with an advantage over others.
4. Learn From Others
Since everybody in the E-Cell belongs to the Entrepreneur Community, you can learn a lot about entrepreneurship from them. You can learn about things like common business mistakes entrepreneurs make, how to form a team, conceptual skills, technical skills, etc.
5. Professionalism
Professionalism refers to your behaviour, demeanour, and attitude towards someone in a business environment. Working with entrepreneurs on ventures helps you attaining professionalism.
[Read:
How IITians Turned Entrepreneurs Are Creating India's Fastest Growing Online Rental Motorbike Platform Ridobiko
]
Need legal assistance for your startup? Just contact us.
Follow us and connect with us on Instagram, Facebook, Twitter and LinkedIn.