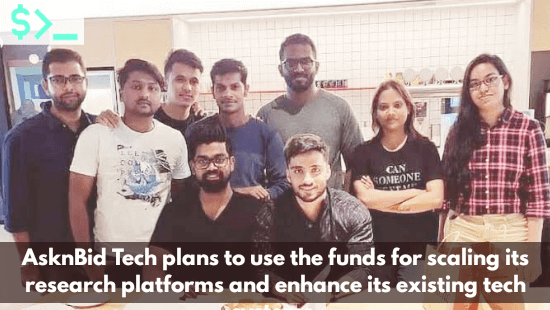 Investment Tech Startup 'AsknBid Tech' Raises Funding From Mumbai Angels Network
AsknBid Tech has raised an undisclosed funding amount from Mumbai Angels (MA) Network and other angel investors. 
The startup plans to use the funds for scaling its research platforms and enhance its existing tech systems.
Founded by Suresh Bavisetti and Paarth Dhar in 2018, AsknBid Tech is a Bengaluru-based investment tech startup.
AsknBid is working with a vision 'to achieve maximum technological efficiency in financial markets' and builds algorithmic investing-based tech products.
Talking about their platform, the founders said,
"Algo investing is still in its infancy in Indian markets and we believe that India will see multiple players and products emerging in this space over the next few years."