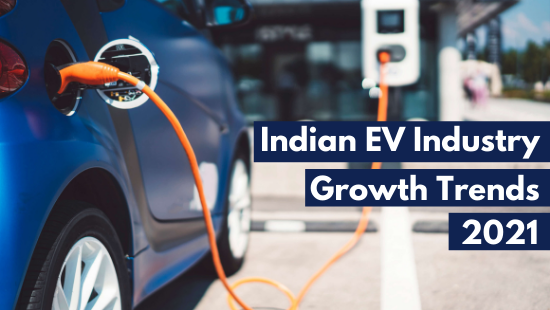 [Electric Vehicles In India] Factors Driving The Growth Of Indian Electric Vehicle Industry In 2021
Valued at $71.1 million in 2017, the Indian electric car market has grown leaps and bounds. In 2019-20, the EV sales in India stood at 3.8 lakh units, and the EV battery market stood at 5.4GWh during the year, with electric two-wheelers being the highest selling in the entire segment last fiscal. The growth of Electric vehicles in India is backed by several government schemes and subsidies. Also, with increasing environmental concerns because of high pollution levels, the market growth rate is being positively impacted, and people are willing to pay a premium.
Factors Driving The Growth Of Indian Electric Vehicle Industry In 2021
Around 24% of the people across the country in 2019 stated that they are willing to pay 11 to 30% more than a conventional car to purchase an electric one.  Witnessing a CAGR of 34.5%, the Indian electric car market size is projected to reach $707.4 million by 2025.
Before going straight to the factors driving the growth of the industry, let's talk about the need for electric vehicles in India.
What Is The Need For Electric Vehicles In India?
Higher Carbon Emissions
The automobile sector plays a huge role in increasing CO2 emissions in the environment. For a fact, a typical passenger vehicle emits about 4.6 metric tons of carbon dioxide per year. And as no greenhouse gas emissions directly come from electric vehicles, they will play a key part in meeting India's goals regarding climate change.
Large Scale Fuel Imports
India currently imports 84% of its domestic demands for crude oil, making it costly to meet most of its mobility fuel needs. But as India sees growth in EV sales, in future, India can save up to 64% of passenger mobility-related energy demand by 2030 and billion dollars in the process.
Growing Fuel Cost
Crude oil prices have a direct relationship with domestic fuel prices. Because of regular ups and downs in fuel prices, running a vehicle is becoming very costly. As the number of conventional vehicles in India is increasing, electric vehicles offer the perfect solution to save money.
[Read:
Factors Driving The Growth Of Agritech Industry In India
]
EV Market India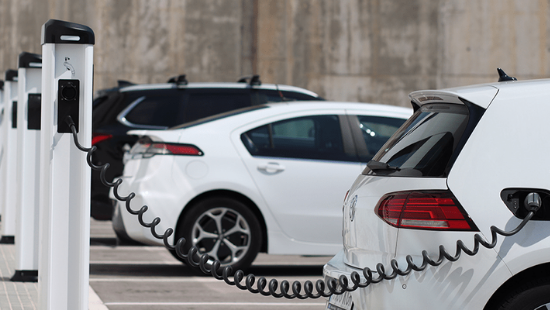 Sales And Growth Rate Of Electric Vehicles In India
In 2019-20, the sales of electric vehicles in India stood at 3,80,000. With this pace, the EV market is expected to grow at a CAGR of 44% between 2020-2027 and is expected to hit 6.34 million-unit annual sales by 2027.
As per an independent study by CEEW Centre for Energy Finance (CEEW-CEF), the EV market in India will be a US$206 billion opportunity by 2030 if India maintains steady progress to meet its ambitious 2030 target. 
Additionally, the Indian EV battery market is forecasted to grow at a CAGR of 30% by 2026. The annual battery demand is also forecasted to grow at 32% to hit 50GWh by 2027, says a report by India Energy Storage Alliance (IESA). Out of 50GWh, 40 plus GWh will be on lithium-ion batteries.
[Read:
Why Is India A Booming Market For Direct-To-Consumer Brands
]
Role Of Government And Policymaking
The government of India, with its consumer-friendly EV policies, is very focused to achieve its ambitious target of becoming an all-EV nation by 2030.
Establishing a robust e-mobility ecosystem in India, the government has come up with several initiatives, including the Go Electric campaign and the FAME scheme.
The EV industry got a major policy boost when the government launched the National Electric Mobility Mission Plan (NEMMP) 2020.
The government of India in 2013 launched The National Electric Mobility Mission Plan (NEMMP) 2020 to achieve national fuel security by promoting electric and hybrid vehicles.
Under the NEMMP, the government launched the FAME scheme (Faster Adoption and Manufacturing of (Hybrid &) Electric Vehicles). The scheme provides upfront incentives on the purchase of EVs and for supporting the deployment of charging infrastructure.
Details About Electric Vehicle Policies And Initiatives
Go Electric campaign
The campaign was launched by the central government in 2021, and it aims to spread awareness of the benefits of e-mobility and EV Charging Infrastructure.
Faster Adoption and Manufacturing of Hybrid and Electric vehicles (FAME)
Started in 2015, the FAME scheme provided subsidies for purchasing electric vehicles.
Phase I of the scheme lasted four years from 2015 to 2019, while Phase II began in 2019.
Phase II of the FAME scheme, which is planned to be completed in 2022, provides upfront incentives on the purchase of EVs and for supporting the deployment of charging infrastructure.
Companies Leading The EV race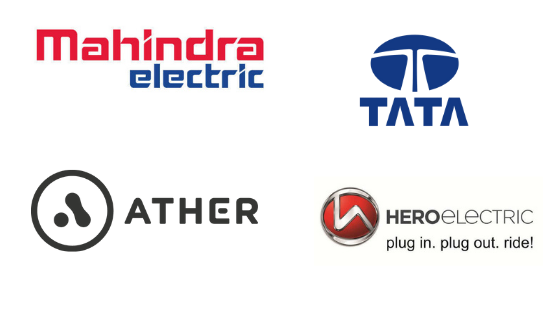 Mahindra Electric
Mahindra Electric Mobility Limited, formerly known as the Reva Electric Car Company, is a Bangalore-based compact electric vehicle manufacturer.
The company launched its first EV REVAi electric car in 2001 and was available in 26 countries with more than 4000 different versions.
Mahindra & Mahindra acquired REVA in May 2010. After the acquisition, the company launched the electric hatchback e2o in 2013.
At present, Mahindra Electric offers various electric vehicles in many different segments – the electric sedan eVerito, the electric commercial vehicle eSupro (passenger and cargo) and the Treo range of low maintenance, lithium-ion battery-powered three-wheelers.
Currently, Mahindra Electric has sales of around 180-200 units per month in India. The company has 7000+ customers along with over 50 million miles of electric vehicle driving. The EV company is also planning to launch charging stations in Noida and Delhi in partnership with NTPC.
Tata Motors
Being a leading global automobile manufacturer of cars, utility vehicles, buses, trucks and defence vehicles, Tata Motors aims to make electric mobility affordable.
The auto giant has introduced a holistic e-mobility ecosystem called 'Tata uniEVerse' to accelerate the adoption of EVs in India.
Through 'Tata uniEVerse', the company is leveraging the strengths and experience of other Tata Group companies to create a viable EV environment, enabling consumers to get access to a suite of e-mobility offerings, including charging solutions, innovative retail experiences and easy financing options.
Also, Tata Motors' Nexon EV has emerged as the best-selling electric car in India. Currently, the homegrown auto giant leads the EV segment with a 64% market share and plans to price its green cars at "not more than 15-20% premium" to conventional petrol/diesel vehicles.
HERO Electric
HERO ELECTRIC is a market leader in the Indian electric two-wheeler segment. The company started manufacturing electric bikes for the first time in the year 2007. It sold 8,111 electric scooters in CY2020, maintaining its position at the top of the electric two-wheeler market.
HERO ELECTRIC aims at making the country greener and to be the best in 'Zero Pollution' transportation throughout the country through its wide range of electric vehicles.
Ather Energy
Founded in 2013 by Tarun Mehta and Swapnil Jain, Ather Energy is a Bengaluru-based electric scooter startup that aims to revolutionize the commute experience.
Backed by Hero MotoCorp, Flipkart Co-founder Sachin Bansal, Singapore-based InnoVen Capital, and Tiger Global, the electric-scooter startup aims to sell more than 1 lakh scooters by the end of 2022.
Challenges In The Electric Vehicle Segment
Less Awareness
As EV Industry is still in a nascent stage, there is a general lack of awareness regarding EVs and their mechanical systems among the masses.
Hence, till a considerable quantity of them aren't there on the road, most of the mechanics wouldn't understand their complete systems and so it'll result in inflicting inconvenience for the buyer.
Lack of charging Infrastructure
In terms of development, the electric vehicle industry has made significant strides, but still, there is a lack of charging infrastructure in the country.
For instance, the market leader in the Indian electric two-wheeler segment, Hero Electric, does not have a very vast establishment of charging stations across the country.
To meet the needs, the government is planning to set up at least one e-charging kiosk at around 69,000 petrol pumps across the country.
Charging Time
Lengthy charging time is a major reason that affects consumers' buying decision related to EVs. Despite fast charging is available in most vehicles, it takes over an hour to charge about 80% of them, which is a long wait.
Future Of Electric Vehicles In India:
Despite the present challenges, EV Industry in India is expected to grow at a fast pace. Other segments of EVs like the high-speed electric three-wheeler market is currently at a very nascent stage.
Providing a huge room for penetration, the segment has opened mainly at the B2B or in the cargo segment due to the requirement of performance vehicles.
Also, the EV industry believes that the market will grow very rapidly in the upcoming years as many state governments are planning to convert the existing fleet of autos into electric under their EV policies.
As per a report by Bloomberg New Energy Finance, EVs presently make up 3% of worldwide vehicle deals.
The report stated that with each passing year, electric vehicle deals will see an increase. From 10% of worldwide traveller vehicle deals in 2025, electric vehicles (EVs) deals will hit 28% in 2030 and 58% in 2040.
58% of worldwide traveller vehicle deals in 2040 will come from electric vehicles, making up under 33% of all vehicles, says the report.
[Read:
Technological And Growth Trends In The Healthtech Industry In India
]