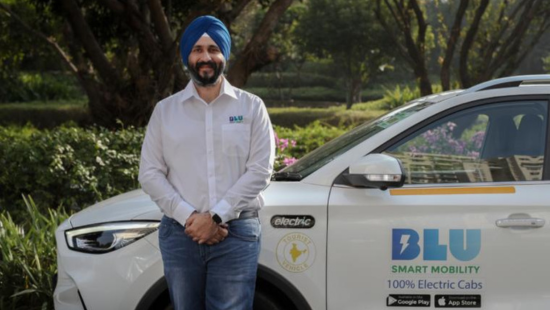 Electric Ride-Hailing Platform BluSmart Raises $42 Mn Funding
BluSmart Mobility, a homegrown electric vehicle (EV) ride-hailing company, has raised $42 million (around Rs 342 crore) in a bridge funding round from its existing investors, BP Ventures and Survam Partners.
BluSmart's leadership team also participated in the funding round.
As per the startup, the freshly raised funds will be deployed for expanding BluSmart's ongoing operations. Currently, BluSmart has an all-electric ride-hailing fleet size of 3,500, operating in Delhi-NCR and Bengaluru and targets to deploy 10,000 EVs in FY24.
BluSmart | EV Ride-hailing Startup
Founded by Anmol Jaggi and Punit Goyal in 2019, BluSmart Mobility is an all-electric shared smart mobility platform offering efficient, affordable, intelligent and sustainable mobility. The startup has a fleet of electric vehicles that run on clean energy, promoting sustainability and reducing carbon emissions.
Anmol Singh Jaggi, co-founder and CEO, BluSmart, stated that the path to electrification has several challenges. Jaggi added,
"BluSmart tackles these challenges through a full-stack approach consisting of a born electric tech stack, complete control over EV charging infrastructure and choosing locations to build large scale EV charging infrastructure, optimally maintaining the EV ride-hailing fleet at scale."
BluSmart Mobility offers EV ride-hailing services and charging infrastructure across Delhi NCR, Bengaluru and other megacities in India. It claims to have completed more than 5.3 Mn rides so far, travelling 180 Mn+ zero-carbon kilometres in the process.
Backed by prominent VC firms like Alteria Capital, BP Ventures, BlackSoil, Stride Ventures, Mumbai Angels, and LetsVenture, among others, BluSmart has raised $109 Mn across its seed to Series A-2 rounds which includes an equity raise of $85 Mn raised across the Series A rounds.
Last year in May, BluSmart raised $25 million in an extended Series A round, which is a follow-up to the Series A funding round that closed in September 2021.
The electric mobility segment in India has developed into multiple different subsectors, including ride-hailing services, battery manufacturers, vehicle manufacturers, and charging infrastructure providers.
Catering to this segment, Kazam, an electric mobility software platform for charge-point operators and electricity grid management platform, raised about $3.6 million in a fresh funding round led by Avaana Capital Fund. In March 2023, electric vehicle charging firm CHARGE+ZONE raised $54 million in equity and debt funding to expand the high-speed charging network in the country. The funding round was led by BlueOrchard Finance, along with existing and new institutional investors. 
Evera, a Delhi-based electric vehicle (EV) cab service provider, has raised $7 Mn in multiple tranches as part of its Pre-Series A funding round.
Follow us and connect with us on Instagram, Facebook, Twitter, and LinkedIn.
Note: If you are a budding entrepreneur and require assistance to register a Pvt Ltd Company, register a company, create financial projections, business development, LLP Registration, compliance filing, funding formalities, debt funding, CFO Services, or other startup related legal services, contact us.