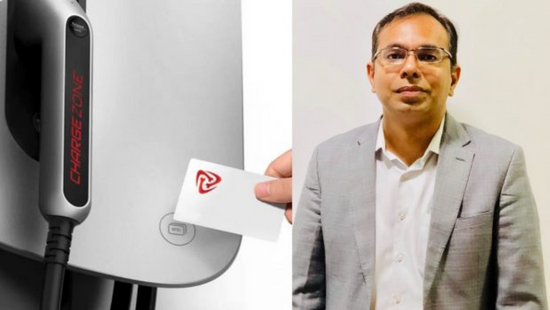 EV Charging Firm CHARGE+ZONE Raises $54 Mn In Series A1 Round
Electric vehicle charging firm CHARGE+ZONE has raised $54 million in equity and debt funding to expand the high-speed charging network in the country. The funding round was led by BlueOrchard Finance, along with existing and new institutional investors. 
As part of Series A1 funding, CHARGE+ZONE has raised $54 million, of which USD 8 million is debt investment from an infrastructure strategy managed by Blue Orchard.
With the raised funds, CHARGE+ZONE will roll out 286 charging stations serving 1,130 e-buses and e-trucks as well as over 1250 e-car fleets in addition to new expansion targets by CHARGE+ZONE. 
CHARGE ZONE | EV Charging Infrastructure Firm
Founded by Kartikey Hariyani, CHARGE+ZONE is a tech-driven EV charging infrastructure firm specializing in B2B and B2C charging services on both dedicated and opportunity-based charging using a smart-grid network.
With indigenous development of the technology of mobile app and CMS with firmware/web-socket cloud-based computing, CHARGE+ZONE is on a mission to establish 100,000 charging stations across important markets of EVs in India for cars, buses and even trucks.
Speaking about the development, Kartikey Hariyani, Founder and CEO of CHARGE+ZONE, said,
"As a part of our Series A1 fundraise of US$54m (INR450 crores) of equity and debt, we are excited to have BlueOrchard to be a part of our journey to build the supercharging networks for EVs in India and other global markets. In the current phase, we aim to build 3000 high-speed DC charging stations by 2025 and expand our network to enable e-mobility across the fleet and personal EV segment, including EV cars, buses and trucks. The current Series A1 raise is the part of the planned capex investment of US$ 300 million, as we foresee crucial growth for the 4W e-mobility segment over the next 4-5 years." 
Currently, the electric vehicle charging firm has more than 3,000 charging points across over 1,500 EV charging stations in operations or construction in 37 Indian cities, covering more than 10,000 kilometres of highways.
Overall, with the use of funds, the startup will help achieve environmental targets to reduce emissions from internal combustion engines of diesel and petrol vehicles by 5,351 tons per annum. Additionally, in the long term, the Series A1 funding for CHARGE+ZONE will contribute directly and indirectly to the creation of at least 500 jobs.
This year, the EV sector has been among the top favourite sectors of investors. In February, Turno, a commercial electric vehicle startup, raised $13.8 million (around Rs 112 crore) in Series A funding.
Earlier in January, EV services subscription platform Swytchd raised $553,000 in a seed funding round. Also, Entuple E-Mobility, an electric powertrain and turbocharger product startup, raised $3 million in a pre-series A round.
Follow us and connect with us on Instagram, Facebook, Twitter, and LinkedIn.
Note: If you are a budding entrepreneur and require assistance to register a Pvt Ltd Company, register a company, create financial projections, business development, LLP Registration, compliance filing, funding formalities, debt funding, CFO Services, or other startup related legal services, contact us.