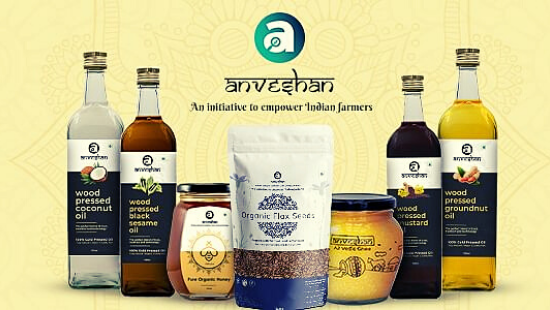 D2C Food Startup Anveshan Raises Rs 3.67 Cr In Seed Funding
Anveshan, a D2C healthy food brand, has raised Rs 3.67 crore in a seed round led by DSG Consumer Partners, Titan Capital and Anjali Bansal from Avaana Capital. The funding round also saw participation from existing investors, including boAt Lifestyle and Beardo founders.
As per the startup, the funding will be used to hire new talent and strengthen and standardise its manufacturing units.
Anveshan | Revolutionizing The Food Industry Through Technology
Founded by three IIT-Guwahati alum Akhil Kansal, Aayushi Khandelwal, and Kuldeep Parewa in early 2020, Anveshan is a food-tech startup providing high quality, deeply traceable food products directly sourced from Indian farmers.
Embracing traditional Ayurvedic methods, Anveshan offers high-quality, natural, affordable, and minimally processed food products. The D2C healthy food brand leverages technologies based on image processing, spectroscopy, blockchain and IoT to provide the best quality food products made traditionally.
Speaking on the funding round, Aayushi Khandelwal, Co-founder of Anveshan, said,
"We, as a brand, wish to become the platform that bridges the gap between farmers and end-consumers. The proceeds will be used to propel our quality control methods, raw material sourcing, R&D of new products, and packaging innovations. We are also looking to establish in-house labs for our product testing."
The Indian foodtech sector has seen exponential growth in recent times and currently handles annual Gross merchandise value (GMV) worth $2.5-3Bn (in 2021). This growth presents an opportunity to cross $16Bn annualized GMV by 2025, states an HSBC report on India's consumer internet market.
According to a report by ResearchAndMarkets, the Indian foodtech sector is expanding at a compound annual growth rate (CAGR) of ~39% during the 2021 – 2025 period and is expected to reach INR 1,868.19 Bn by 2025.
For more stories of startups, click Startup Stories.
Follow us and connect with us on Instagram, Facebook, Twitter and LinkedIn.