Startup Story: This AgriTech Startup Is Using Artificial Intelligence To Help Farmers
Agriculture is considered the backbone of India's economy as it is the prime source of livelihood for about 58% of India's population.
Even after so much dependency on agriculture, the financial condition of farmers in India is worst, with news of farmers committing suicides appears every day.
Today's startup story is about such a startup that is using tech-based solutions to make the life of the farming community in India better.
Working with a vision to revolutionize supply chain and production efficiency in the farm sector, today's startup story is about DeHaat.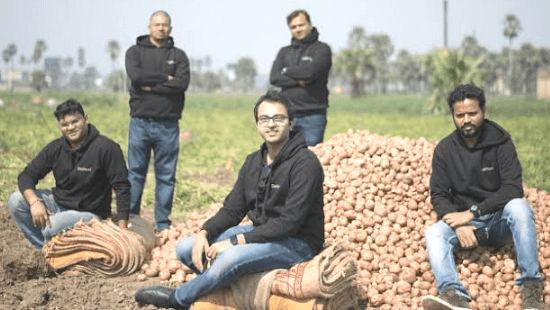 Startup Story: DeHaat | Online Marketplace For Farmers
Headquartered in Gurugram, DeHaat is an AgriTech startup that provides end-to-end solutions and services to the farming community in India.
Building AI-enabled technologies to revolutionize supply chain and production efficiency in farm sector, DeHaat aims to bring its services to 5 million farmers by 2024.
DeHaat Founders And Funding
DeHaat was founded by Amrendra Singh, Manish Kumar (served as a co-founder for 4 years) and Shashank Kumar in 2012.
The startup has received total funding of $49.3 Million and recently acquired B2B SaaS platform FarmGuide.
How DeHaat Started?
Belonging to a farming background, Shashank Kumar was always familiar with the troubles of farmers. And with more interactions with farmers, on his visits home, he found out the extent of their financial issues.
As the engagement with farmers increased, Shashank came to know about the difficulties small and marginal farmers face at each stage of the agricultural value chain.
Shashank was later joined by his friends Manish Kumar and Amrendra Singh to form Green Agrevolution Pvt. Ltd in 2012 and eventually they came up with the DeHaat concept to provide last-mile delivery of 360-degree Agricultural services to farmers.
How Is DeHaat Different From Other AgriTech Startups?
DeHaat offers full-stack agricultural services to farmers. DeHaat, with its mobile-based platform, connects small farmers to their 360 degrees of agricultural requirement – from seed to market.
DeHaat App also provides frequent crop reminder notification voice calls in the local language to the farmer specific to their crop requirements.
This online marketplace for farmers helps them secure thousands of agri-input products, including seeds and fertilizers, and provides them access over 3,000 Agri inputs and customized crop advisory.
DeHaat also provides market linkages to these farmers to sell their crops by connecting them with over 200 commodity bulk buyers. These bulk buyers include retail chains, e-commerce companies, FMCG companies, and SME food processors.
Present Situation Of DeHaat
DeHaat currently operates in 20 regional hubs in the eastern part of India with around 443 retail centres.
It is because of this wide presence that DeHaat has been able to provide about 380k lakh farmers access to over 3,200 Agri inputs, and customized crop advisory across Bihar, Jharkhand, Uttar Pradesh, and Odisha.
Future Plans Of DeHaat
To make its platform better for farmers, DeHaat is working on automating its supply chain and developing more sophisticated data analytics. DeHaat also plans to extend its network to 2,000 rural retail centres, and reach 1 million farmers by June 2021.