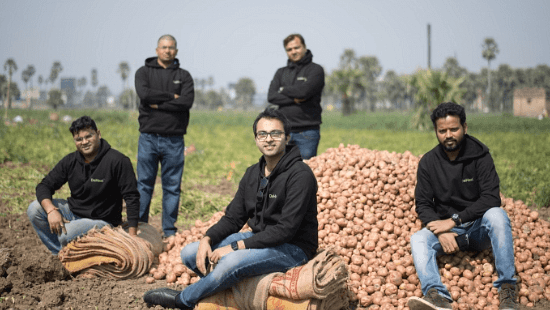 Agritech Startup DeHaat Acquires B2B SaaS platform FarmGuide
DeHaat, an agritech startup, has acquired B2B SaaS platform FarmGuide.
Founded by IIT Delhi alumni Nikhil Toshniwal and Ankit Gupta in 2016, FarmGuide is a SaaS platform enabling real-time farm monitoring and farmer E-KYC.
The startup is targetting the next 20 million farmers by 2021 and committed to creating an end to end information symmetry in the agri-supply chain by digitizing farms and farmers with agriculture insights on a single platform.
The acquisition move comes a month after DeHaat raised Series C funding of $30 million.
With the deal, FarmGuide's spatial technology and data science will be integrated with DeHaat's existing platform to build a full-stack platform for agribusiness.
[Read:
Story Of Agritech Startup DeHaat
]
As part of the deal, the founding team of FarmGuide will also now be a part of DeHaat.
Also, the core database and tech platform will be integrated with DeHaat's full-stack technology, said the company in a released statement.
Agritech Startup DeHaat
DeHaat is an AgriTech startup that provides end-to-end solutions and services to the farming community in India.
As per the startup, it is currently serving over 380,000 farmers and providing them access to over 3200 Agri inputs and customized crop advisory across Bihar, Jharkhand, Uttar Pradesh, and Odisha.
Talking about the acquisition, Shyam Sundar Singh, Co-founder of DeHaat, said,
"We have been building a full stack tech platform to map the entire agri value chain between Indian farmers and agribusinesses. The tech platform developed by FarmGuide complements our tech vision of bringing efficiency and transparency to agri supply chain. Its GIS technology and ability to use satellite data for crop monitoring and analysis will help DeHaat to provide customised crop advisory solutions to farmers and relevant agri insights to businesses transacting on DeHaat platform for Agri input, as well as agri output."
[Read:
Agritech Industry In India
]
Need legal assistance for your startup? Just contact us.
Follow us and connect with us on Instagram, Facebook, and LinkedIn.