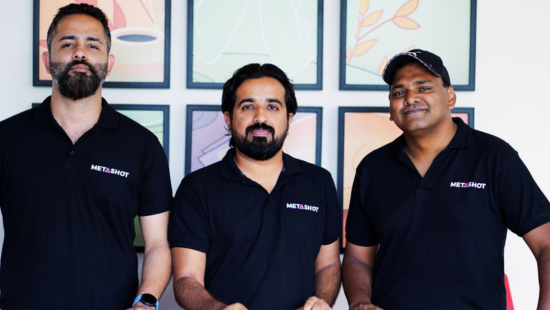 Gaming Startup MetaShot Raises $400,000 In Pre-Seed Round
Bangalore-based gaming startup MetaShot has raised $400,000 in a pre-seed funding round from Inflection Point Ventures, along with angel investors Ankit Mehrotra, Sahil Jain, and Khalid Qazi (Dineout), among others.
As per the startup, the freshly raised funds will be used to expand the team, invest toward growth and marketing, and for R&D efforts.
MetaShot | Accessible Metaphysical Gaming
Founded by Prince Thomas, Ranjit Behera, and Ajith Sunny, MetaShot is a Bangalore-based gaming startup that aims to democratize the console gaming industry with its innovative technologies.
By introducing accessible metaphysical gaming, which is currently in its early stages globally and in India, MetaShot aims to revolutionize the $72 billion global gaming console market.
Speaking about the development, Prince Thomas, Co-founder of MetaShot, said,
"With our first product, we aim to bring the fun and excitement of real cricket into every living room of a cricket-crazy nation. Interestingly, we dreamed, designed, and built MetaShot completely out of India. We thank our investors for believing in our journey and backing our mission."
Currently operating in the Bangalore market, MetaShot aims to make metaphysical gaming devices accessible to millions of households. Planning to expand its operations to other cities in the second quarter of the current financial year, the Bangalore-based gaming startup aspires to venture into other cricket-playing nations soon.
Commenting on the development, Vikram Ramasubramanian, Partner at Inflection Point Ventures, stated that MetaShot, with its offerings, shows immense potential, and IPV can help the gaming startup with this moonshot of an opportunity.
"MetaShot is bringing a near real-life cricketing experience to the gamers. Cricket is loved in India in all seasons and for all reasons. We see that with the right marketing and business strategy that Metashot has demonstrated, they can tap into billions of cricket lovers in the country and explore strategic partnership to drive their brand recall."
The Indian gaming startup ecosystem across categories is booming. With investors willing to back the startups, several gaming startups have raised funds. In June this year, TradingLeagues, a Bengaluru-headquartered fantasy stock gaming application, raised $3.5 million in a pre-Series A funding round.
AvatarLife, a metaverse-based gaming firm, raised $1.5 million (Rs 12.3 crore) in a seed funding round from Info Edge Ventures for product development, community building, and hiring talent. 
Additionally, industry players have also come forward to drive this growth of the gaming ecosystem. A few months back, gaming startup WinZO launched a $50 Mn 'Game Developer Fund' to invest at least $10 million of the fund in US-based startups.
Follow us and connect with us on Instagram, Facebook, Twitter, and LinkedIn.
Note: If you are a budding entrepreneur and require assistance to register a Pvt Ltd Company, register a company, create financial projections, business development, LLP Registration, compliance filing, funding formalities, debt funding, CFO Services, or other startup related legal services, contact us.