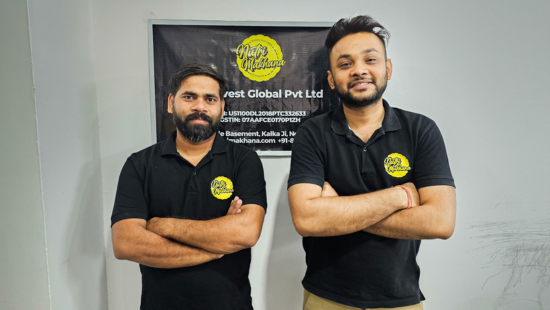 D2C Snack Brand Nutri Makhana Raises Undisclosed Funding
Nutri Makhana, a D2C snack brand, has raised an undisclosed amount from Mohammad Umair (Founder, Wigzo Technologies backed by Shiprocket).
The funding round also saw participation from the co-founder of Wigzo and several other investors.
Nutri Makhana | Consciously Crafted Snack Brand
Founded by Shanu Goel, along with co-founder Tejveer Singh, Nutri Makhana is a consciously crafted D2C snack brand that is on a mission to impact the lives of millions of people by persuading them to move to Makhana munching from junk eating.
The snack brand currently offers two categories of the product: plain Makhana and Flavored Makhana.
Speaking about Nutri Makhana, Shanu Goel, in an exclusive conversation with The StartupLab, said,
"Plain Makhana comes in various sizes and has certain quality controls, whereas the recipes of flavoured Makhana have been developed after intense R&D of 2 years, onboarding an experienced Food Tech and working diligently with the Mallah community (the only community that has been blessed to produce Makhana) to procure the premium quality. The processing is done at state of the art facility using the intelligence of Ayurveda and handpicked ingredients."
Rich in micronutrients like magnesium, iron, calcium, and phosphorus, makhana is a healthy source of macronutrients like protein and carbs as well. It is advantageous for fat and weight loss because it is high in fibre. Additionally, it has a lot of antioxidants, which may help prevent chronic Illness and inflammation.
As per Shanu, the vision is to build an ecosystem around Makhana, sync all the stakeholders, assess the opportunities, and become a household name by offering innovative products with Indianness globally.
Currently, the startup operates with a team of 20+ members and claims to have generated $62K in FY 22-23 and served 6K+ customers.
Backed by the legacy of 10 years in the Makhana business, the startup has a strong supply chain and a retail network of legacy stockists and distributors.
With aggressive growth plans in sight, the startup is looking to raise $200K for new product innovations like Makhana Pasta, Makhana chocolates, Makhana ice cream, Makhana smoothie, Makhana Kheer, Makhana Atta, and Makhana cookies. Nutri Makhana is also looking for expansion and plans to add 10 more states offline in the foreseeable future.
It plans to have a presence on all quick commerce platforms, targetting 1000+ orders per day in the coming future and expanding its footprint globally through e-commerce.
In recent times, the D2C segment in India has grown exponentially. The nation, which had been skeptical about the e-commerce ecosystem for years, is now witnessing an upward trend in online buying. As per reports, D2C brands in India are estimated to become a $60 billion industry by FY27.
Follow us and connect with us on Instagram, Facebook, Twitter, and LinkedIn.
Note: If you are a budding entrepreneur and require assistance to register a Pvt Ltd Company, register a company, create financial projections, business development, LLP Registration, compliance filing, funding formalities, debt funding, CFO Services, or other startup related legal services, contact us.