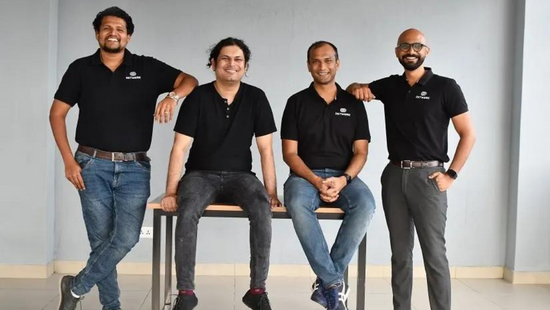 Zetwerk Raises Around Rs 100 Cr In Debt Funding Led By Edelweiss
Zetwerk, a B2B manufacturing services marketplace, has raised roughly Rs 100 crore in debt capital, with a fund backed by the Edelweiss Group contributing the majority of the funding.
As per a media report, citing two people aware of the development, the debt round was raised by issuing non-convertible debentures (NCDs) with around Rs 83 crore secured from Edelweiss Credit Plus Fund, which provides debt capital for early-to-mid stage private companies.
The freshly raised funds will be utilized to build Zetwerk's capital market access, make fresh acquisitions and drive further growth of the business.
Zetwerk | B2B Marketplace For Contract Manufacturing
Founded by Amrit Acharya, Srinath Ramakkrushnan, Rahul Sharma and Vishal Chaudhary in 2018, Zetwerk is a Bengaluru-based B2B marketplace for contract manufacturing. The startup helps small and medium enterprises in the manufacturing sector translate their digital designs into physical products.
Speaking about the development, one source said,
"The primary debt fundraise is part of a syndicate round participated by another fund and a few high net worth individuals (HNIs) (who contributed the rest Rs 17 crore)."
Zetwerk calls itself a universal factory for high-quality production, globally competitive costs and best-in-class lead times – whatever the category, product, scale or geography.
The B2B marketplace offers a full spectrum of manufacturing services – from custom-made components to mass production, from quality certification to inventory and supply chain management. It operates in over 25 industry segments with a mission to help customers cut costs of existing and new production parts, optimize the number of suppliers and handle high-quality production faster.
Zetwerk's fresh move to raise debt comes ahead of a fresh equity round planned by the startup over the next few months. Additionally, as per the sources cited above, Edelweiss Group's other funds, such as Crossover Opportunities fund, are in talks to take part in Zetwerk's equity round.
Competing with other B2B manufacturing companies such as Udaan, Moglix,InfraMarket.com, and OfBusiness, Zetwerk has made a series of acquisitions over the past year. Recently, in November 2022, Zetwerk bought manufacturing services company Unimacts for $39 million in a cash-and-stock deal.
Last year in June 2022, the B2B manufacturing services marketplace acquired three companies for Rs 100 crore to strengthen its industrial verticals in the oil and gas, aerospace, defence and infrastructure component segments.
Follow us and connect with us on Instagram, Facebook, Twitter, and LinkedIn.
Note: If you are a budding entrepreneur and require assistance to register a Pvt Ltd Company, register a company, create financial projections, business development, LLP Registration, compliance filing, funding formalities, debt funding, CFO Services, or other startup related legal services, contact us.