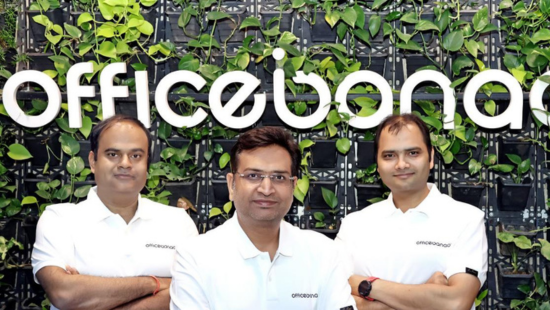 Workspace Interiors Startup OfficeBanao Raises $6 Mn Seed Funding
OfficeBanao, a workspace interiors platform, has raised $6 million in a seed funding round from Lightspeed, a multi-stage venture capital fund.
As per the startup, the freshly raised funds will be used to strengthen its platform across both technology and team, specifically in design and growth capabilities.
The startup will also look to cater to customers from small-mid-sized businesses to large enterprises, investing in customer success and a strong ecosystem of execution partners over the next few months.
OfficeBanao | Workspace Interiors Startup
Founded by Tushar Mittal, along with co-founders Akshya Kumar and Divyanshu Sharma, OfficeBanao is a platform for designers, architects, contractors, office furniture, and material suppliers providing an entire array of commercial interiors.
The workspace interiors platform works on small office projects of Rs 10 lakh to large offices and enterprises, as high as Rs 5 crore and more.
Speaking about the development, Tushar Mittal, Founder and CEO, OfficeBanao, said,
"The sector is unorganized, opaque, and so under-served that we believe only a tech-led approach can help deliver a delightful experience to workspace owners. Our belief is that with investment in technology, supplier ecosystem, product platform and a great team, we can build a very large and very profitable venture."
The startup is revolutionizing the journey of workplace design and execution by streamlining the process assisted by its proprietary in-house technology. OfficeBanao provides effective space planning using AI, 3D walkthroughs, product selections with multiple options and real-time collaboration to enable customers to make quick and right decisions.
The startup is already present in more than 15 cities across the country in a short span of time. OfficeBanao is focused on enabling small business owners and startups in their quest for productive and aesthetic workspaces.
Commenting on the development, Rahul Taneja, Partner, Lightspeed, said,
"OfficeBanao is committed to making a meaningful difference in how workspaces are developed in India. With the depth of experience and supplier network, the team is best placed to disrupt the existing opaque and sub-par experience that plagues the industry today."
Yesterday, Stylework, a Gurugram-based co-working aggregator platform, raised $2 million (around Rs 16.3 crore) as a part of its Series A1 funding round.
Follow us and connect with us on Instagram, Facebook, Twitter, and LinkedIn.
Note: If you are a budding entrepreneur and require assistance to register a Pvt Ltd Company, register a company, create financial projections, business development, LLP Registration, compliance filing, funding formalities, debt funding, CFO Services, or other startup related legal services, contact us.