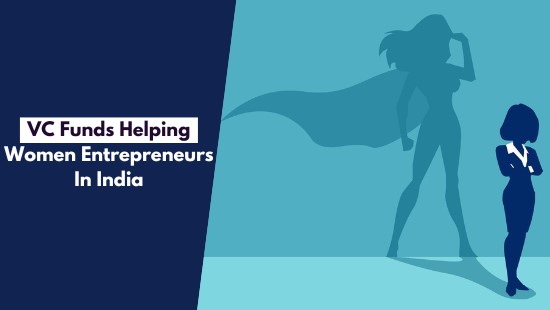 Top 5 VC Funds Helping Women Entrepreneurs In India
Over the past few years, the landscape of women entrepreneurship in India has changed. And in this era of startups, digitalization, and globalization, India is experiencing a revolution in the number of female entrepreneurs.
Though fewer in number (seven out of 100 entrepreneurs in India are women), female entrepreneurs are not just competing shoulder to shoulder with their male counterparts but are even excelling with their ideas and execution techniques.
As a result, Indian women entrepreneurs are likely to witness 90% growth in the next five years. Additionally, women Entrepreneurs in India can generate 150-170 million jobs by 2030, as per a report by Bain and Co. and Google.
There is no doubt that women entrepreneurs in India are rich in talent, but Indian startups with women founders manage to get only 1.5% of the total funding.
To solve the funding issue and provide a little push and opportunity to let Indian female entrepreneurs flourish, several women-focused VC funds have emerged over the past few years. In this article, we will be looking at the top five VC funds helping women entrepreneurs in India.
Top 5 VC Funds Helping Women Entrepreneurs In India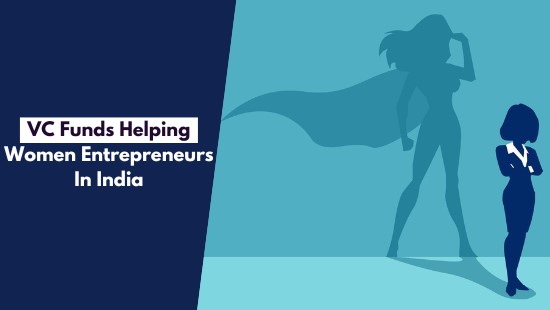 1. Kalaari Capital
Based out of Bengaluru, Kalaari Capital is an early-stage, technology-focused venture capital firm. Since 2006, Kalaari Capital has empowered visionary entrepreneurs by building unique solutions that reshape the way Indians live, work, consume and transact.
Through its CXXO initiative, Kalaari Capital is levelling the playing field for women founder-CEOs in shaping India's digital future by creating exponential value in the economy. Under the CXXO Program, women founders get access to capital, networking opportunities and mentoring from industry leaders that increases the odds of succeeding.
As India's startup ecosystem is going through a monumental shift, the firm is bringing decades of experience to accelerate startups at scale and create deep long-term partnerships with founders.
Kalaari Capital has funded more than 110 startups, and through the CXXO initiative, it has provided funds to women-led startups like Aastey, Kindlife, Samosa Party and Creative Galileo.
2. Saha Fund
Saha Fund is the first global women entrepreneurship venture capital fund that invests in early-stage startups promoting women's entrepreneurship, employment, diversity and technology.
The VC fund is promoting women's participation in the economy through value investing and investing in brilliant companies run by outstanding women entrepreneurs.
Investing across healthcare, finance, education, future of work technologies and consumer tech, the firm has backed several women-led startups, including Fitternity (acquired by CureFit), MyAlly (acquired by Phenom People), LoveLocal, and Joules to Watts.
3. AWE (ACHIEVING WOMEN EQUITY) Funds
AWE Funds promotes gender-equitable growth that is scalable, sustainable, and aims at leaving a positive effect on everyone in the economy.
It invests in innovation-driven, women-owned, -led, or -influenced businesses. The firm is primarily focused on industries where it can increase the engagement of women while leveraging its networks to add value to its portfolio companies across healthcare, food & agri, sustainability (Green Energy & Water), education, fintech and others.
Its portfolio of companies includes Freshokartz, Remedico, Velmeni and Agam.
4. She Capital
Founded in 2018, She Capital is an early-stage VC fund backing exceptional women founders from Seed to Series A stage.
Backed by the Small Industries Development Bank of India and international and local family offices, the firm is empowering the next generation of high-growth female-focused businesses to scale while providing business opportunities and mentoring services to enhance their entrepreneurial skills.
The firm invests in startups with at least one female co-founder or an executive with an equity interest and an active role. She Capital has invested in Clovia, Samosa Singh, ELEV8 and Spark Studio.
5. StrongHer Ventures
StrongHer Ventures is the second global women-focused tech fund, the first being Saha Fund, which focuses on pre-seed and early-stage tech-driven companies.
Launched by Ankita Vashistha, following the success of the Saha Fund, the VC fund provides capital, connections, community and continuous learning for women in Fintech, Future of Work, Healthcare, Consumer & Web 3.0.
Its women-led Arise Accelerator will invest in 200+ startups, engaging with over 1M women, 5,000 startups, and 1,000 entrepreneurs. Some of the startups in which StrongHer Ventures has invested include Myava.in, Jify.co, Basis, Owntrail.com, Gladful, Cora, Ready Set Jet, Velmeni.ai, and Meolaa.
Follow us and connect with us on Instagram, Facebook, Twitter, and LinkedIn.
Note: If you are a budding entrepreneur and require assistance in new company registration or other startup related legal services, contact us.