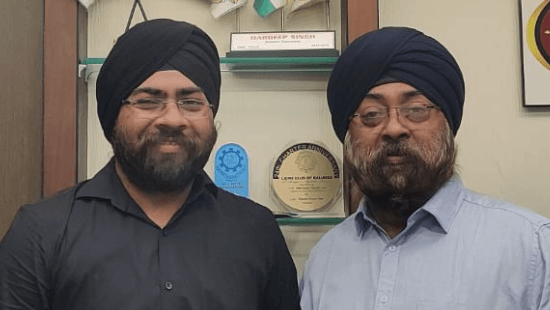 This SaaS Startup Is Redefining The Administration Of The Logistics Industry
Many industries rely on logistics for their day to day operations. Industries like E-Commerce, FMCG, Pharma, Construction, etc.. heavily rely on logistics.
Because of increased digitalisation, the working of the logistics industry has also evolved and turned itself as the most promising industry in terms of growth and revenue.
As with each passing day the industry scaling up, there is a need for digital solutions for fleet management.
Expecting to grow at a CAGR of 11.3%, the global fleet management market is forecasted to grow from USD 19.9 billion in 2020 to USD 34.0 billion by 2025.
Today's startup story is about a SaaS startup that saw an opportunity in this growing Indian logistics industry and is working hard to redefine the administration of the logistics industry.
Startup Story: TransportSimple | Re-defining Administration Of The Logistics Industry
TransportSimple Founder
Founded by father-son duo Hardeep Singh and Jasdeep Singh in 2018, TransportSimple offers fleet management services to logistics businesses.
Referring to the current working way of the logistics industry as chaotic, time-consuming, error-prone, and lacking owner visibility, Jasdeep says the startup with its services streamline logistics operations.
How TransportSimple Started?
When Jasdeep joined his family trucking and logistics business three years back, at that time, the business was managed using multiple spreadsheets, accounting applications, and manual registers which caused losses and delays.
So, to manage the business properly, Jasdeep started looking for a better solution to manage, but couldn't find any.
But soon he realised, other fleet owners and transporters were facing similar challenges and saw an opportunity.
So, to streamline business operations, account handling for easy administration, and other logistics-related services, Jasdeep with his father started TransportSimple.
USP Of TransportSimple
TransportSimple is a one-stop solution to manage the day to day operations, including Trip Tracking, GST compliant Accounting, Party Management, Maintenance with Tyre summary, and timely notifications.
TransportSimple is strengthening the Indian logistics industry by streamlining the operations and accounts of the commercial fleet owners and transporters.
The startup further scaled up its services by working with startup incubator NSRCEL, IIM-Bangalore.
Also, as per the startup, their software allows fleet owners to ensure a 'predictive maintenance' approach rather than 'reactive maintenance'.
Talking about the platform, the co-founder explains,
"TransportSimple eliminates the error-prone task of manual accounting and helps decision-makers get instant access to the reports. Users can manage day-to-day operations such as trip and inventory tracking, maintenance and employee summary, GST compliant accounting modules with necessary filing reports, and live performance monitoring. The analytics-driven charts and reports help reduce downtime, malpractice, and expenses, thus increasing the profits."
Present Situation of TransportSimple
Presently working with 18 members in the team, The Rourkela, Odisha, headquartered startup has a branch office in Bengaluru.
TransportSimple offers annual subscription plans for their core products and multiple add-ons where the customers are billed based on the business size.
Also, as of now, the startup claims that it has onboarded over eighty clients.
Future Plans of TransportSimple
The startup has aggressive plans to take itself to the next level. And, to scale up its operations, TransportSimple is looking to raise external funding. Also, the startup aims to onboard over 500 clients by the end of the current financial year.
Read: How Loom Solar Is Making India Clean With Its Solar Products
Contact us if you want to publish your startup's story on our website.