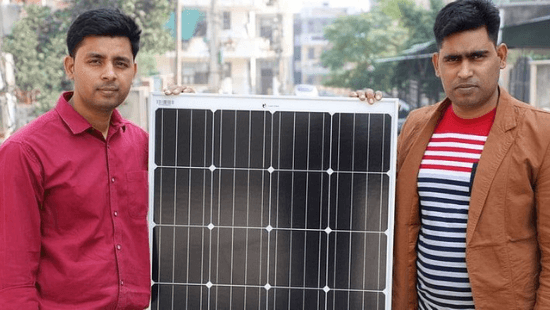 How Loom Solar Is Making India Clean With Its Solar Products
With the increased support from the Government, the Indian renewable energy sector is booming and has opened many opportunities for investors as well.
The growth is fast, and as per present trends, the renewable energy will account 55% of the total installed power capacity by 2030.
Presently, standing fourth in the renewable energy market in the world, India has set an ambitious target to generate 450 GW of renewable power by 2030.
Many Indian startups are doing their bit to accelerate this ambitious target. Among such startups, one is Loom Solar.
So, in today's startup story, we will talk about how Loom Solar is helping India understand the benefits of solar energy.
We will also talk about the progress the startup has made since its inception.
Startup Story: Loom Solar | Solar Panel Company
Loom Solar Founders
Loom Solar is a Faridabad-based renewable energy startup founded by brother duo Amol Anand and Amod Anand in 2018.
The startup manufactures mono solar panels and AC modules that are installed on residential rooftops to generate electricity.
How Loom Solar Started?
Having experience as a product manager at Luminous Battery for the company's solar and energy storage business, Amol realized there was a lack of information about solar energy in the country.
On researching, the brother duo found out that three main factors were slowing down the adoption of solar energy in the country.
The factors included limited information and awareness, lack of product availability across the country, and poor quality and backward technology.
So, to make people aware of solar energy and help them easily adapt to solar solutions, Amol Anand and Amod Anand started
Loom Solar.
USP Of Loom Solar
An ISO 9001-2015 certified company and recognized startup by Govt. of India, Loom Solar offers its products across India, including villages through 1500 re-sellers. The startup sells its products across India with promised delivery within three days.
Loom Solar also provides every information that a customer needs to know before product purchase. All the queries of the customers are answered by dedicated solar experts trained from National Institute of Solar Energy.
The solar energy start claims to be holding around 3% market share in the residential solar market segment, which is estimated to be nearly Rs 1,000 crore.
Present Situation Of Loom Solar
Reached break-even within the first year of starting up, Loom Solar managed to clock Rs 25 crore in revenue in its second year of operation.
Till now, the startup has installed 10,000 kW solar power in 20,000 Indian homes and presently has around 100 employees.
Future Plans of Loom Solar
Working to reach every household to provide a renewable and inexhaustible source of energy, Loom Solar aims to grow at a rate of over 300%.
The startup plans to do this by targeting over 100 million customers digitally and Rs 100 crore in revenue by the end of FY 2021.
 Loom Solar also aims to achieve a target of 120-Million-unit (kWH) solar power by the year 2021. And, if this target gets accomplished Loom Solar will reduce 40,000 tonnes of (CO2) carbon-dioxide emissions.
Read: Started In August 2020, This Bhubaneswar Based Startup 'ChefJunction' Is Delivering Home-Cooked Food
Contact us if you want to publish your startup's story on our website.