This Indian Cybersecurity Startup Offers Innovative Security Solutions To protect And Keep Companies Safe
With rising data leak cases and cyber theft, the need for cybersecurity is more than ever. And now, with work from home situation, it has become a challenge for enterprises to provide secure access to critical applications for workforces located anywhere in the world.
As companies are becoming more cautious about their data, the demand for cybersecurity tools is rising. Gartner predicts that 40% of boards will have a dedicated cybersecurity committee by 2025.
Offering innovative security solutions and technology, today's startup story is about InstaSafe, a cybersecurity startup that seeks to make the internet safe, connected and open, by eliminating the gaps in the traditional network and security tools.
Startup Story: InstaSafe | Innovative Security Solutions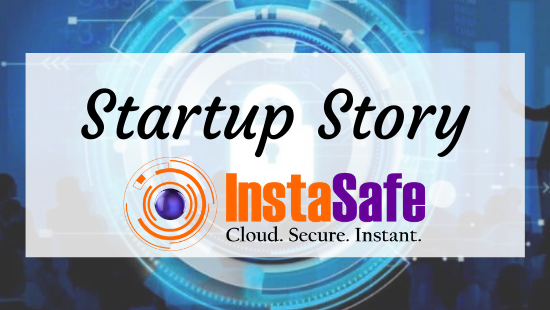 InstaSafe Founder
Started by Sandip Kumar Panda, Biju George, and Prashanth Guruswamy in 2012, InstaSafe is a Bengaluru-based cybersecurity startup that offers innovative security solutions and technology to protect and keep organizations and businesses safe.
The cybersecurity startup combines the diverse needs of security and access of the digital worker into a single cloud-delivered scale-out platform. These solutions can be deployed in minutes and managed via intuitive policy-based management.
How InstaSafe Started?
Sandip, Biju, and Prashanth started InstaSafe with a mission to make the internet safe, connected and open, by eliminating the gaps in the traditional network and security tools.
 In the early days, the major issue in the cybersecurity space was the inherent complexity of solutions and a traditional 'command and control' approach to security. And with the rise of digital transformation processes, enterprises migrated their applications to the cloud, making it hard for them to ensure secure access to the enterprise network.
The trio understood the situation, started creating simple and people-centric cybersecurity solutions. And in 2012, the trio started InstaSafe using a Zero Trust approach.
Reminiscing those days, Sandip says,
"A cost-effective solution was required that would secure the flow of this data through a secure yet simple authorisation and encryption process, which led to the birth of InstaSafe. While we faced our share of challenges initially, today, Zero Trust has become mainstream, owing to its elasticity, security, and scalability." 
[Read:
Providing Omnichannel Retailing, Vinculum Is Helping Brands Scale, Reach And Delight Customers Across Channels Globally
]
USP Of InstaSafe
InstaSafe is solving the challenge of secure access to critical applications by replacing existing, obsolete hardware-based solutions with a highly scalable, cloud security solution. The cybersecurity startup not only simplifies network security but also makes enterprise security infrastructures even more secure.
Providing secure access, the primary offerings of the startup include its flagship Zero Trust Solutions, Zero Trust Application Access, Zero Trust Network Access, and VPN Alternative Solution. The startup also claims to have gained significant traction with its Managed Bug Bounty Program, SafeHats, and the InstaSafe Authenticator.
Talking about the growth of InstaSafe, Sandip says,
"InstaSafe has grown at a rapid pace during this transitional period, making it to the coveted list of the fastest-growing tech companies in the country. While the way we work has certainly matured, we are still hungry to innovate and solve every modern security challenge that comes our way."
Present Situation Of InstaSafe
Presently, InstaSafe claims to have registered a Y-o-Y growth of 574%. With a client base of 120, the cybersecurity startup has so far raised $2.7 million.
Insta Safe works on a subscription-based SaaS model. The cybersecurity startup has signed distribution, technology, and partnership agreements with companies like AWS, Ingram Micro, and Hitachi, among others.
Future Plans Of InstaSafe
The cybersecurity startup has aggressive expansion plans and aims to expand its operation beyond the subcontinent to EMEA and the American markets. InstaSafe is also looking to expand its product line beyond Zero Trust Solutions.
Sandip says,
"We also plan on having technology partnerships with global giants to move beyond Zero Trust towards a mission of complete end-to-end security and an integrated security experience for our customers."
For more stories of startups, click Startup Stories.
Follow us and connect with us on Instagram, Facebook, Twitter and LinkedIn.