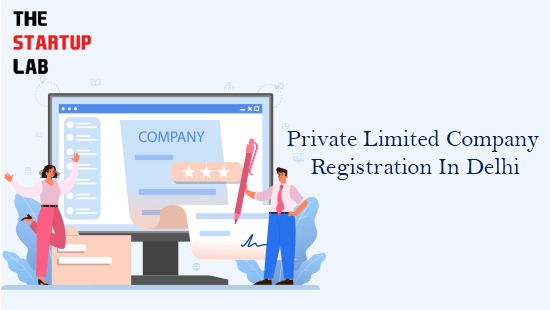 Steps For Private Limited Company Registration In Delhi
Private Limited Company Registration In Delhi – Ranked 3rd as the largest startup ecosystem in the world, the Indian startup ecosystem is booming. Each year, more and more entrepreneurs are coming up with their world-impacting ideas and contributing to the growth of the Indian economy.
Not just big tech startups, but the MSME sector is also contributing to innovation, employment generation and inclusive economic growth.
Though the time is changing, a majority of these entrepreneurs, being first-time founders, still don't know how to set up their businesses. They know not covering the legal bases can lead to several legal repercussions, but due to the lack of knowledge regarding the process of company registration in India, they fail to act rightly.
This article aims to help entrepreneurs with what steps are involved for Private limited company registration in Delhi.
As registering a business as a Private Limited Company is one of the most popular business registrations among the MSMEs in India, this article will provide you with detailed information about the eligibility, benefits, documents and steps involved in the company registration as a Private Limited Company.
Eligibility For Private Limited Company Registration In Delhi
Firstly, we will start with the eligibility criteria a business entity should fulfil to register the business as a Private Limited Company.
Minimum 2 Shareholder
Minimum 2 Director
Digital Signature Certificate (DSC) for director and shareholder
Digital Signature Certificate for 2 Promoters
Director Identification Number (DIN) for all directors
One of the directors must be an Indian resident
Documents Required For Private Limited Company Registration In Delhi
Following are the documents that are required to register a company as Private limited company registration in Delhi.
ID proof (Directors)
Address proof
Residence proof
Notarized rental agreement
NOC from the property owner
A photocopy of the sale deed or property deed (for an owned property)
Benefits Of Private Limited Company Registration In Delhi
With several initiatives, the government of India is promoting business culture in our country and is accelerating the growth of the business sector in India.
Under the Startup India Scheme of the Government of India, recognized Private Limited Startups are eligible to avail multiple benefits, including tax exemptions.
The Infographic Shows Several Other Benefits A Private Limited Company Enjoys:
Steps For Private Limited Company Registration In Delhi
Name Approval Application
Choosing the right company name for private limited company registration is a crucial step for entrepreneurs. For the company name, you must fill in the exact name as you want it to appear in the Certificate of Incorporation.
Additionally, file in 2 alternate names, in order of preference, in case of rejection by the Ministry of Corporate Affairs.
Once the company name gets approval, it is valid for 20 days (including weekends or other holidays). So, all other formalities must be completed within this period.
Note: The company name should be unique and shouldn't have punctuation marks. Additionally, the proposed name will be rejected if it is identical to existing companies and LLPs or names approved by the Registrar of Companies and LLPs or contains foul words or phrases or a registered trademark.
Step 2: Digital Signature Certificate Application
Used for filing documents online, a Digital Signature Certificate (DSC) is required for all shareholders and directors for private limited company registration.
Digital Signature Certificate can be applied in parallel while applying for name approval as there is no DSC requirement in the name application.
Note: There is no need for a new DSC if the directors or shareholders of the private limited company registration already have DSC.
Step 3: Filing Of Forms
After getting the Digital Signature Certificate and name approval, the next step is to file forms and submit information regarding Private limited company registration in Delhi such as registered office, shareholding pattern, directors, details of directors and shareholders paid-up capital, etc.
You have to fill and submit SPICe + Part, AGILE Pro, SPICe MOA, Spice AOA, and INC 22 forms with MCA. The information to be submitted in these forms
is required to be supported by proofs like rent/title deed of registered office, PAN card, etc.
Step 4: Getting an Incorporation Certificate
Following the successful submission of the documents and getting verified by the Registrar of Companies (ROC), you will receive a Certificate of Incorporation within 7-12 days.
Consisting of the company name, registered address, and Corporate Identity Number (CIN) approved by MCA, the certificate of incorporation will act as a birth certificate for your company registration.
Step 5: Opening Company's Bank Account
After getting the Certificate of Incorporation as a private limited company, the next step is to open a bank account in the name of your company.
For that, the applicant needs to submit the certificate of incorporation, MOA, AOA, and other necessary documents required by the bank.
Additionally, before the commencement of business, proposed paid-up capital must be deposited with the bank. Also, Form INC-20A, known as the Declaration of Commencement of Business, needs to be filled with MCA to get the certificate of commencement.
Note: Registering a business is an intricate process, and it is advisable to consult a professional for any legal business exercise.
TheStartupLab, with its team of experienced and dedicated professionals, offers services to set up a company, register a company, compliance services, funding formalities, Virtual CFO Services, etc.
Contact us to register your company and get your business documents completed on time and without any hassle.