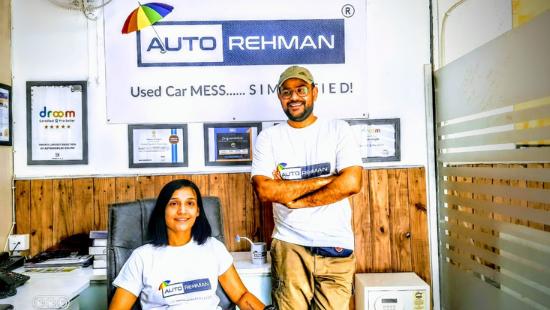 Leveraging Technology, These Entrepreneurs Are Simplifying The Used Car Mess In India
Backed by the burgeoning need for affordable and high-quality vehicles & hardening new car prices, the demand for pre-owned cars is growing in India (especially among the Millenials). As per a P&S Intelligence report, the used car market in India is expected to increase from USD 18.3 billion in 2020 to reach USD 70.8 billion in 2030.
But as the sector is still predominantly unorganised, people still face transparency and trust issues while buying used cars in India. To simplify this mess in the existing used cars market, M. Rehman and Tasneem started AutoRehman.
AutoRehman is a Gurgaon-based e-commerce startup of Pre-owned Cars, solving the native problems of this space from the grassroots with technology & innovation.
Startup Story: AutoRehman | Simplifying The Used Car Mess
Founding Team
Started by M. Rehman and Tasneem, AutoRehman is a unique 360-degree Clicks to Bricks model Pre-Owned Car dealing startup. AutoRehman is trying to solve the used car enigma at the grass-root level for a highly fragmented ecosystem in the rapidly growing Indian pre-owned car space.
The co-founders have a strong educational background with M. Rehman being an Engineer (B.Engg-Mech.) by training and an MBA drop-out from IIFT Delhi, while Tasneem (Co-Founder) is an Engineer (B.Engg- Mech) and an MBA (Finance) from S.P.J.I.M.R ( SP Jain Institute of Management and Research).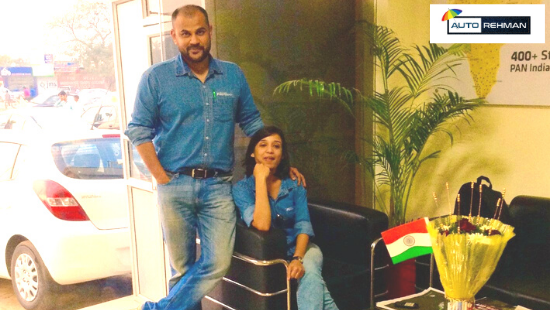 Both co-founders also carry rich corporate experience. M. Rehman, previously, has been an indispensable clog of Honda, Maruti network, while Tasneem has worked with Groups like WIPRO, BALCO, GMR & Bharti Enterprises before jumping on board with AutoRehman.
M. Rehman asserts emphatically,
"The used car market is a gigantic opportunity waiting to be organised with different and innovative approaches towards the business model. Even the organised and well-funded players are barely scratching the tip of the iceberg. It's more of an Elephant In the Dark Room problem where different players are approaching the fault lines with different strategies ranging from B2B, B2C, C2B, C2C, etc."
How AutoRehman Started?
The idea of AutoRehman was incepted in 2009 as a reaction to a horrible personal experience of the used car by Tasneem.
"When Tasneem & I were cheated at a Used Car deal in Delhi, that was funny as I worked as a General Manager at another Maruti Suzuki dealership then, but couldn't save the deal. It was a horrible experience, and somehow that sowed the seeds in our minds that we need to do something to change this," says M. Rehman in a conversation with The StartupLab.
The experience led the founders to start a brand in the used car segment. Then, in 2013-14, M. Rehman and Tasneem finally took the plunge to start AutoRehman.
Before starting AutoRehman, the co-founders experimented for a couple of years with another Brand called Dr.Loan, which was facilitating car loans for consumers in used cars.
[Read:
With Its AI-powered Platform, GlaMate Is Enabling People Find The Right Beauty Products
]
USP Of AutoRehman
AutoRehman is simplifying the mess existing in the used car space through its 360-degree Clicks to Bricks model. The idea is that of disintermediation so that the Users have a better and digitized experience of discovering and transacting a Pre-Owned Car even while dealing peer to peer.
Leveraging technology, AutoRehman also facilitates the used car buyer to choose from a range of 100% restored cars at their 3S (Sales, Service, Spare) store.
M. Rehman says,
"After having experimented for almost six years into a host of services ranging from only-loan deals to carrying inventories and in-house workshop etc., AutoRehman today is essentially evolving into a lightly managed marketplace. We have a niche in used car transaction deals with the disintermediation model of doing business."
The auto-tech startup also assists a car owner to sell/exchange his used car fetching great prices at their Platform.
Present Situation Of AutoRehman
To support its customers' journey to finding the best used car deals and post-sales services, AutoRehman has an expansive 25000 sqft office cum yard set up in the heart of Gurgaon, which also houses a basic workshop & refurbishment centre.
The auto-tech startup claims to be EBIT positive and has crossed the psychological benchmark of INR 10 Cr annual revenue by GMV a couple of years back. With the help of incremental innovations and lean iterations in the business model, the startup has been able to achieve a gross aggregate revenue of INR 50 Cr by GMV.
M. Rehman says,
"We have been able to bootstrap ourselves and invested plough back profits into the business to achieve this scale and traction in the business and our Cap Table at the moment is clean. We have raised so far north of INR 6 Cr aggregate money from various strategic investors and financial institutions in the form of debt only."
Future Plans
As per M. Rehman, the auto-tech startup is looking for expansion and aims to expand to other tier-1 cities soon. The startup is also planning to open its equity rounds starting from Pre-A very soon.
Concluding the conversation, M. Rehman adds,
"As per of our Pandemic response strategy where people are shying away from visiting stores, we are developing native technologies for creating a virtual experience for the users so that a major part of used car transaction can be handled digitally."
For more stories of startups, click Startup Stories.
Follow us and connect with us on Instagram, Facebook, Twitter and LinkedIn.