With Its AI-powered Platform, GlaMate Is Enabling People Find The Right Beauty Products
As every skin is unique with different goals, picking the right beauty product that matches your needs can be exhausting. And with too many brands selling similar products, choosing the right products sometimes becomes a guessing game.
Taking guesses out of the scenario and helping people pick the right beauty products matching their individual needs, Hyderabad-based Sharmila Gayathri Chalasani and Vignesh Charllo created GlaMate, an AI-powered beauty products recommender and price comparison platform.
Their data-driven algorithm enables them to recommend products to customers efficiently and offer them a compelling, stress-free skincare journey.
Startup Story: GlaMate | One-Stop Beauty Shopping Solution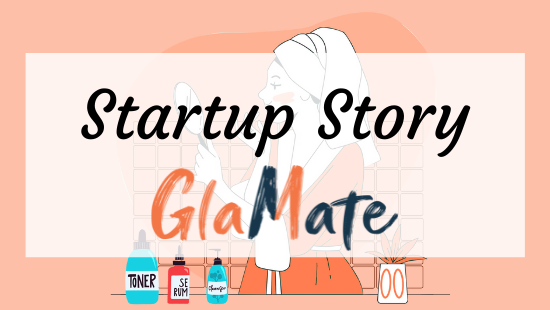 Founding Team
Started by Sharmila Gayathri Chalasani and Vignesh Charllo in May 2021, GlaMate is an AI-powered beauty product recommender and price comparison site.
Leveraging technology to let users find the right products at the best possible price, GlaMate aims to introduce customers to a new-age shopping experience that allows them to pick the right product with minimal browsing.
How GlaMate Started?
Sharmila was fed up with her own struggle to find products for her acne issue, combined with expensive dermatologists' visits.
She decided to leverage technology to resolve the problem and pitched the idea of developing an AI algorithm from the combined expertise of data scientists and dermatologists to her senior Vignesh. In 2020, Sharmila and Vignesh decided to analyse the Indian market and took a survey with the help of a private agency where around 300-400 people were asked questions about their skin types, skin issues, product needs, etc.
Vignesh says,
"It took us two months to understand the market. Indian products are very different as compared to the ones abroad. Majority are inclined towards organic and natural ingredients compared to scientific formulations. While drawing the algorithm, we concentrated on the ingredients and then tested their effectiveness."
After the database was built, the duo brought together a team of about ten aestheticians from India and the US to build the algorithm.
After training the algorithm incorporating 12 skin concerns and combinations for over five months, the founders bootstrapped the startup with their personal savings of Rs 10 lakh. And in May 2021, Sharmila and Vignesh formally launched Glamate to let users find the right products at the best possible price.
[Read:
How Tech-based Construction Platform Brick&Bolt Is Bringing Trust, Predictability, And Transparency In Housing Projects
]
USP Of GlaMate
GlaMate's AI-powered data-driven algorithm provides a new-age shopping experience to users and allows them to pick the right product with minimal browsing.
This trustworthy and unbiased platform asks customers about skin problems through a carefully crafted quiz and recommends the most suitable items. In addition to this, GlaMate also compares prices from various other online stores, enabling customers to purchase at the best price.
 Sharmila says,
"We want to create a unique beauty shopping experience and eliminate the whole guessing game. Our platform has an interactive format, which maintains user's interest. The bounce rate is as low as 30 percent."
Present Situation Of GlaMate
Since its launch in May 2021, GlaMate has gained considerable traction in the market. In addition to a strong social media following, the startup has over 15,000 subscribers and 2,000 daily visitors.
With the revenue model based on affiliate marketing, GlaMate has partnered with major e-commerce portals like- Amazon, Flipkart, Snapdeal, Myntra and Tata CliQ Luxury. Additionally, the startup has partnered with over 20 beauty brands, including WOW Skin Science, Mamaearth, Plum, Juicy Chemistry, Neemli Naturals, Re'equil, and Earth Rhythm.
Future Plans
The startup plans to enter the cosmetics market with its own line of products. Vignesh said they are in advanced talks with Purplle for a tie-up and added that the startup would go for external funding once it touches 10,000 daily users and high affiliate conversion.
Additionally, adding a more personalised touch, GlaMate will soon have a dermatologist consultancy service on its platform. 
For more stories of startups, click Startup Stories.
Follow us and connect with us on Instagram, Facebook, Twitter and LinkedIn.