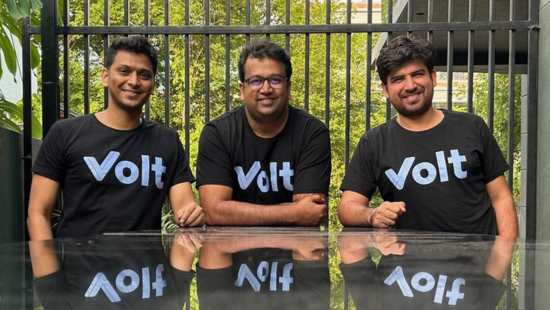 Lending Platform Volt Money Raises $1.5 Mn In Pre-Seed Funding
Volt Money, a platform for instant secured loans against mutual funds, has raised $1.5 million in a pre-seed funding round.
Notable investors, including Titan Capital, All In Capital, Praveen Jadhav of Raise Ventures, Aditi Kothari of DSP Adiko Holdings, Gemba Capital, and Kunal Shah of Cred participated in the funding round.
As per the startup, the freshly raised funds will be strategically used to recruit key personnel for product development and to establish beneficial partnerships.
Volt Money | B2C Lending Platform
Founded by Lalit Bihani, Ankit Agarwal and Bharat Lamba in 2022, Volt Money is a B2C lending platform that enables retail customers to get instant, low-cost & flexible credit by pledging their MFs & stocks via a 100% digital process.
With a hassle-free process and an array of options, including overdrafts and term loans, Volt Money enables customers to access cash loans, credit lines, affordable interest rates, and flexible EMIs, while keeping their financial assets intact.
Speaking about the development, Lalit Bihani, co-founder and CEO of Volt Money, said,
"We are at the cusp of disruption of instant secured loans in India. With the advanced digital infrastructures for KYC, account aggregator, and pledging capabilities, we're ideally positioned to seize a unique and very large opportunity. We're grateful for the trust our investors have placed in us."
As per the startup, its mission is to empower 10 crore savvy investors to meet short-term cash needs without compromising on long-term goals. The firm claims to disrupt instant secured loans for investors to easily meet short-term cash requirements without compromising long-term financial goals.
Using the platform, mutual fund investors can unlock cash in 10 minutes at favourable terms such as low-interest rates, interest-only EMIs and no pre-payment charges.
Commenting on the development, Bipin Shah, Titan Capital, said,
"Volt Money's innovative approach to offer seamless liquidity against financial savings is an essential service for today's investors. The early traction from customers and partners demonstrates a strong market fit for Volt Money's platform."
As per the Association of Mutual Funds in India (AMFI), 55% of mutual fund investments are liquidated within the first two years, robbing investors of the opportunity for compounding returns over time. Volt Money seeks to rectify this issue by offering attractive loan terms such as low-interest rates, interest-only EMIs, and zero pre-payment charges.
Follow us and connect with us on Instagram, Facebook, Twitter, and LinkedIn.
Note: If you are a budding entrepreneur and require assistance to register a Pvt Ltd Company, register a company, create financial projections, business development, LLP Registration, compliance filing, funding formalities, debt funding, CFO Services, or other startup related legal services, contact us.