[Indian Startup Ecosystem] The State Of Early-stage Startups In India
Over the years, the Indian startup ecosystem has grown exponentially. Backed by favourable demographics, increasing investors' confidence, and numerous government initiatives, India is now home to the third-largest startup ecosystem. Every year early-stage startups in India, backed by young entrepreneurs, come up with disrupting ideas, providing employment opportunities and boosting the country's economy.
2021 turned out to be a landmark year with eight startups going public, 44 startups achieving unicorn status and investment activity reaching an all-time high of approximately $63 billion.
This year is also going good, and in the first four months of 2022, 14 Indian startups have entered the coveted unicorn club with a total valuation of $18.9 billion. Additionally, India is now home to 100 unicorns with a total valuation of $332.7 billion.
In this article, The StartupLab has shed light on the state of early-stage startups in India and how the Indian startup ecosystem has grown over the years.
You will get to know about:
Growth of Indian Startup Ecosystem Over the Years
Investment in early-stage startups
Government initiatives boosting early-stage startups
What to expect in coming years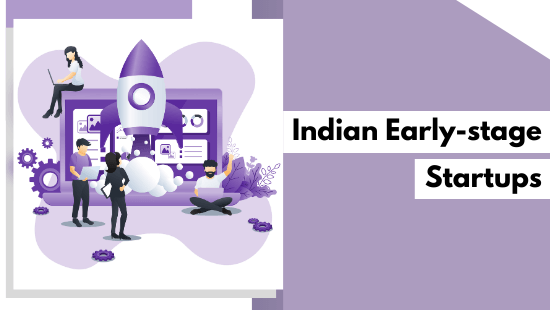 Growth of Indian Startup Ecosystem Over the Years
Supported by favourable demographics, government schemes and increasing mobile penetration, India has the 3rd largest startup ecosystem in the world. The country which witnessed its first unicorn startup, InMobi, in 2011 is now home to 100 unicorns, with fintech startup Open being the latest to enter the coveted unicorn club.
COVID-19 pandemic tested the mettle of Indian startups, but the startup ecosystem bounced back after facing unprecedented disruptions.
Now, propelled by a combination of tailwinds, including sound macroeconomic fundamentals, the Indian startup ecosystem has gained the interest of investors. 
In 2021, VC investment in India reached a record high of $38.5 billion. Global headwinds are likely to affect startup funding in 2022, but the growth trend is expected to increase in the coming years on the back of sound macroeconomic fundamentals.
Investment In Early-stage Startups
Funding in early-stage startups is driving the Indian entrepreneurial ecosystem in a big way.
Indian startups across diverse sectors are being viewed as promising investment options. Not only VC firms but high net worth individuals (HNIs) and ultra-high net worth individuals (UHNIs) are also willing to invest in the growing Indian startup ecosystem.
These ultra-high net worth individuals are known to be heavily investing in the Indian startup space. They have been pro-actively involved in over 50 such deals each year since 2015.
High net-worth individuals (HNIs) are expected to invest $30 billion in Indian tech startups by 2025, highlights a report by 256 Network and Praxis Global Alliance India.
Government Initiatives Boosting Early-stage Startups
The Indian government, through its numerous progressive policies and schemes, is providing a relevant infrastructure to boost the growth of early-stage startups. Over the years, these sustained government efforts have resulted in an increase in the number of recognised startups from 726 in 2016-17 to 65,861 as of March 14 2022.
The Startup India Seed Fund Scheme and Startup India Initiative promote the Indian startup ecosystem by providing financial help and simplifying the complex legal structure.
Additionally, reforms such as opening up sectors like space-tech for private participation, creation of state-run incubators, and tax holidays for startups are helping early-stage startups grow.
Strategic interventions of such kind have increased the number of early-stage startups in India. And as the business culture is only improving, the number is only expected to increase exponentially.
What To Expect In Coming Years
The increased funding opportunities and presence of a progressive regulatory and business environment provide suitable conditions for early-stage startups to flourish. Additionally, as the Indian startup ecosystem matures, there will be an increased focus on sustainable growth. This will, in turn, reduce the burn rate and provide better unit economics.
The availability of innovative talent, favourable demographics and government policies provide a set stage for entrepreneurs to innovate, work efficiently, and build sustainable businesses that can deliver positive cash flows. 
Note: If you are a budding entrepreneur and need assistance in new company registration, contact us.
Visit Indian Startup News to read the latest startup news.
Follow us and connect with us on Instagram, Facebook, Twitter and LinkedIn.