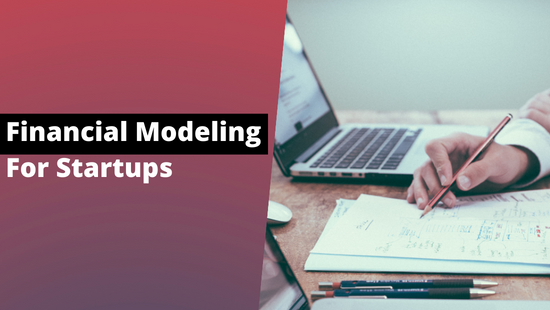 Financial Modeling For Startups: Uses, Types And Why It Matters
The growth of the Indian Startup economy is quite evident from the fact that there has been a significant increase in first-time founders, new startups, global investors, and global mergers and acquisitions in the last few years.
Learning along the way, these entrepreneurs know that to be successful, knowing their industry from all aspects is the key. That is why entrepreneurs should understand their company's finances using Financial Modeling.
Financial Modeling For Startups
Entrepreneurs require financial models to forecast their company's financing needs, determine the cost of capital, predict cash flow projections and some other factors beyond the general economic outlook.
A financial model is essential for a startup or small business as it represents their performance in the future and helps forecast important business metrics.
In this article, you will discover financial modeling and why these models are important for every entrepreneur out there.
Financial Modeling For Startups: Uses, Types And Why It Matters
One of the most difficult startup tasks is building a financial model. You need to make sure that the revenue and expense projections are accurate, the risks involved are accounted for, and that all your assumptions are reasonable.
This article is aimed to provide you with details about different types of financial models that could be used for startups, as well as why it's essential to have a financial model at all.
What is Financial Modeling?
Financial modeling is the process of creating a summary of a company's financials that can be used to inform decision-making. This summary can take many varied forms, but all models share some common elements.
The first step in financial modeling is to gather data. This data can come from a variety of sources, including financial statements, tax returns, and business plans. Once this data is gathered, it must be organized in a way that makes sense for the specific model being created.
Once the data is organized, it can be used to create various types of financial models. The most common type of model is a pro forma model, which projects future financial performance based on current and historical data. Other types of models include sensitivity analysis models and break-even analysis models.
Financial modeling is an important tool for startups because it allows them to track their progress and make informed decisions about their business. Without a good financial model, it would be very difficult for startups to know if they are on track to achieve their goals.
Types of Financial Models – Usage in Startups
Startups typically use one or more of the following three types of financial models. Here is a list of the ten most common types of financial models:
Three-Statement Model
Budget Model
Forecasting Model
Merger Model (M&A)
Sum of the Parts Model
Discounted Cash Flow (DCF) Model
Initial Public Offering (IPO) Model
Leveraged Buyout (LBO) Model
Consolidation Model
Option Pricing Model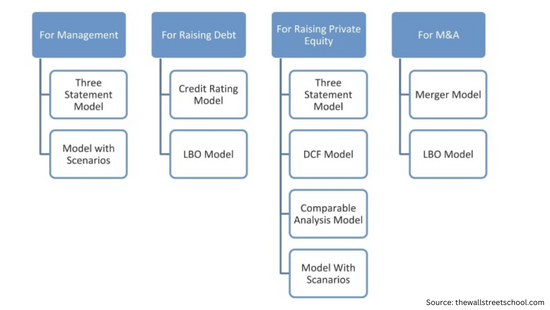 1. Three-Statement Model
This model includes the three financial statements (Statement of Profit & Loss, Balance Sheet and Cash Flow Statement) and links them into one dynamically connected financial model.
2. The Budget Model
This is a simple model that projects revenue and expenses for the upcoming year. The Budget Model focuses heavily on the income statement and is used to prepare the budget together for the coming year(s). It's useful for planning purposes but doesn't give much insight into the long-term viability of the business.
3. The Financial Forecast Model
The model is used to predict outcomes regarding sales, supply and demand, consumer behaviour and more. This model goes in-depth, projecting cash flow, balance sheets, and other key metrics on a monthly or quarterly basis.
Financial forecasting is critical for businesses that need to manage their cash flow carefully or that are considering taking on debt.
4. Discounted Cash Flow Model (DCF)
It is used for analyzing the present value of an investment/company/cash flow by adjusting future cash flows to the time value of money. DCF gives the present fair value of assets/investments and is prepared by Investment Bankers, Management Consultants, Private Equity or Venture Capital people.
Each type of financial model has its own strengths and weaknesses, so it's important to choose the right one for your needs. If you're not sure which type of model is best for your startup, talk to a professional like us who can help you make the decision.
Benefits Of Financial Modeling For Startups
There are numerous benefits of financial modeling for startups, which include:
1. Helps in making informed business decisions: A well-constructed financial model can help startup management make informed business decisions. The model can be used to assess the impact of different business scenarios on the financials of the startup. This information can be used by the management to make sound business decisions.
2. Facilitates effective planning and budgeting: A good financial model can help startups in effective planning and budgeting. The model can be used to forecast the future financial performance of the startup under different scenarios. This information can be used by the management to allocate resources efficiently and plan for future contingencies.
3. Helps in raising capital: A detailed financial model can be very useful for startups when they are raising capital from investors. The model will help investors understand the financial situation of the startup and its ability to generate returns. This information will help them make an informed decision about investing in the startup.
4. Improves communication with stakeholders: A well-designed financial model can improve communication between the startup and its stakeholders (investors, lenders, employees, etc.). The model makes it easy to understand complex financial concepts and communicate them effectively to non-financial stakeholders. This enhances mutual understanding and trust between the parties involved.
Conclusion
Financial modeling is a critical tool for startups, allowing them to forecast future revenue, track expenses and make sound investment decisions. There are many different types of financial models, but the most important thing is to choose the right model for your specific needs.
Contact us to create financial projections for your business with multiple data sets projected.
The StartupLab, with its team of experienced dedicated professionals, offers services to register a Pvt Ltd Company, register a company, create financial projections, business development, compliance filing, funding formalities, CFO Services etc.
Follow us and connect with us on Instagram, Facebook, Twitter, and LinkedIn.