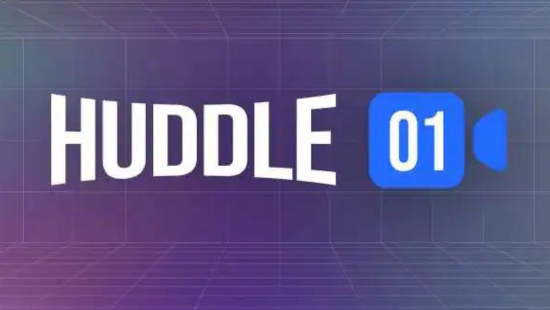 Decentralised Video Conferencing Platform Huddle01 Raises $2.8 Mn Funding
Huddle01, a web3-based video meeting and real-time communication platform, has raised $2.8 million in a seed round led by Hivemind.
The funding round also saw participation from Superscrypt, M31 Capital, Protocol Labs, East Ventures, Longhash Ventures, Good News Ventures and notable angel investors such as Balaji Srinivasan, Dan Romero, Stani Kulechov, and Juan Benet.
As per the startup, the freshly raised funds will be used to support more apps on its platform and launch its network of nodes to facilitate decentralised communication at scale, and reward participants with Huddle01 tokens.
The Web3-based video meeting and real-time communication platform also plans to roll out grant programmes for developers building on its infrastructure.
Huddle01 | Web3 Video Meetings And Decentralised Infrastructure
Co-founded by Susmit Lavania and Ayush Ranjan, Huddle01 is a decentralised video conferencing platform enabling synchronous and asynchronous communication for wallets, dApps, DAOs, communities, and users for free.
The startup also gives users access to secure, real-time communication through a toolkit for communication.
Speaking about the development, Ayush Ranjan, Co-founder and CEO of Huddle01, said,
"With its demand-first approach, we at Huddle01 plan to create enough demand on our infrastructure to ensure that when we launch our network with incentives, it becomes self-sustaining and self-propelling with better performance, privacy, and costings as compared to centralised incumbents."
Huddle01 is working with a mission to enable seamless communication while securing users' online presence, protecting their digital identities, and allowing them to express themselves freely.
The Web3-based video meeting and real-time communication platform has taken a multi-prong approach based on decentralisation to make audio/video communication more efficient, reliable, and secure. This includes a video meeting platform, a/v infrastructure, and a decentralised real-time communication (dRTC) network. Additionally, its dRTC network will be launched by Q4 of 2023.
As per the startup, its video platform has already clocked over one million minutes of meetings, and its infrastructure (developer SDKs) has over 100 projects built on top of it.
Including this funding round, the startup has raised a total of $4.5 million in funding. Previously, the startup had raised a pre-seed round from Protocol Labs and Web3 angel investors such as Preethi Kasireddy, Sandeep Nailwal, and more.
Commenting on the development, Lee Smallwood, Managing Partner at Hivemind, said,
"Huddle01 is at the forefront of the video and audio communication industry, leveraging blockchain technology to make communication faster, cheaper, and more accessible than ever. It has the potential to revolutionise the way people communicate."
Last week, Polytrade, a web3 protocol, raised $3.8 million in a seed funding round led by Alpha Wave, Matrix Partners, Polygon Ventures and CoinSwitch Ventures.
Follow us and connect with us on Instagram, Facebook, Twitter, and LinkedIn.
Note: If you are a budding entrepreneur and require assistance to register a Pvt Ltd Company, register a company, create financial projections, business development, LLP Registration, compliance filing, funding formalities, debt funding, CFO Services, or other startup related legal services, contact us.