[D2C Brands In India] Top 8 Growth Strategies For D2C Brands
Fueled by the COVID-19 pandemic, rising internet users in India and increasing smartphone penetration, there has been a structural shift in consumer behaviour and a rise in D2C brands. The country, which had been sceptical about the whole ecommerce landscape for years, is now witnessing an upward trend in online buying.
With the digital infrastructure growth in India over the years, the direct-to-consumer (D2C) approach has become the first choice of businesses as it offers a low barrier-to-entry eCommerce strategy, allowing manufacturers and consumer-packed goods brands to sell directly to the consumer.
Growing Interest In D2C Model
Sellers are leveraging digital tools to reach out to their target consumers easily. Following the direct-to-consumer (D2C) business model, brands are reaching their target customers directly, removing the innate part of the traditional business model-the middlemen and retail stores.
Now, consumers have grown more comfortable with online shopping, and their search interest in direct-to-consumer brands is rising. As per a report by Google, search interest in D2C brands in India rose by 533% in 2021. Backed by this growing consumer interest, D2C brands in India are estimated to become a $60 billion industry by FY27, as per a report by Shiprocket.
And as the festive season is coming, the D2C segment is expected to witness growth. As per a report by consulting firm RedSeer Consulting, online sales are expected to rise 28% year-on-year to $11.8 Bn during the upcoming festive season. Even During the first week of the festive season, online sales are expected to rise to $5.9 Bn, compared to $4.8 Bn in 2021.
This article aims to help those entrepreneurs who are building their D2C brand in India and need growth strategies to take their brand to the next level.
Growth Strategies For D2C Brands In India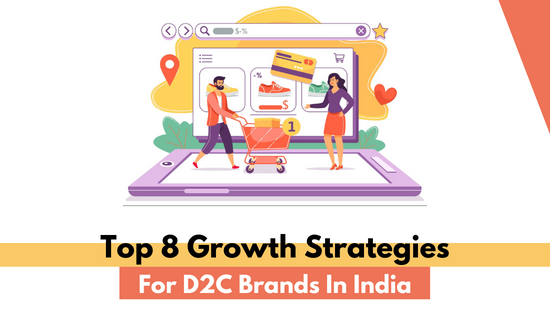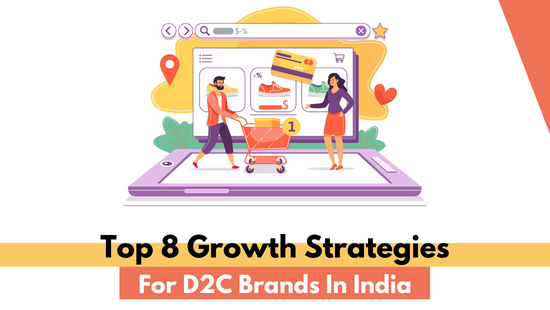 1. Have A Customer-First Approach
The digital age is the age of data and utilizing client data wisely is the best approach to building consumer trust. Traditional retail channels don't allow significant in-person interaction. But with shopping going digital, D2C brands get a chance to understand the customer deeply.
Adopting a fully data-driven personalization strategy is the best method for a direct-to-consumer business to stand out.
2. Leadership Commitment
Any business with inefficient top-tier management can mar the efforts of a good team and a great product.
Without capable leadership and commitment, a brand cannot grow. So, top-tier management should have a proper vision towards taking the brand ahead and should have an honest and unbiased feedback channel with its employees to revamp potential stress points.
By following this approach, the cumulative growth of the product and the team can be achieved.
3. Right Competition Approach
In the initial days, the majority of direct-to-consumer (D2C) brands do things differently, enabling them to get the market share quickly. But over time, they fail to sustain this growth, in turn losing the gained market share to the existing legacy players.
For any new business to have sustainable growth, the most crucial element is competing with well-known brands that have been around for a while.
Though reaching out to a client base that has supported a certain brand for decades is not easy, with target marketing and a good product, brands can lure interested customers with offers they can't resist.
4. Adaptability
Presently, the number of D2C businesses is growing, making it hard for brands to get consumers' attention. And if this trend continues, which is more likely to continue, keeping up with customers changing buying patterns will be the biggest difficulty for any D2C business.
So, every D2C brand must concentrate on understanding and utilising the data to stand out in the market. Here, adaptability is the key.
How well a brand uses the data serves as the foundation for adapting to and identifying consumer behaviour and offering a personalized experience.
5. Influencer Marketing and SEO
Influencer marketing now has become a mainstream form of online marketing. So, getting involved with influencers will expand your customer base.
Make use of micro-influencers, utilize social media, make an effort to make product selections simpler, and concentrate on your customers' problems. Influencers frequently speak to a sizable audience about your product. People will think about purchasing your product if they provide favourable evaluations.
One of the best methods for driving visitors to a website is search engine optimization (SEO). Your website will rank higher in Google search results if you have a strong SEO plan. You will get a lot of organic visitors if your website is ranked number one in search results.
6. Focus on Organic Growth
Running paid campaigns is beneficial, but you should prioritize increasing organic traffic. Provide value to your target audience and educate them about your services by creating relevant content around them.
Share Instagram reels, and create relevant articles, videos, podcasts, and other media. Educate people about your services, USP and why they should prefer you over your adversaries.
You should concentrate on giving your consumers a memorable experience if you want to enhance organic traffic. Create a distinctive website and a captivating social media presence to increase organic visitors.
7. Effective Feedback Channel
Client testimonials help in building a deeper connection with your audience. Additionally, it has been shown that people tend to trust reviews from other customers more.
Besides, make changes to the feedback received as this will reflect that you value their opinion. Keep in mind that if many people talk favourably about your brand on social media and your website, your brand's reputation will improve. And with increased consumer trust in your brand, your sales conversions will eventually rise.
8. Discounts & Perks For Users
Everybody loves discounts and offers. So, reward your clients, as rewarding your loyal customers is a good way of establishing a long-term relationship with them.
You can provide discounts and offers by holding a variety of contests. So, acknowledge your clients and offer them prizes to keep them loyal to you.
Note: If you are a budding entrepreneur and need assistance in D2C company registration, contact us.