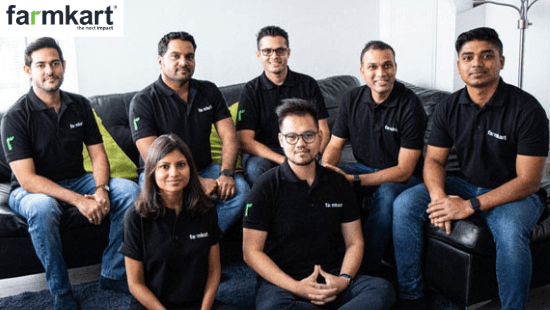 Creating A Smarter Future Of Farming, Agritech Startup 'Farmkart' Is Using Digital Channels To Help Farmers
The agricultural ecosystem in India is huge and employs around 50% of the Indian population.
With a contribution of around 15% of the output of the Indian economy, the sector provides a great value to the economy.
Despite being big, the sector faces several challenges. And as per industry experts, the challenges can be solved by adopting technology in agriculture.
Indian currently hosts 500 agritech startups, whereas the global number is 3100+. Each with its USP, the startups are doing their best to remove the inconsistencies in the agriculture sector.
Today's startup story is about an agritech startup that offers a wide range of agricultural products and services to transform the agriculture sector for better.
Startup Story: Farmkart | Making Farming Materials More Affordable And Accessible
Farmkart Founder
Founded by Atul Patidar in 2017, Farmkart is a Barwani-based eCommerce platform that enables farmers to purchase modern agricultural products including pesticides, fertilisers, and seeds at affordable prices.
Farmkart aims to improve the quality of life for farmers throughout India by providing the technological infrastructure necessary to create a smarter future of farming.
How Farmkart Started?
Coming from an agricultural background and having seen the hardships of farmers, Atul Patidar knew about the challenges farmers face in getting access to farming inputs, tools, and services at a lower cost.
Atul thought to make use of the technical knowledge and capabilities he has gained by designing over 15 products for Fortune-500 companies at one of the top consulting firms in Toronto.
And to solve farming issues at his hometown Barwani, an agricultural municipality town near Indore, Madhya Pradesh, Atul started Farmkart.
Read: Everything You Want To Know About The Indian Agri Tech Ecosystem
USP Of Farmkart
Operating on a mix of bricks-and-clicks model, Farmkart positions itself as a holistic one-stop platform for all farming needs.
Each service offered by the startup is made on the premise to make the life of Indian farmers better.
Talking about the products and services Farrmkart provides, Atul says,
"Farmkart provides products and services to farmers in rural India via digital channels. In order to ensure easy digital transactions, we offer a digital identity system called Unique Identification Code (UIC), a nine digits digital identity, to help farmers make purchases in just one click." 
Fulfilling the needs of small to mid-size farmers in rural India, Farmkart makes agri-inputs affordable and accessible to farmers. The startup also enables them to get agricultural equipment also on rent.
Agricultural products, ranging from sickle to cultivator, are available on rent for farmers through Farmkart's rent4farm services from certified suppliers.
As per the startup, it can deliver products to rural and remotest places, including areas that are not yet serviced by Indian eCommerce giants, within 24-36 hours.
Present Situation Of Farmkart
Currently working with a team of 102 people, Farmkart is present in around 2,000 locations across Madhya Pradesh.
The team of 102 members include a core strategy team of six members working from Toronto.
Catering to more than 100,000 farmers, Farmkart has also raised Rs 15 crore in seed funding from undisclosed investors.
And to create an agripreneur mindset, Farmkart is targetting non-tech-savvy farmers. Farmkart aims to help them understand the importance of tech in agriculture.
Future Plans Of Farmkart
With aggressive expansion plans, Farmkart is now working towards expanding to 8,000 locations in Maharashtra, Gujarat, South India.
Working hard to create an agripreneur mindset among farmers, Farmkart is also in talks with agribusinesses to sell 5,000 more products by the end of this year. These products include organic products and some new categories such as biostimulants.
Speaking about the long-term goal of Farmkart, Atul says,
"The company's long-term goal is to help every farmer in India go online and create an agripreneur mindset among farmers."
The startup also aims to reach 100,000 locations across the country by the end of 2021 and plans to raise its Series A funds next year.
Read: Disrupting The On-Demand Meat Delivery Market, Gurugram-Based 'Meatigo' Offers Better Quality Meat