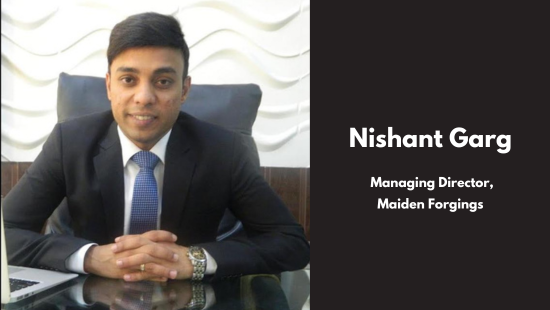 Building A Legacy of Success: Nishant Garg's Entrepreneurial Odyssey With Maiden Forgings, Now a BSE-Listed Entity
In the ever-evolving landscape of entrepreneurship, some individuals transcend the traditional role of a business owner, becoming thought leaders who shape their industries and inspire others along the way.
Today, we bring you the remarkable story of Nishant Garg, the visionary leader behind Maiden Forgings. Maiden Forgings is a renowned company in the steel industry, specializing in the production of a diverse range of high-quality steel products like bright steel bars, stainless steel bright bars & all grades of steel wires.
With Nishant at the helm, Maiden Forgings has achieved significant milestones and positioned itself as a key player in the market.
Nishant Garg | Maiden Forgings
Under Nishant's leadership, Maiden Forgings recently achieved a significant milestone by successfully listing on the BSE India. This momentous accomplishment not only boosted the company's visibility and credibility but also opened up new avenues for growth and investment.
It showcased Nishant's strategic acumen and strong business acuity, positioning Maiden Forgings as a key player in the market.
In this exclusive interview, Nishant shares his inspiring journey, from being a marketing pro to spearheading the success of Maiden Forgings. Gain insights into his strategies for adapting to changing market dynamics and maintaining high-quality standards in their diverse range of products and services.
1 Q: Can you take us on a captivating journey of your experience with Maiden Forgings, from being a marketing pro to achieving a thriving business venture?
A: My journey with Maiden Forgings has been nothing short of incredible. As an MBA graduate specializing in marketing, I've always been passionate about the business landscape and financial knowledge in capital markets.
Joining Maiden Forgings as its Managing Director, I took the reins from my father as a second-generation entrepreneur. Over the past decade, I've witnessed the company's growth and success by implementing innovative marketing strategies, building a strong brand presence, and expanding our network of clients and partners. It's been an exhilarating journey driven by my dedication to excellence and a deep passion for the business.
2 Q: As a leader at Maiden Forgings, how do you ensure the company adapts to the ever-changing market dynamics and embraces emerging technologies in the steel industry?
A: In my role at Maiden Forgings, I oversee quality control, production, and systemization parameters. It's crucial for us to adapt to changing market dynamics and emerging technologies in the steel industry. To achieve this, we continuously monitor market trends, actively participate in national and international exhibitions, and invest in the necessary equipment.
For instance, we recently identified the procurement of specific stainless steel bright bars and shapes from abroad.
We proactively studied the production process and reached out to producers in those countries to understand their methods and techniques. Now, we're investing in the required equipment to produce these items domestically, providing our customers with the same quality products as our foreign counterparts.
By staying ahead of the curve and embracing innovation, we effectively meet customer demands and remain competitive in the steel industry.
3 Q: Could you describe the diverse range of products and services offered by Maiden Forgings? How do you maintain high standards and ensure quality control in your processes?
A: Maiden Forgings Limited offers a comprehensive range of products, including bright bars and wires in stainless, alloy, and carbon steel, as well as wire and plastic collated nails in various steel types.
To maintain high standards and ensure quality control, we have developed robust inspection structures over the years. These structures enable quality checks at every stage, from raw material procurement to the delivery of finished products. We have implemented systems to ensure materials from companies with lower standards are not dispatched while also prioritizing timely delivery to prevent process delays.
Furthermore, our commitment to quality extends beyond sales; we provide prompt redressal to customer complaints to maintain consistent quality standards even after the sale. This comprehensive approach to quality control sets us apart from the industry norm and gives us a competitive edge.
4 Q: What were some significant challenges you faced while growing Maiden Forgings, and how did you overcome them?
A: When growing an organization rapidly, one of the major challenges is choosing the right opportunities from the multitude available. Additionally, building the right team presents its own set of challenges.
Pursuing a big vision in business brings numerous obstacles along the way, but it's difficult to pinpoint specific challenges as daily decision-making plays a crucial role in overall mission accomplishment. Every powerful decision made from a given situation contributes to our growth and success.
5 Q: Share some notable achievements and milestones you have accomplished as a business owner.
A: One of the key milestones I'd like to mention is Maiden Forgings' successful listing on BSE India. This achievement not only boosted our visibility and credibility but also opened up new growth opportunities and avenues for investment.
It was a testament to the hard work and dedication of the entire team.
We are proud to be among the select few Indian companies that involve the public in our journey, and we are grateful for this opportunity.
6 Q: Maiden Forgings recently became a BSE-listed entity. Can you describe the journey to achieving this milestone and your contribution?
A: I'm proud to say that Maiden Forgings completed its listing on the BSE on April 6th, 2023. This achievement has been overwhelming as it brings in the equity funds required for the company's next-level growth and opens up new doors for opportunities.
Undertaking this journey was a hectic task that taught us the importance of dedication, hard work, teamwork, and focus. We realized that anything is possible with persistence and resilience, and these lessons will serve us well in the long run.
7 Q: How does Maiden Forgings prioritize sustainability and environmental responsibility in its operations?
A: Sustainability and environmental responsibility are not only significant to Maiden Forgings but also crucial for the well-being of humanity. As a company operating in the heavy industry, we take diligent steps to incorporate long-term sustainability into all our activities. We prioritize environmentally friendly processes and aim to minimize our ecological footprint.
Currently, we are consolidating our plants to further enhance our commitment to sustainability. Through this consolidation process, we plan and execute new projects with the future in mind, surpassing current environmental standards.
Our goal is to be ahead of our time in terms of environmental friendliness and create a better world for future generations.
8 Q: Are there any plans for expansion or diversification into new markets or product lines for Maiden Forgings?
A: Yes, we have strategic plans for expansion into new markets, both geographically and with new product lines. We have initiated an aggressive strategy to form alliances in the European, American, and African markets to establish a base in these continents.
This will enable us to supply all our product lines locally and cater to clients effectively. Simultaneously, we are focusing on reaching the ultimate consumer markets through forward integration by manufacturing products that serve mass consumer needs.
For example, we started manufacturing and exporting stainless steel nails, wire, and plastic collated nails, which are common household products. Our phased expansion will continue to target such markets.
9 Q: What is the long-term vision and future outlook for Maiden Forgings?
A: Maiden Forgings envisions becoming a leading producer of specialty steel products that currently lack Indian manufacturers' expertise. We aim to bridge this gap by offering innovative solutions and advanced manufacturing capabilities in these product categories.
Furthermore, we aspire to be an active participant in the global innovation ecosystem within the steel industry.
By collaborating with international partners, staying updated on emerging technologies, and fostering a culture of continuous improvement, we aim to contribute to the advancement of the industry on a global scale.
10 Q: What advice would you give to other business owners and entrepreneurs who want to thrive in their respective industries?
A: My advice to fellow business owners and entrepreneurs is to have a genuine passion for what they do, embrace innovation, prioritize customer value, build a strong and dedicated team, adapt to changes in the market, foster strategic partnerships, prioritize continuous learning, and maintain persistence and resilience. By following these principles, they can increase their chances of success and thrive in their respective industries.
For more stories of startups, click Startup Stories. Follow us and connect with us on Instagram, Facebook, Twitter, and LinkedIn.
Note: If you are a budding entrepreneur and require assistance to register a Pvt Ltd Company, register a company, create financial projections, business development, LLP Registration, compliance filing, funding formalities, debt funding, CFO Services, or other startup related legal services, contact us.