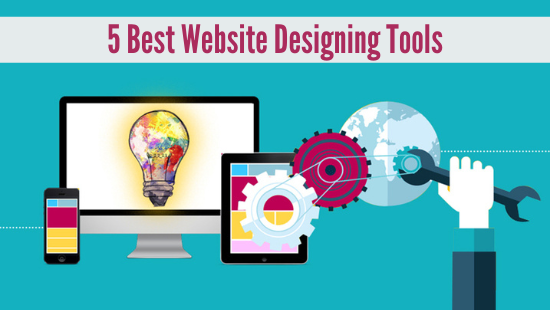 5 Best Website Designing Tools You Can Use To Create Your Website
In this digital world, if your business does not have an online presence, you will be soon out of business. That is why it is necessary for any type of business, whether big or small, to have an online presence.
A website forms the base of a digital presence for any business, as people visit a business's website before deciding to purchase any product or service. Besides, a business website can be used to accomplish various marketing strategies to grow the business.
Though a website is essential, it is not a financially viable option for many businesses to hire professionals to create their websites. For this purpose, businesses or individuals can use website designing tools to create easy-to-use and super convenient websites.
5 Best Website Designing Tools
Here is a list of the 5 Best Website Designing Tools you can use to create your website.
1. Google Web Designer
Google Web Designer is a drag-and-drop page builder for Windows, Mac, and Linux that lets you create engaging, interactive HTML5-based designs and motion graphics that can run on any device. It offers a full design suite and the ability to edit HTML, CSS, and JavaScript directly.
This tool from Google is powered with a GUI offering common design tools, such as a text tool that integrates with Google Web Fonts, a Shapes tool, a Pen tool, and 3D tools.
Google Web Designer is interactive and offers dynamic workflow with seamless integration with other Google products, like Google Drive, Display & Video 360, and Google Ads.
Features of Google Web Designer:
Design and develop
Dynamic Workflow
Add media and interactivity
Seamless integration with other Google products
2. WIX
This website designing platform gives you the freedom to create, design, manage and develop your web presence. Be it personal, business or e-commerce websites, Wix Editor gives you full design freedom with over 500 designer-made templates.
Using its innovative drag and drop builder, you can customize and change anything on the website you are building. Also, you can add more advanced functionality and build professional web apps with Velo by Wix.
It comes with a Wix ADI (Artificial Design Intelligence) feature that will instantly build a personalized website just for you. You have to answer a few simple questions, choose your style, and add features you need for your business, and with just a click of a button, your website is live.
Because of its 1000+ features to choose from, 200M users across 190 countries prefer Wix for website designing.
Features of WIX:
Website Customization
Artificial Design Intelligence
Mobile view edit
Optimize for search engines
3. WordPress
It is the world's most popular website builder and offers beautiful designs, powerful features, and the freedom to create a website with the best user experience.
43% of the web uses WordPress, including renowned bloggers, small businesses, and Fortune 500 companies.
WordPress is the most accessible tool to create a website with drag-and-drop simplicity that's mobile-friendly. The platform has been used to build more than 10 million websites, making it a well-known CMS for designing websites.
It also offers users access to 9,500+ free themes and 59,500+ free plugins.
Features of WordPress:
Customizable Designs
SEO Friendly
Responsive Mobile Sites
High Security
Media Management
Easy andAccessible
4. Webflow
Using Webflow, you can design, build, and launch visually powerful websites without coding. The platform is used by more than 3.5 million designers and teams to create, collaborate on, and scale beautiful websites.
The Webflow Designer tool lets you build any website you can imagine with the full power of HTML, CSS, and Javascript in a visual canvas. It is optimized for marketing and lets you launch new campaigns faster. Using this tool, you can optimize your site on the fly and connect your website to your key marketing tools.
Features of Webflow:
Intuitive editor lets you publish, update and edit content.
Tool Integration.
SEO Optimised.
Logical Website flow
5. Weebly
Weebly provides access to customizable webpage designs and useful tools to help you build your website.
Whether you're starting an online business from scratch or taking an in-person business online, Weebly provides step-by-step guidance on how to build and launch a website with expert starter guides and planning tools.
The templates on Weebly are highly customizable and are also mobile-friendly. More than 50 million users across the world use Weebly.
Features of Weebly:
Drag & Drop builder
All-in-one powerful eCommerce tools
Integration with marketing tools
Advance animation effects
If you are looking for funding for your startup, read Funding Options For Startups.
[You may also read:
Top 5 Indian Cybersecurity Startups Redefining Digital Security Landscape
]
Follow us and connect with us on Instagram, Facebook, Twitter and LinkedIn.