3D Geo-Spatial Tech Startup Heliware Raises Pre-Series A Round
Heliware, a geo-spatial tech startup, has raised a total of Rs 7 Cr in its pre-series A round, with participation from investors including JITO Angel Network Promoted by JITO Incubation and Innovation Foundation, TiE and Amit Engineers.
As per the startup, the freshly raised funds will be utilized to expand its tech team and business sectors, which will further elevate its position as a leader in the industry.
Heliware | 3D Geo-Spatial Tech Startup
Founded by Rajan Srivastav in 2018, Heliware is a Web-GL-powered Geo-Spatial Analytics Platform for developers, analytics & data Scientist that provides GIS, web mapping, and spatial data science tools.
It offers a patented technology stack that can be used by firms for creating personalized analytics software & dashboards.
Speaking about the development, Rajan Srivastav, Co-founder and CEO of Heliware, said,
"Heliware's journey from startup to geospatial tech leader is solely a testament to our team's hard work, dedication, and vision. The company's innovative technology and partnerships have made us a trusted partner across industries and government projects. With our latest funding round, Heliware is poised to continue its growth trajectory and make a significant impact on the geospatial tech industry."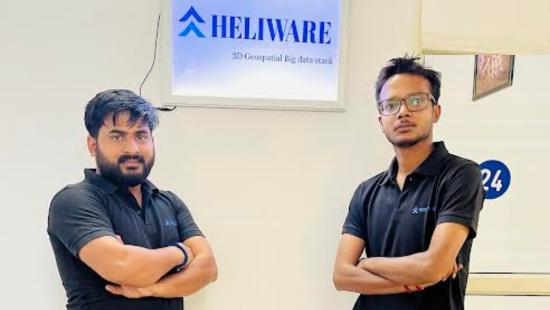 Heliware, which has completed an incredible five-year journey, serves various industries, including renewable, retail and Supply chain, mining, construction, and defence. Its team has grown from 25 to 65 individuals, showing a 160 percent growth; clients have increased from 30 to 60, showing 100 percent growth; order booking has increased by 200 percent, and revenue has risen by 106 percent (YoY).
Heliware's USP includes highly specialized SDK & APIs built with the scalable model, indigenous algorithms for advanced tiling, and base map independence.
Commenting on the development, Rajat Mehta, Honorary Chairman of JITO Incubation and Innovation Foundation and Ms Pooja Mehta, COO of JIIF, in a joint statement said,
"We are thrilled and optimistic about the fund investment in a multi-sector tech service provider like Heliware. The company is a fitting example being a new-age tech service for the shared concern of deep-end security and AI Analytics in the industry. This investment will prove useful for their mission of scaling up and using those funds for executing their goal plans."
Heliware has made significant partnerships that have marked its global footprint. The company has partnered with some of the world's leading tech firms, including GfK in Southeast Asia and Echo Analytics in the European region, to enhance its technology and expand its reach.
In February 2022, Heliware raised an undisclosed bridge round from Tie India Angels (TIA). Prior to this, the 3D Geo-Spatial tech startup raised its Angel round from Chandigarh Angels Network (CAN).
Follow us and connect with us on Instagram, Facebook, Twitter, and LinkedIn.
Note: If you are a budding entrepreneur and require assistance to register a Pvt Ltd Company, register a company, create financial projections, business development, LLP Registration, compliance filing, funding formalities, debt funding, CFO Services, or other startup related legal services, contact us.