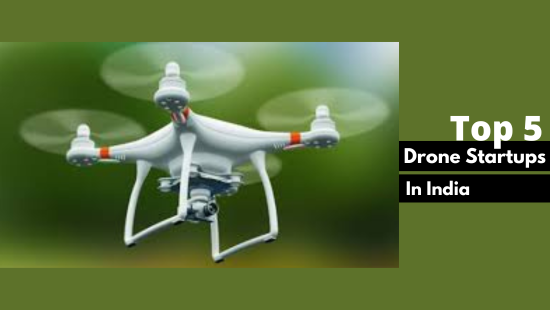 Unmanned Innovation: Top 5 Innovative Drone Startups In India
The drone startup landscape in India has undergone a transformative shift ever since the liberalization of drone operations through the Drones Rules 2021. This policy change has breathed new life into the unmanned aerial vehicle (UAV) ecosystem, paving the way for innovative ideas, technological advancements, and unprecedented growth opportunities.
Recent years have witnessed a series of positive developments for drone startups in India. The Indian government's approval of the Rs 120 Cr Production Linked Incentive (PLI) scheme has injected a fresh impetus into the domestic manufacturing of drones. This move aims to reduce dependence on imports while nurturing the homegrown drone industry.
Furthermore, to ensure safety and maintain quality standards, the introduction of the drone certification scheme has been a significant milestone. This initiative reinforces trust and accountability within the industry, encouraging startups to develop cutting-edge solutions that adhere to regulatory requirements.
Growth Statistics Of The Indian Drone Industry
India's drone sector has witnessed a 60% growth in 2022, compared to the previous year. Besides this, the Indian government has set a target of achieving a $1 billion drone industry by 2025 and has taken various measures to support the sector.
As per the Civil Aviation Ministry, as the market grows, the Indian drone industry is expected to reach US$ 1.5-1.9 billion by 2026.
In a testament to the growing maturity and potential of the Indian drone startup ecosystem, several companies in this space have successfully made their way to the public market.
Last year, Droneacharya Aerial Innovations got listed in the Indian share market. A year before that, Paras Defence and Space Technologies Ltd got listed.
The listing of Indian drone startups on stock exchanges has significantly boosted overall confidence in the sector. It serves as a validation of the innovative solutions, business models, and market potential these companies possess.
Top 5 Innovative Drone Startups In India In 2023
In this article, The StartupLab presents a list of 5 drone startups in India that offers various applications in the defence, civilian, and commercial sectors. From their unique offerings to their ambitious plans, we provide an insightful glimpse into the world of these innovative companies.
1. Garuda Aerospace
Founded by Agnishwar Jayaprakash in 2015, Garuda Aerospace is an international standard certified firm for Aerospace Quality Management Systems. The Chennai-based drone startup focuses on the design, build and customization of unmanned aerial vehicles (UAVs) or drones for various applications and caters to diverse needs such as event photography, agricultural survey, reconnaissance and surveillance.
Its product offerings include surveillance (drone), agri mapping, seed dropping, solar panel cleaning, loudspeaker, UGV, and Fixed-wing VTOL drone, among others.
Earlier in February 2023, Garuda Aerospace raised $22 million (around Rs 182 crore) in a Series A funding round led by early-stage venture capital company SphitiCap for research and development (R&D), expansion, product development and upskilling of drone pilots.
The Chennai-based drone startup also aims to sell 25K drones in the next eight months and export 10K drones to 100 countries in the next 12-15 months.
Mahendra Singh Dhoni is an investor in Garuda Aerospace and also its brand ambassador. In 2021, he launched a drone named Droni, manufactured by the firm. It is one of the four drone startups that have partnered with the foodtech unicorn Swiggy for drone grocery delivery trials in Bengaluru and Delhi-NCR.
2. Aero360
Founded by Pragadish Santhosh in 2017, Aero360 is a Chennai-based startup that designs and builds drone products and services for intelligence, surveillance & reconnaissance, survey & mapping, agriculture, and drone-based delivery.
Registered members of the StartUp India Initiative, DGCA, MSME & NSIC, Aero360, since our incorporation on 31 March 2017, have included several drone products like surveillance drones, survey drones, heavy-lift drones, indoor drones, and agricultural pesticide-spraying drones.
The Chennai-based startup has developed six unmanned aerial vehicles (UAVs) for the aforementioned applications. All the UAVs developed by the firm are equipped with multiple features like infrared sensors, magnetometers, thermal cameras and fail-safes mechanisms such as return to home on communication breakdown.
It has partnered with Indian Coast Guard and Indian Army for surveillance purposes.
3. Aotom Technology
Founded by Krunal Kalbende in 2018, Aotom Technology is a tech-oriented development and service provider company in the field of Drone Technology, Geophysical services, AI technology, Data analytics, Face recognition technology and Blockchain technology.
The startup specializes in providing a wide range of services related to machine learning, including regression techniques, deep neural networks, pattern recognition, cognitive intelligence, NLP/text mining, visual/audio entity tagging, and text captioning. These services are utilized to analyze both human faces and the earth's surface.
Its expertise enables it to choose the most suitable algorithm by considering factors like data structure, patterns, and desired results. Besides this, the startup's knowledge of digital technologies, platforms, and the business domain allows it to provide all-encompassing solutions and services to enterprise business and technology teams. These offerings facilitate the application of AI/ML in diverse business sectors.
4. IoTech World
Founded by Anup Kumar Upadhyay and Deepak Bhardwaj in 2017, IoTech World is a Delhi NCR-headquartered drone Original Equipment Manufacturer (OEM) that makes drones for applications in agriculture, survey and surveillance.
IoTech World offers four products – 1. Surveybot (a DGCA-approved drone with LiDar and high-resolution camera, typically useful for defence); 2. Agribot (a-DGCA approved agri-spray drone); 3. Drishti comes with a range of payloads, including EOIR, thermals, zoom cameras, radars, and LiDars; 4. Heavybot is used for logistics and can carry up to 10 Kg payload.
The Delhi NCR-headquartered startup plans to encourage indigenous products under the 'Make In India' initiative. IoTech World intends to expand its sales network and company-owned service stations in 10 states in India.
With 25 dealers across India, the startup plans to raise the number to 100 and would launch its high-endurance drone models, which can go up to 50~100 km.
5. NewSpace Research & Technologies
Founded by Rajinder Rana and Sameer Joshi in 2017, NewSpace Research & Technologies is a Bengaluru-based drone startup that designs and develops Persistent Drones for Earth Observation and Communications.
The Bengaluru-based drone startup uses technologies like unmanned aerial systems, GPS-denied operations, collective robotics, augmented reality, virtual reality, machine learning and artificial intelligence.
With a track record of over 10 NextGen projects delivered, NewSpace specializes in swarm drones and is associated with Hindustan Aeronautics Limited to develop products for surveillance and communications.
It has signed contracts with the Indian government for delivering products to the armed forces. In September 2021, the Indian Army signed two deals worth over Rs 200 crore for Swarm drones with NewSpace and Noida-based Raphe.
The Bengaluru-based drone startup has already delivered SWARM drones to the Indian Army. It plans to manufacture drones for civil uses. In December 2022, NewSpace raised Rs 26.6 crore or $3.21 million in a pre-Series B funding round led by existing backer QRG Investments and Holdings.
Follow us and connect with us on Instagram, Facebook, Twitter, and LinkedIn.
Note: If you are a budding entrepreneur and require assistance to register a Pvt Ltd Company, register a company, create financial projections, business development, LLP Registration, compliance filing, funding formalities, debt funding, CFO Services, or other startup related legal services, contact us.