Top 5 Indian Web3 Startups To Watch Out For In 2022
In recent years, Web3 and the cybersecurity space have been the most talked-about topic among investors and the entrepreneurial world.
Just like cybersecurity, the Web3 space is spreading its roots in India, and VCs like Coinbase Ventures, Jump Capital, Andreessen Horowitz, and traditional institutions like Sequoia Capital India and Lightspeed are aggressively backing founders at an early stage in Web3. 
CoinDCX, through their corporate venture arm DCX Venture, has backed multiple startups in the web3 space, including EPNS most recently. The firm is also investing in education and building an innovation centre to develop products in the web3 space. 
NFT, a product of the web3 space has given rise to an NFT economy that solves for digital flexing and unlocking value in physical and digital spaces. This space is growing fast and recently, several NFT startups received funds, including cricket NFT platform Rario, which raised $120 million in Series A funding.
To provide our readers with details about the web3 space, in this article, we will talk about:
What is Web3?
The Need for Web3
The Top 5 Indian Web3 startups
What is Web3?
Web3 is a notion for a new version of the World Wide Web based on blockchain technology and featuring decentralisation and a token-based economy. Ethereum co-founder Gavin Wood created the term "Web3" in 2014, and cryptocurrency enthusiasts, huge technological businesses, and venture capital firms expressed interest in the concept in 2021.
According to some analysts, Web3 will improve data security, scalability, and privacy for users while also countering the power of huge technological businesses. Although, others have shown worries about the decentralised web, stating the risk of poor moderation and the reach of undesirable information, the congregation of wealth in a small group of investors and individuals, with a significant loss of safeguarding owing to increased data collecting.
The Need for Web3
Decentralization has great possibilities for the web and beyond. Developers with original ideas for high-quality items may populate the ecosystem. Decentralization and blockchain technology has a number of key ramifications, including data ownership and compensation. It's safe to believe that as we progress toward Web3 and the technology that enables it to mature and scale, the web will return to its original purpose.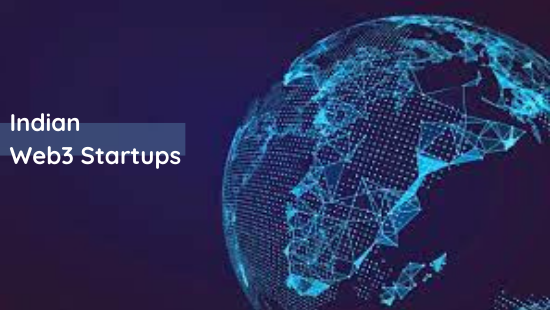 Top 5 Indian Web3 Startups To Watch Out For In 2022
The StartupLab has prepared a list of the top 5 Indian Web3 startups that you need to watch out for in 2022.
5. KrypC
At number five, we have KrypC, a Bangalore-based blockchain software business that was launched in 2016. India, the Netherlands, and the United States are among the company's locations. For blockchain applications as well as smart contracts, KrypC has joined hands with IBM and Microsoft. Ethereum, Hyperledger, and Multichain are the company's technology platforms.
The web3 startup has numerous patents in the sector of mobile wallets, digital currencies, security, as well as payment solutions. They give corporations and start-up innovators low-code and ready-to-use technology platforms to deploy and manage new solutions with minimal effort, money, and risk. KrypC has announced KrypCore, the MVP version of its technology that will resolve the threads of enterprise resistance to blockchain and will avail businesses to build their own blockchains.
4. SoluLab
SoluLab is a digital and technological solution provider with expertise in blockchain, artificial intelligence, Internet of Things, mobile app development, and web development. We are the world's leading enterprise blockchain development business. The company was founded in 2014, and to date, it has 50+ notable clients and has completed over 90 high-end projects with a success rate of over 95%. Their clientele has grown to include more than 12 nations in a short period of time.
3. Biconomy
Biconomy is a developer platform that allows blockchain developers to make their Web3 projects more transactional and onboarding friendly. By reducing blockchain complications, the plug-and-play approach allows Web 3 interactions between DApps and end-users to be fluid and seamless.
We accomplish this by offering a multi-chain, non-custodial, and gas-efficient relayer infrastructure network that allows for large-scale meta transactions. They are currently working on a platform (SDK and dashboard) that takes advantage of the benefits of meta transactions to allow non-crypto users to use dApps without having to learn about wallets, crypto, or transaction fees.
2. GuardianLink
GuardianLink is a no-code NFT (Non-Fungible Token) platform that allows creators, artists, companies, and celebrities all around the world to create their own launchpads for their NFTs.
No one else can guarantee the validity of NFTs like their high-end legitimacy protocol. High-end companies and artists may publish, mint, preview, and manage their own no-code curated NFTs using their bespoke templates and smart contract administration. Their core services are the No Code NFT Platform, Legitimacy Protocol, Cross-Marketplace and Cross-Blockchain Royalty Rights.
1. Polygon
Polygon employs a modified proof-of-stake consensus algorithm that allows for unanimity on each block. (Achieving consensus via classical proof-of-stake necessitates the processing of several blocks.) The proof-of-stake approach enables network participants to stake their MATIC in exchange for the ability to validate Polygon network transactions. MATIC is then given as a reward to successful miners in the Polygon Chain network.
The Polygon platform can improve a blockchain project's flexibility, scalability, and sovereignty while maintaining the Ethereum blockchain's security, interoperability, and structural benefits. MATIC is used for the management, securitization, and payment network transaction fees on the network.
Click Indian Startup News to read the latest startup news.
Follow us and connect with us on Instagram, Facebook, Twitter and LinkedIn.