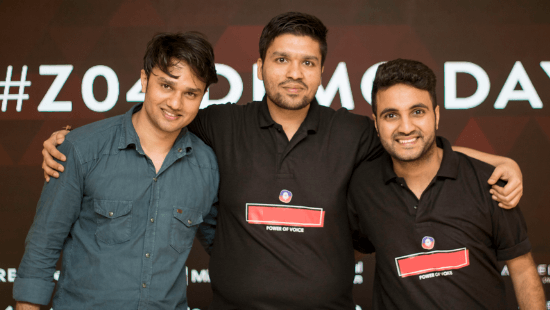 Started By A Trio Of Indian Entrepreneurs, Voice Assistant 'Vani' Aims To Revolutionise The Voice Assistant Industry
It is because of the technology, the things we had only imagined have become the reality of today.
Now, it's not just a scenario out of science fiction movies, where we'd come home, and start speaking to our personal home computer or digital assistant. It's the reality nowadays.
Aimed to make life easy, presently, speech recognition technology has limited use and can only answer simple commands.
Whether it be digital assistants like Alexa, Cortana, Google Assistant or Siri, speech recognition technology is helping us complete basic tasks.
But like everything, this technology is evolving faster.
Today's startup story is about a startup Bolo International Limited, whose flagship product Vani- A Voice Assistant claims to be the world's 1st voice assistant solution that lets you handle your daily calls.
So, let's talk about how it all started and how Vani aims to revolutionise the voice assistant industry.
Startup Story: Vani | A New-Age Voice Assistant
Vani Founder
Founded by Sparsh Agrawal, Sachin Gupta and Jatin Babbar in 2018, Vani is the world's 1st voice assistant solution that lets you handle your daily calls. It is a language-independent solution making the technology easily accessible.
Talking about Vani, the co-founders say,
"We are creating India's first-ever voice Assistant which not just cover the regional languages of India, but also cover local dialects so that the users can communicate with their smartphones in their language or the way they talk to their family and friends."
How Vani Started?
It all started when the co-founder Sparsh Agrawal had met with an accident when he tried to swipe his mobile screen while driving to take some emergency call.
After recovery of a few injuries, he thought that there must be some mechanism to take a call without using hands or swiping. That moment he came with the idea that calls must have answered through voice commands as well.
That was the time when he decided to create Vani-A Voice Assistant, which is exclusively designed to interact with incoming calls through Voice commands or without using hands.
So, Sparsh along with Sachin and Jatin established Vani Assistant in June 2018.
USP Of Vani
Vani allows you to make smartphone usage hands-free. With Vani, you can answer incoming calls without touching the screen while your hands are busy or driving your car. Vani is capable of speaking out the caller name, and by voice recognition, you can choose to answer or reject the call.
Apart from that, Vani also works in offline mode, which is not possible in existing voice assistants.
Talking about the USP and their competitors, Jatin says,
"We are the first movers in the world who has come up with the concept where user can interact with their incoming calls through Voice Commands. So, here we are slightly different from existing voice commands."
The App helps you protect yourself from spam and anonymous phone calls with our caller ID feature. Its call blocker function gives you an option to block unknown or spam callers. You can update the database of spam calls in Call Block List. So, never get harassed by spam calls.
Present Situation Of Vani
Presently, Vani has a presence in b2c market with 3 Million installs on Google Play Store with half-million monthly active users. And in the last six months, the startup has generated USD 23K in revenue.
The startup has also raised pre-seed funding in against of soft convertible notes.
Future Plans Of Vani
The startup is planning to expand in b2b category as well. And as the startup is generating good traffic in South Asia, it plans to target the users from western countries.
Read: Making Education Enjoyable, Edtech Startup 'Newton School' Is Democratising Software Development Education In India