Making Education Enjoyable, Edtech Startup 'Newton School' Is Democratising Software Development Education In India
Edtech sector is among a very few sectors, that survived the disruption caused by COVID-19. Though edtech startups grew exponentially in the period, the edtech ecosystem in the country is still in its formative stage.
New startups in the edtech industry are coming up with their ideas and services to bridge the gap between the still underlying inconsistencies in the sector.
In this evolving sector, came a time when a duo of entrepreneurs realised that the education system had failed to make the courses enjoyable for engineering students.
So, they founded a startup offering an online full-stack training platform for software engineers that charges zero upfront fees and promises placement in top tech companies.
The startup story is about Bengaluru-based edtech startup Newton School.
Startup Story: Newton School | Pay After Placement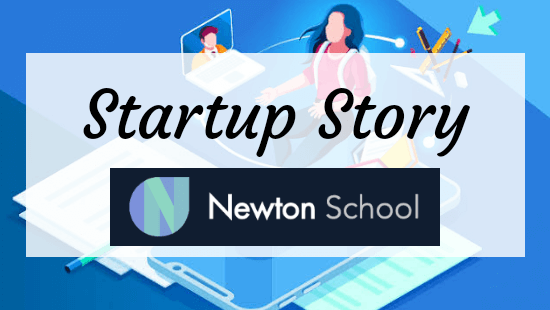 Newton School Founder
Newton School was started by IIT Roorkee graduates Nishant Chandra and Siddharth Maheshwari in 2019. The edtech startup is empowering people to become well-versed full-stack developers that allow them to earn 5-40 Lakh per annum salary in top-notch companies in India.
Recently, Newton School raised $6,50,000 in a seed round from Nexus Venture Partners. The Bengaluru-based edtech startup is backed by Unacademy founders Gaurav Munjal, Roman Saini, and Hemesh Singh. The startup is also backed by prominent investors like US-based AngelList and founder of Upwork, Srinivas Anumolu; educationalists Ajay Gupta and Sahil Aggarwal; and GrowthStory's K Ganesh.
How Newton School Started?
When Nishant Chandra and Siddharth Maheshwari founded video consultation platform Bolo in 2018., the duo realised there was a huge demand for engineering roles.
Realising that the education system had failed to make the courses enjoyable, the duo decided to bridge this gap and founded Newton School in 2019.
Works like a coding boot camp company, Bengaluru-based Newton School provides an online full-stack training platform for software engineers.
With zero upfront fees, the startup promises placement in top tech companies, with an annual package of over Rs 6 lakh.
Talking about the vision behind Newton School, Siddharth says,
"We wanted to empower students to become proficient software developers. We aim to transform India into a global developer powerhouse by providing companies with high-quality tech talent." 
USP Of Newton School
Newton School works on a Pay After Placement model. The startup offers the course without any upfront fees and is completely online.
The admission process spans over two weeks in which each student's motivations and learnability are tested.
Interviews are conducted by experts, with a focus on communication skills, performances, and passion of the applicants.
Talking about the selection process, Siddharth says,
 "Because of the unique fees model, lakhs of candidates enrol for the series of codability and attitude tests. However, only 1% of applicants make the final cut."  
The handpicked students then go through a six-month online programme. And to enable both students and working professionals to be a part of the programme, live classes are conducted between 9 PM and 12 AM every day.
After the students get hired, Newton School charges them 15% of their salary for three years after they find a job.
 Talking about the fees, Siddharth says,
"Students only need to pay when they are placed with a minimum package of Rs 6 lakh per annum, and we do not charge anything from the hiring partners."
Present Situation of Newton School
The edtech startup has more than 200 mentors, instructors, and interviewers working with it. Newton school's mentors are top execs from MNC's like Microsoft, Google, Amazon, Uber, Dell, and Adobe, among others.
Presently, Newton School already has 500 students enrolled in the programme. As per the startup, its business is highly capital-efficient, and the company is close to breakeven and is on the path to becoming profitable in the next couple of months.
Future Plans of Newton School
Newton School is planning to scale the enrolled student number in its programme to 10,000 by next year, making it a larger intake than all the IITs combined.
The startup also aims to reach $1 million in monthly revenue in the next six to eight months. Newton School is also in talks with MNCs to on-board them as placement partners.
Read: This Kolkata Based Startup 'Rare Planet' Is Empowering Local Artisans And Helping Them Earn Sustainable Income