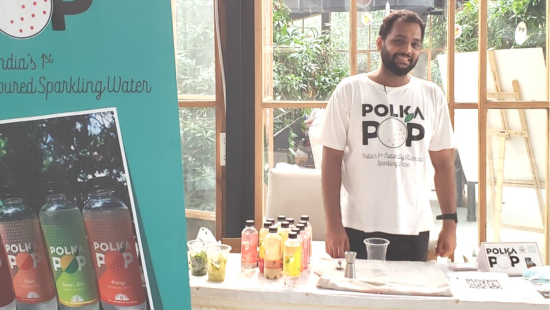 Sparkling Water Brand Polka Pop Raises Pre-Seed Funding
Polka Pop, a naturally flavoured sparkling water brand, has raised pre-seed funding from a group of renowned angel investors.
These angel investors include Atishe Chordia (Founder of Doodleblue Innovations), Senthil Natarajan (Managing Partner at Kovai Pazhamudir), Parasar Sarma (a former growth leader at Wakefit), and Shikha Gupta (Managing Director of Life Fitness India), Premnath K (Founder & Director, Blue Band Sports Ltd), among others.
As per the startup, the freshly raised funds will be used to target a monthly sale volume of over 1 lac bottles a month.
Polka Pop | Sparkling Water Brand
Started in early 2021 by Gaurav Khemka, Polka Pop is one of the first fizzy drinks in India with 0 sugar, 0 sweeteners, 0 calories, 0 sodium & 0 Preservatives. Operated by Duhkaar Food & Beverages Pvt. Ltd., Polka Pop aims to replace unhealthy "diet" sodas & tonic waters.
Speaking at the development, Gaurav Khemka, Founder & CEO of Polka Pop, said,
"The shift towards leading a healthier & better life is constant! We have seen some of the largest brands in the world built on this. However, the current Indian beverage shelf, including 'diet' drinks, comes with long-term health concerns. At Polka Pop, we are working on building a clean beverage brand where taste & health go hand-in-hand. I would like to thank the angels for believing in our mission right from the start."
Currently, Polka Pop is selling over 40,000 bottles a month. It is also present across quick commerce platforms such as Swiggy, Zepto & BlinkIt. Over the next 6 months, the sparkling water brand is focused on targeting hotel chains, bars and office spaces and scaling in that segment too.
As per the startup, they are also in talks with a few funds regarding the follow-on seed round that will be utilized to build out existing channels & also establish a retail footprint across all major metro cities.
Recently, Polka Pop was selected as one of the top 600 startups from over 5700 applicants as part of the upcoming Leap to Unicorn program by IDFC First Bank, Moneycontrol & Headstart. The brand was also the recipient of the TANSEED grant by the TN Government in early 2022.
Follow us and connect with us on Instagram, Facebook, Twitter, and LinkedIn.
Note: If you are a budding entrepreneur and require assistance to register a Pvt Ltd Company, register a company, create financial projections, business development, LLP Registration, compliance filing, funding formalities, debt funding, CFO Services, or other startup related legal services, contact us.