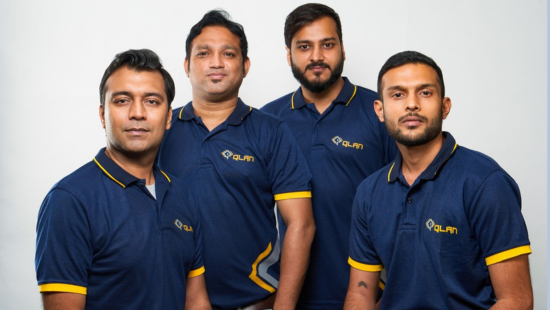 Social Networking App For Gamers Qlan Raises Pre-Seed Funding
Qlan, a social networking app designed for gamers and esports enthusiasts, has raised pre-seed funding from Marwah Sports, CIIE.CO, and Faad Network.
As per the startup, the freshly raised funds will be used to fuel its expansion and enhance gamer networking, discovery, and content creation capabilities.
Qlan | Gamers' Social Network
Co-founded by Sagar Nair, Navin Talreja, Ashwin Muni and Prashant Pandey, Qlan is a mobile networking platform dedicated to the gaming and esports community.
The platform is designed to unify and engage gamers and esports enthusiasts, build a credible community and facilitate the creation of an industry-complementing gaming ecosystem.
Speaking about the development, Sagar Nair, Co-founder and CEO of Qlan, said,
"The pre-seed funding round signifies an exciting new phase for Qlan, and we are delighted to have Marwah Sports, CIIE.CO, and Faad Network as backers. This demonstrates the remarkable potential of Qlan and the burgeoning global gaming and esports industry. While we are grateful for the worldwide validation of Qlan by gamers, our primary objective now is to scale our platform, optimise user experience, and gain deeper insights into our community's needs. With the invaluable support of our investors, we are poised to elevate Qlan to new horizons and empower the ever-expanding global community of gamers."
It is a genre-specific social platform that allows users to create custom profiles, sync their game statistics, connect and communicate with other gamers, create teams, share gaming content and more.
With over 100,000 combined downloads, the networking platform claims to have a user base of over 50,000 gamers across the Indian subcontinent, South-East Asia, Central Asia, Europe, North & South America, South Africa, and the MENA regions.
Commenting on the development, Chintan Antani, VP Seed Investing, CIIE.CO, said,
"Esports in India is witnessing "green shoots" of tailwinds. With the government priming up with recognition, regulatory frameworks should follow suit. Parallelly there is a sharp rise in esports athletes, teams, events, sponsors turning to franchises etc. There will be a need to bridge these facets with a community-driven solution and enable growth. This is where Qlan fits in and would be ripe to tap into what we feel is a sunrise sector in India today."
Because of global digitisation and the low cost of advanced gaming technologies, Esports is becoming increasingly popular.
As per the latest research by SkyQuest Technology, the Global Esports Market is expected to touch $2.8 billion by 2028 at a CAGR of 14.50 per cent over the forecast period (2022-2028). The market was valued at $1.08 billion in 2021.
Follow us and connect with us on Instagram, Facebook, Twitter, and LinkedIn.
Note: If you are a budding entrepreneur and require assistance to register a Pvt Ltd Company, register a company, create financial projections, business development, LLP Registration, compliance filing, funding formalities, debt funding, CFO Services, or other startup related legal services, contact us.