[Remote Collaboration Tools] Top 10 Collaboration Tools For Remote Teams
Because of COVID-19, every industry in the world has seen a paradigm shift in its working. Work that we occasionally did from home has now become the new normal.
It is due to COVID-19 induced lockdown that we left with no other option than working remotely.
Before work from home became a trend, people often thought it to be inefficient and unproductive. But statistics tell otherwise.
-77% of remote employees say they are more productive when working from home.
-Remote workers can be20-25% more productive than their colleagues who work from offices.
But what is making this remote work productive is the tools that are enabling the businesses to keep their employees connected and productive at the same time.
As we all know, COVID-19 situation is here to stay for a while, so we have created a list of 10 remote collaboration tools. With these tools, businesses can improve communication with their teams and collaborate better.
Here is the list of 10 remote collaboration tools that you can use to keep your team connected and productive.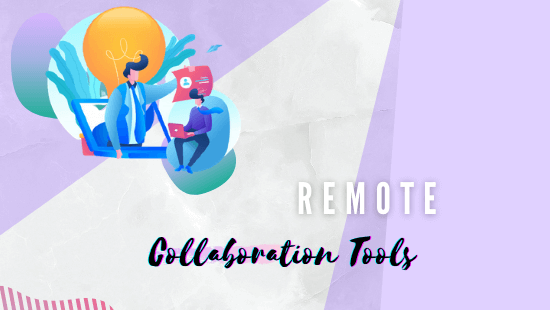 Chanty
Chanty is an all-in-one team collaboration tool that provides a simple and intuitive user experience. With unlimited message history, powerful features and apps, Chanty helps to make your team super productive.
Features of Chanty:
Quick access to an entire message history
Share multiple contents in a single app
Discussion Threads
Workflow optimization with Kanban board view
Real-time Chat
Third-party apps connection available
ProofHub
The best part about this software is that it will not cost you for every newly joined user. Instead, ProofHub charges you a flat price. You can afterwards add an unlimited number of users to the software without being charged a single penny.
Features of ProofHub:
Collaboration
White-Labeling
Timesheets
Gantt charts
IP Restriction
Dedicated space for announcements
Product Road-mapping
Chat
Calendar management
Project templates
Activity Logs
Project notes
API
Automatic notifications
Dynamic workflow
Dropbox
Started in 2007, Dropbox is still the first choice of hundreds of millions of people around the world.
With a decade+ experience in the segment, Dropbox has proved itself as a modern workspace designed to provide a more enlightened way of working.
The tool is designed in a way to reduce busywork-so you can focus on the things that matter.
Features of Dropbox:
Content Collaboration
Automatic organization & back-up
Cloud Storage
Online back-up & file recovery
Activity audit
Calendar integration
Team folder manager
Progress Updates
Audit sharing activity
256-bit AES encryption security
External sharing
Enterprise mobility management
Plus button
AttendanceBot
AttendanceBot is a one-stop people management system for high performing remote and work from home (WFH) teams. It is a chat-first app that helps in streamlining WFH operations.
AttendanceBot solves all your time tracking, absence management, vacation tracking, and employee shift planning problems.
Features of AttendanceBot:
Project tracking
Automatic summary announcements
Timesheets and hours
Insightful reports
Calendar Integration
Notion
It is a tool that blends your everyday work apps into one. Notion is an all-in-one workspace for you and your team to write, plan, and get organized.
It provides you with all the tools that you need for better docu, mentation, planning and organizing.
Features of Notion:
Product roadmap
Calendar Tracking
Project Tracking
Cross-functional collaboration
Flexible CRM
[Read:
29 Best Marketing Tools for Startups and Small Businesses
]
Trello
It is an easy to use tool that helps teams work more collaboratively and keeps them organized.
Trello provides an easy, flexible, and visual way to manage your projects and organize anything. It is a tool that is trusted by millions of people from all over the world.
Features of Trello:
Built-In Workflow Automation
Third-party Integrations And Extensions
Progress Meter Checklist
Easy, Drag-and-Drop Editing
Easy Organization with Labeling, Tags, and Comments
Card Records Archive
Blink
Calls itself an all-in-one employee app, Blink is a tool that keeps the frontline teams more productive, happy and engaged.
With a user-friendly interface, Blink also allows integration with third-party apps such as Office 365, Jira, Trello, etc.
Also, using the mobile app, users get access to company-wide chats, employee directory, workforce analytics, and more.
Features of Blink:
Third-party integrations
Mobile Accessibility
Workforce Analytics
Company feed for top-down communications
Employee directory
Digital forms for surveys and reporting
Zoom
Unless you are living in a place without internet for the last eight months, then you probably would've heard the name of the application Zoom.
Working with a vision to make video communications frictionless, Zoom is among the most used collaborative platform since the pandemic started.
Since work from home became the talk of the town, Zoom became one of the most useful collaboration tools for remote teams.
Zoom is among the best tools for businesses and organizations to bring their teams together in a frictionless environment to get more done.
Features of Zoom:
Collaboration tools
Conference Rooms
Meetings & Chat
Active speaker view
Attendee management
Board meetings
Content management
Email invitations
Asana
This collaborative work management platform helps in organizing work so that teams are clear about what to do, why it matters, and how to get it done.
With customization in the visual representation of tasks and many more features, Asana brings the team's goals, plans, tasks and files together in one shared space.
Asana also includes a workload feature that shows a snapshot of each team member's current capacity.
Features of Asana:
Project Management
Advanced Searches
Team Management
Reporting
Third-Party App Integration
Mobile App
List View
Basecamp
Basecamp serves as an all-in-one toolkit for working remotely. Using Basecamp, you can compartmentalise your workflow into various projects which your team can access on the web, on iOS, and Android. Basecamp also provides a scheduled check-in question feature.
Features of Basecamp:
Real-time group chat
Automatic Check-in Questions
Project management
To-do lists
File storage
Read: Essential Traction Metrics To Be Included In A Pitch Deck