Providing Last-Mile Financing Solutions, Fintech Startup Progcap Has Disbursed Rs 1,500 Cr In Loans To SMEs and Retailers
The Indian MSME sector is growing fast, with an increasing contribution to India's GDP. As per the Confederation of Indian Industry (CII), MSMEs contribute 33.4% to India's manufacturing output, 24.63% to the GDP from service activities and 6.11% to the manufacturing GDP.
Despite such significant contributions, the MSME sector is underserved with a lack of financing opportunities.
Providing a solution to the challenges faced by MSMEs in accessing credit, fintech startup Progcap is enabling financial opportunities for Indian micro and small businesses in the last mile.
Startup Story: Progcap | Last-Mile Financing Solutions For MSMEs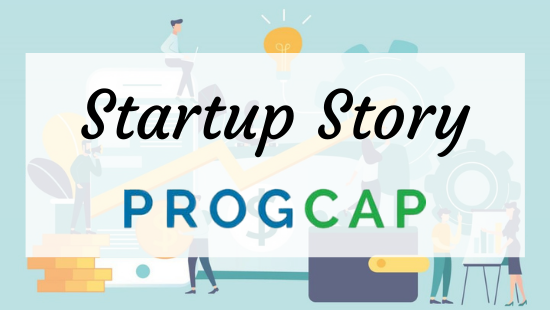 Progcap Founder
Founded by Pallavi Shrivastava and Himanshu Chandra in 2017, Progcap is a fintech startup working with a vision to broaden financial opportunities for micro and small businesses in the last mile. The fintech startup provides micro and small businesses access to fast and flexible collateral-free working capital, enabling them to achieve sustainable business expansion.
Progcap uses a mix of technology and its unique delivery model to underwrite credit and thus provide the underbanked semi-urban and rural retailers in India access to flexible, collateral-free working capital.
How Progcap Started?
It all started when Pallavi, who was working with the World Bank and International Finance Corporation, realised that the retailer segment had a complete lack of access to credit, specifically the working capital. She realised that the majority of the retailers in India face challenges in accessing credit.
On the other hand, Himanshu Chandra, a banker who had been driving the supply chain finance portfolio at Standard Chartered Bank, also decided to fix these financing gaps.
The duo started working on the idea and soon realised that existing financial products and the traditional banking approach would not be able to service the requirements of these customers.
Pallavi says,
"I was fascinated by the concepts of micro-finance and patient capital that used the power of innovative financing structures to be a force for good, and how well-structured financing products can propel the growth of underserved individuals and businesses alike."
So, in 2017, the duo started Progcap to address the needs of businesses by providing them tailored financing solutions.
[Read:
SalaryBox Is Enabling Effortless Employee Management With Its Mobile-first SaaS Solution
]
USP Of Progcap
Backed by its unique supply chain-driven business model and its award-winning risk-scoring engine, Progcap provides last-mile financing solutions to micro and small businesses.
Progcap's core platform runs on last-mile technology. It plugs into systems, accesses data relevant to underwrite the borrowers, and creates outputs. Leveraging world-class technology, Progcap's credit model evaluates and scores borrowers' creditworthiness, who otherwise do not have a formal credit history.
The entire process, from onboarding to disbursal and collections, is completely digital using in-house systems. Additionally, most of the technology used by the startup is proprietary.
Present Situation Of Progcap
With a team of over 150 people, the fintech startup has boarded more than 50 corporates, 300,000 retailers on the platform since its inception in 2017. As per the startup, it has disbursed over Rs 1,500 crore of loans on the back of its unique supply chain-driven business model and its award-winning risk-scoring engine.
The startup adds that it works with the Indian arms of many Fortune 500 companies having a combined turnover of $60 billion in India.
Pallavi says,
"We are now 8X of the volumes we were doing just before lockdown and expect to be 5X of our current size by December 2021."
In Feb 2021, Progcap raised Rs 10 crore in a debt funding round from Stride Ventures. Recently, the fintech startup raised $25 million Series B funding, which it plans to use to scale up the team, strengthen the technology differentiation and diversify into new product offerings.
Future Plans Of Progcap
As per Pallavi, Progcap is working on a mission to be an end-to-end service provider for all retailer transactions, with the target to impact over five million enterprises by the end of 2023.
Pallavi adds,
"By helping retailers purchase, stock, sell, and digitise, Progcap is slowly becoming a core engine of their growth and profitability. The size of the market is expected to cross $1.5 trillion by March 2026, and Progcap is well-positioned to be a leading player in supporting the growth of a small retailer."
For more stories of startups, click Startup Stories.
Follow us and connect with us on Instagram, Facebook, Twitter and LinkedIn.